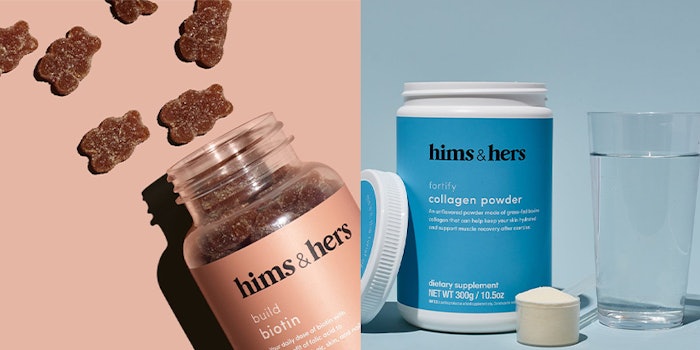 Hims & Hers Health, Inc., a telemedicine company that operates Hims and Hers, has announced that it has completed its business combination with Oaktree Acquisition Corp.
Previously: Hims & Hers Go Public with Oaktree Merger
As a result of the business combination, Hims & Hers received proceeds of approximately $279.5 million, which includes cash proceeds of approximately $204.5 million from Oaktree Acquisition Corp.'s trust account and $75 million from private placement investors, including funds managed by Franklin Templeton and certain Oaktree clients.
In addition, Hims & Hers' current management and existing equity holders have rolled between 90% and 100% of its equity into the combined company.
Hims & Hers will continue to be led by Dudum as CEO alongside its executive team including: Spencer Lee as chief financial officer, Melissa Baird as chief operations officer, Patrick Carroll M.D. as chief medical officer, and Soleil Teubner Boughton as chief legal officer.
Leading existing institutional backers of Hims & Hers include: Founders Fund, Forerunner Ventures, IVP, Redpoint Ventures, Thrive Capital, McKesson Ventures, and Canadian Pension Plan Investment Board as well as Cherubic Ventures, Maverick Ventures, Define Ventures, 8VC, Atomic, NewView Capital, and SV Angel. 
Hims & Hers' shares of Class A common stock will trade on the New York Stock Exchange under the symbol "HIMS" and its warrants will trade on the NYSE under the symbol "HIMS WS."
Andrew Dudum, CEO and co-founder of Hims & Hers, said, "We drove tremendous progress in 2020 toward our mission of becoming the front door to the health care system. Today's milestone brings us even closer to making modern, affordable care accessible to more Americans. By providing a seamless patient experience combined with proprietary technology, we intend to transform many of healthcare's most important categories, including primary care and mental health."
For more on the brand, visit www.forhims.com/hair-loss.