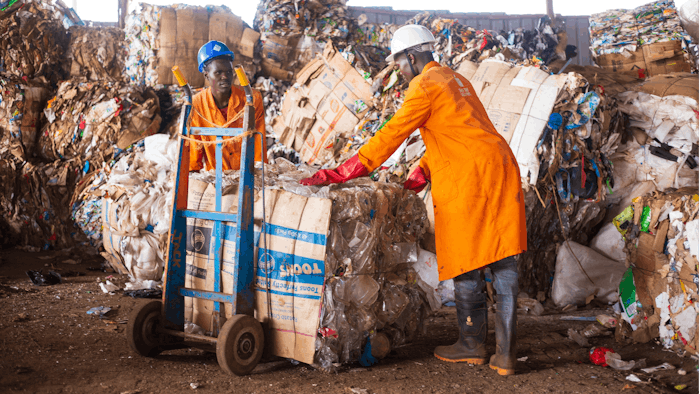 rePurpose Global has announced that 100 personal care brands across 15 countries are collaborating with the company to remove 4,127 tons of plastic waste every year. The partnering brands are going plastic neutral, plastic negative or pledging waste removal through the initiative's 14 impact projects.
Related: Saie Announces Plastic-negative Status
Research from Pew cited by rePurpose Global claims the personal care industry produces 120 billion units of packaging annually, with most being non-recyclable and ending up in landfills or oceans.
The partnership keeps waste out of nature and enables the expansion of waste collection systems in Bogota, Colombia, where infrastructure is limited. The project also finances the collection of low-value plastic waste, which helps employ more than 3,000 waste workers in the city.
The addition of the 100 brands brings the total number of collaborating brands to 230 across 26 countries and three continents.
Svanika Balasubramanian, CEO and co-founder of rePurpose Global, said, "Now, more than ever, there is a critical need for meaningful partnerships to tackle plastic pollution the world over. Every piece of plastic we eliminate on behalf of our personal care partners acts as a reminder of both the industry's immense responsibility to our planet as well as its ability to unlock real, systemic change."
Peyton List, actress and founder of Pley Beauty, said, "We took every step possible to first reduce plastic from our brand, and nearly all of Pley Beauty packaging is made from recycled materials. We wanted to ensure we were doing as much as possible to help the environment and are thrilled to be partnering with rePurpose Global in an effort to tackle the global issue of plastic pollution, in addition to providing a crucial income stream and a safe work environment for waste workers and their families."
Alexandra Bede, senior manager of sustainability at Grove Collaborative, shared, "Grove is proud to be a 100% plastic neutral retailer on our way to being plastic-free by 2025, which means that for every ounce of plastic we ship to our customers, we collect the same amount of nature-bound plastic waste. We are proud to partner with rePurpose Global on all of our collections. Since 2020, Grove orders have removed over 10 million pounds of plastic from nature."
Participating Brands:
Mara
Nuniq
Flyte.70
Minori
Summerdown Mint
Soshe Beauty
Joggy Energy, LLC
Krave Beauty
The Nue Co.
StyleMe (number three) 
HUECARE (number three)
Yululuka (number three)
NO3 Organics (number three)
R5 Living 
ANTIDOTE1848
Captain Carly's Energy
Testa Omega 3
Touchstone Essentials 
Priori
Venice Cosmetics
Everyday Humans
Eyeko 
Illamasqua 
Grow Gorgeous
Woohoo Body
Reverie
Number Three (ILGA & OG deal)
CannaSmack
LuxaDerme
Byron Bay Bronze
Ameliorate
Mama Mio
Serious Soaps (Nine Barks Ltd.)
Nuud
Paume
Myvitamins
The Uplifters Prima 
Pley Beauty
Beautaniq Beauty
APTO Skincare
The Happy Labs
Groom
Evolve Beauty
Gruum
Necessaire
Legology
Beauty Heroes
Saie
Innersense
Keeko
Clover
Blind Barber
Llama Naturals
Beauty by Earth
Tan Organic 
Vegan Tan
saalt
Little Moon Essentials
Fragrances of Ireland Ltd
Cabinet
HINOK
Tropic Labs
Teaveli Inc.
Ned
Six Gldn
Mind & Body
Blume
Port + Polish
Inn Beauty Project
Clove & Hallow
Ursa Major of Vermont
Meow Meow Tweet
Medicine Box
KAZMALEJE
LINNE botanicals
A Girl's Gotta Spa!
Amandean
Mio Skincare
Redbudsuds
We Are Fit (Sapling)
Golden Sky Naturals
Grove Collaborative
WooBamBoo
Portland Bee Balm
Alpyn Beauty
Freshfield Naturals
Christophe Robin
UpCircle Beauty
Centred
The Feel Good Lab
Mommy Pure
Bee Squared Apiaries
Hilma
DYPER
BEB Organic
Earth Rhythm
Good Spread Inc
The Moms Co.
Natalist
Dore