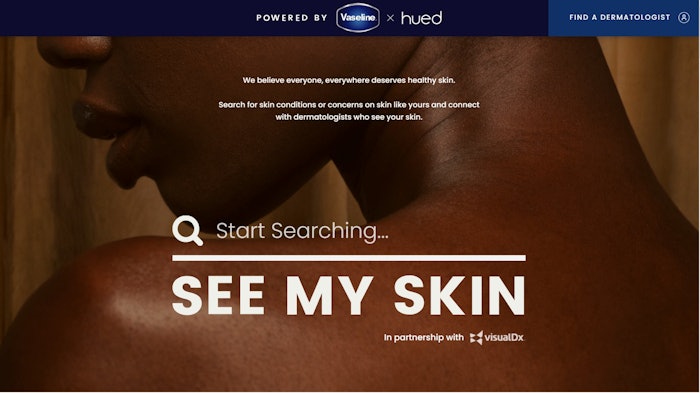 Vaseline, in partnership with Hued, has launched See My Skin, an online database designed to search conditions on skin of color and connect people with the proper care they deserve.
See My Skin guides consumers by displaying results they seek when searching for skin conditions. Through the search experience, See My Skin helps provide people access to quality and impartial skin care with a robust database of board-certified dermatologists. 
The platform also offers educational resources that provide expert recommendations on how to treat and monitor skin at home, understanding when to seek a dermatologist for proper care, and how to best prepare for an appointment with the right questions.
Users can submit their own images to help continually expand representation of skin of color.
Hued is a first-of-its-kind healthcare technology startup and website that connects patients with medical professionals that specifically understand their cultural, physical, and mental health needs.
Vaseline also partnered with VisualDX, a platform created by dermatologists, to help healthcare professionals accurately diagnose and treat patients of color.
As part of the launch, Vaseline's Healing Jelly artwork on its packaging includes a QR code driving to resources, inclusive of the See My Skin platform.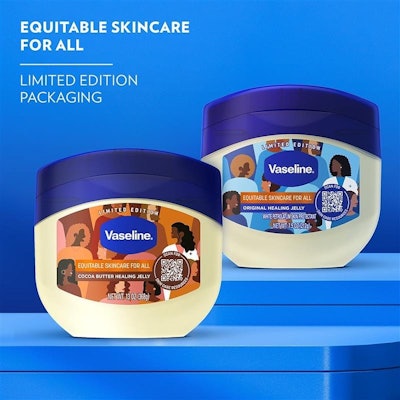 Kevin Tolson, brand director of U.S skin care at Unilever, said, "People of color are negatively impacted by healthcare inequities that can lead to worse health outcomes, including caring for their skin. Whether it's looking for answers in search, on social media, or even in textbooks, the results that resemble their skin are scarce, which can leave us feeling unseen and underrepresented. We created See My Skin so that people with melanin-rich skin could finally see skin conditions on themselves. Our goal is to provide solutions that ensure communities are equipped to get the care that everyone deserves. This is a step in that direction."
Founder of Tone Dermatology, Caroline Robinson, MD said, "I'm really excited to be a part of this work because this topic and this issue is something that I'm very passionate about. We need to move the needle on equitable care for all. Thinking about things from a patient perspective, it's really difficult to recognize the lack of representation for skin of color. We are becoming a more and more diverse nation, and resources like textbooks and image databases need to evolve with the changing society."