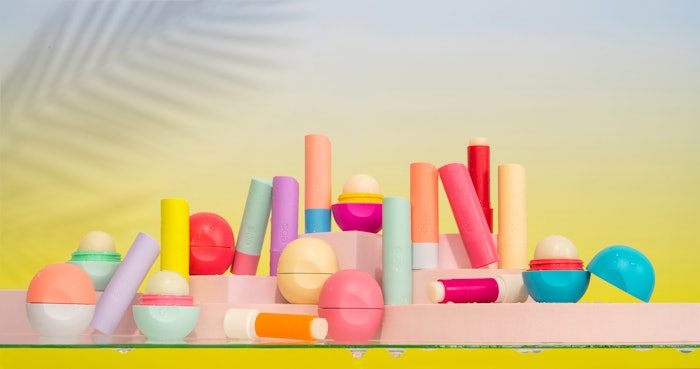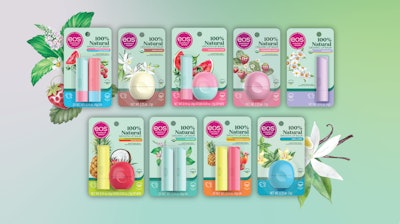 Eos has revamped its lip balm formulation so that users with sensitive skin can also use its lip balm products.
The new natural formula is designed to lock in moisture and create a breathable, protective barrier while also delivering skin care benefits.
The eos lip balms incorporate coconut oil for nongreasy, nonsticky, weightless hydration.
Shea butter and oil seal in moisture and offer long-lasting protection while creating a cushiony feel on the lips.
The lip balms also include jojoba oil to calm, soften and soothe irritated, dry lips.
In addition, the formula features protective antioxidants. Rosemary leaf oil and fennel seed oil fight inflammation and protect against UV rays.
Eos worked with master flavorists to create a variety of scents, including strawberry peach, sweet mint and toasted marshmallow.
The company also redesigned its packaging as part of the reformulation of the lip balms. While Eos kept its iconic sphere format and sleek, curved stick format, the brand designed packaging that could communicate to customers quickly and effectively about its new and improved formula as they scan store shelves.
The new packaging features watercolor designs that evoke the natural origins and high quality of the lip balm ingredients, according to eos.
Chief marketing officer Soyoung Kang said, "Our No. 1 goal is always to design and deliver products that exceed consumer expectations. And as they evolve, so must we. Our research revealed that, increasingly, people are looking for lip care products specifically formulated for sensitive skin. But today's savvy consumers don't believe they should have to sacrifice other product benefits in order to find lip balms suited to their sensitive skin needs … and, frankly, neither does eos. So in this relaunch, eos reformulated our entire everyday lip balm collection to deliver on consumers' sensitive skin needs while maintaining what they love as well—100% natural ingredients, our long-lasting hydration benefits, our incredible olfactive experience, and, of course, our iconic packaging structures."