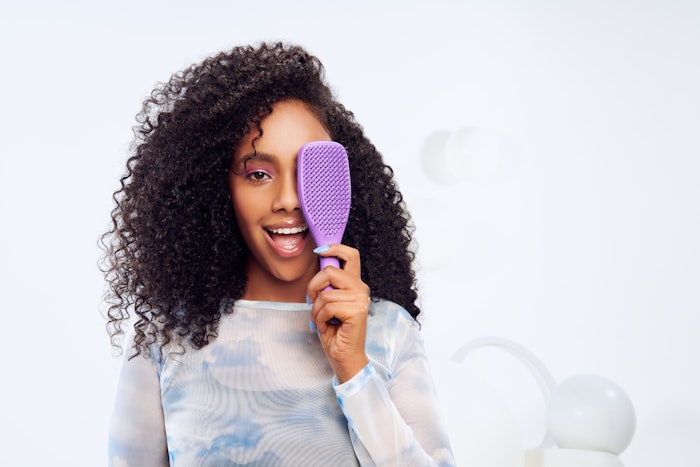 Tangle Teezer has announced its fiscal year 2021 results which showed sales were £43.5m, a 47% increase from fiscal year 2020. This strong performance was achieved through strategic investment in international expansion, global personnel, product diversification, marketing and e-commerce.
Previously: LolaVie Launches Restorative Shampoo and Conditioner
During FY21, the United States grew to become Tangle Teezer's largest market with sales increasing by 133%. Sales also grew in other key markets, with China and Japan sales increasing by 60% and 43%, respectively. European sales grew 34%, and rest of world sales grew by 60%.
In 2021, Tangle Teezer expanded its core product range and entered adjacent hair care categories, allowing Tangle Teezer to cater for more customers and their hair care needs.
Tangle Teezer also expanded The Wet Detangler product family through introducing both large and small versions of the product line, and variants for fine, fragile, and naturally curly hair, addressing the needs of the Company's global consumer base. The Compact Styler, which operates in the company's on-the-go category also grew 10% in 2021, undeterred by disruptions to travel retail due to the pandemic.
Tangle Teezer also entered the scalp segment, with the launch of the new scalp exfoliator and massaging brush, which recorded strong results. 
The group entered new relationships with large international retailers including Target, CVS, and Superdrug and expanded existing partnerships with Sephora, Ulta, Nordstrom and Boots.
James Vowles, CEO of Tangle Teezer Limited, said:
We began 2021 with a core goal of dramatically growing our footprint and brand awareness in the U.S. and Asia. Due to the exceptional work of our global team, the expansion of existing ranges and retail relationships, and entrance of new categories like scalp care, we are surpassing many of our ambitious targets. At home in the U.K., we have also maintained our momentum, grew market share and establishing a number of successful new partnerships.
Over the next 12 months, we will continue to cement our position as a leading global hair care brand and founder of the detangling category. Our strategy is to focus on what we do best: delivering innovative products at an affordable price, great marketing, and continuing the international rollout of our brand. In the coming months, we will unveil a new ESG strategy to ensure our products, brand and company are fit for the future and our planet. I would like to extend my sincere congratulations and heartfelt thanks to the entire Tangle Teezer team for their hard work and dedication."