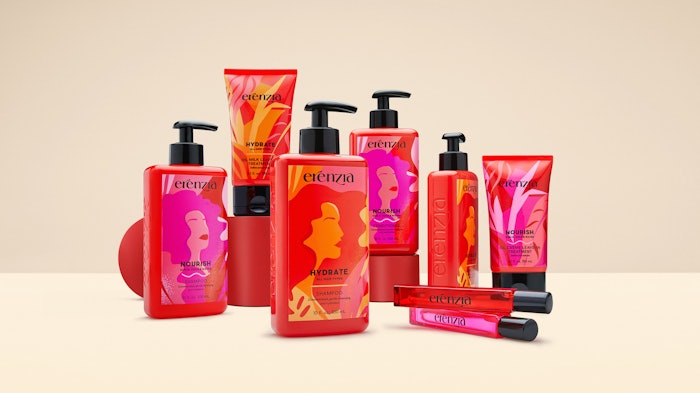 Erenzia Beauty is a new Latina-founded direct sales vegan beauty brand curated for Latinas.
Previously: Henkel Debuts SalonLab&Me Salon-Exclusive Hair Care Brand
Developed by Alina Gonzalez, Vanessa Ramos and Alex Pearl, the company hopes to champion and embolden Latinas to own their beauty and step into their innate power via the brand's Amigas enhanced affiliate partner business model.
The model provides modest, low-risk start-up costs, a community support network, and business and personal development tools.
Erenzia's line of bespoke products are formulated to engage the senses and stir the soul via milks that transform into oils, nostalgic ingredients such as rice, maize, jojoba, and cacao to rouse feelings of warmth, and fragrances infused with sweet, warm bright and spicy notes.
Products in the collection include:
Hair Care: Erenzia Nourish is for enhancing luscious curls, coils and waves with lightweight moisture and Erenzia Hydrating is for enhanced shine and smoothness for all hair types.
Leave-in Treatments: Oil milk and oil creme leave-in treatments are formulated with a distinct blend of heritage ingredients for the right balance of hydration, smoothing and replenishment.
Fragrances: Erenzia Captivating and Erenzia Sensual are long-lasting perfume oils are mindfully formulated with sultry, romantic comfort and infused with nostalgic cultural scents.
Gonzalez said, "We are passionate about creating a beauty experience that puts Latinas first by supporting, claiming, and celebrating their unique authenticity, diversity, and creativity. Being a Latina-led business means having both the privilege and responsibility of letting 'la cultura' guide the way erenzia beauty conducts business—from its sourcing practices to its product, to its affiliate partners."
Ramos said, "We want to create a product and economic opportunity to support her personal and financial journey. erenzia beauty is redefining a space that celebrates a sense of individual beauty and reinforces the importance of recognizing one's heritage and respecting others."