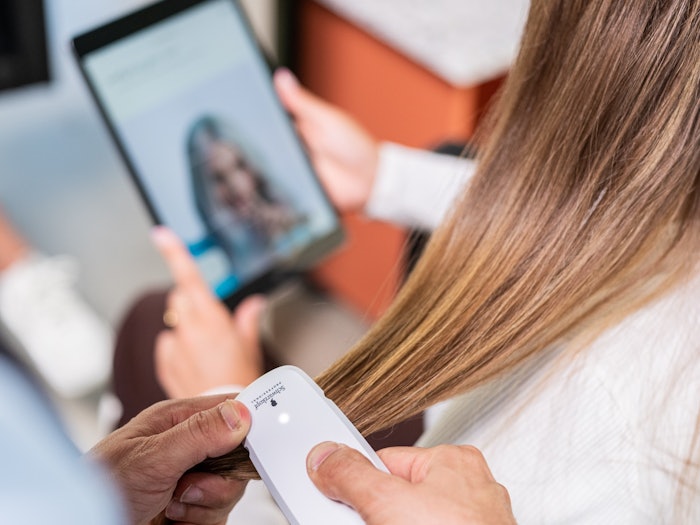 Henkel has launched SalonLab&Me, a professional salon-exclusive hair care brand that offers hyper-personalized hair care recommendations and matches clients to their exact hair type.
The consultation for all hyper-personalized products is based on a professional hair analysis, which is carried out individually by a hairdresser using the SalonLab Smart Analyzer. Thereby, the company combines in-salon hair consultation with a convenient online shopping experience in a new business-to-business-to-consumer (B2B2C) business model.
The SalonLab Smart Analyzer enables hairdressers to recommend products and services best suited for each client's hair type by analyzing hair at a molecular level. The technology uses a near-infrared sensor to measure the quality of the inner hair condition instead of only analyzing the hair's outer appearance.  
Clients can order their SalonLab&Me products through an online shop, which is exclusively linked to the salon they did their analysis with, and the salon receives a commission for every order made by their clients, regardless of whether it is placed directly in the salon or online in between salon visits.         
Clients can log into their account on the SalonLab&Me website to review their personal hair score and order history, repurchase products and explore a range of personalized blog articles with expert insights based on their hair type and selected products.        
Products include:
SalonLab&Me Shampoo
SalonLab&Me Conditioner (spray or cream)
SalonLab&Me Mask (pigmented or intensely caring)
Friederike Murschenhofer, corporate director digital innovation at Henkel Beauty Care, said, "We're really excited to launch this pioneering project, that combines the invaluable hairdresser expertise with cutting-edge digital innovation. With SalonLab&Me, we're creating a unique physical-meets-digital experience in which salons and their clients explore the best of both worlds, brought to life through a new business model: B2B2C. Not only are we offering a hyper-personalized product, but also a matching digital experience—including access to a SalonLab&Me online account, where end consumers receive personalized content matching their individual hair needs and goals."
Stuart Hamid, general manager Henkel Beauty Care Professional Germany, Austria and Switzerland, said, "SalonLab&Me is the next logical step following the success we see with our SalonLab Smart Analyzer. Based on the positive feedback we received by both hairdressers and end consumers, we quickly realized it's time to take personalized hair care to the next level. With SalonLab&Me, we were able to create a brand, which innovates not only the personalized hair care business, but with its unique business model also an entire industry. We can offer our consumers a hyper-personalized salon journey with professional hair care and at the same time support hairdressers who can explore an exciting and unique new business opportunity for their salon."