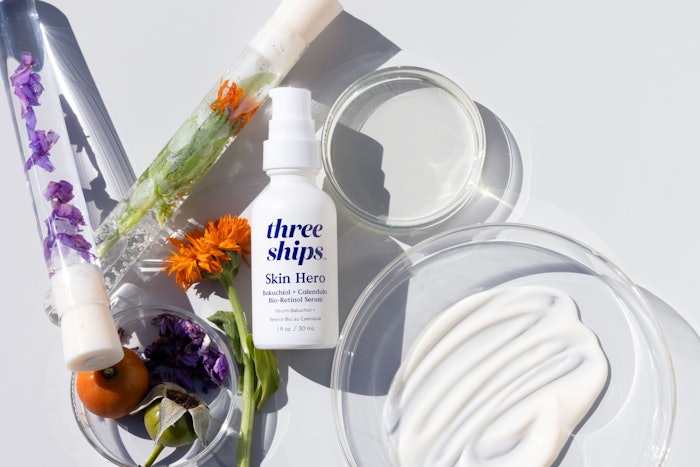 Three Ships Beauty has raised more than $1 million in total funding, allowing it to expand its product line with the Skin Hero Bakuchiol + Calendula Bio-Retinol Serum while also boosting its future product development and retail growth. The brand founders recently offered an inside look at the motivators and process behind the new funding (see: Behind the Scenes of the Funding).
Key investors include Martin McCourt, former CEO of Dyson, Tara Bosch, founder of SmartSweets, and Arati Sharma, founder of Backbone Angels.
Three Ships, which is focused on affordable clean beauty, reportedly boasts a repeat purchase rate that is double the beauty industry average. Its products are sold in Whole Foods, Hudson's Bay, The Detox Market, Credo Beauty, Indigo and Holt Renfrew, among other retailers.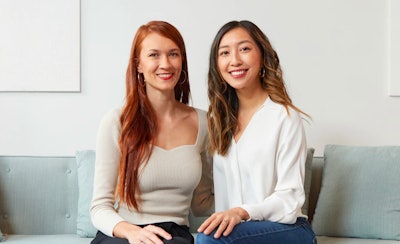 "We're thrilled to be backed by investors that support our goal of providing our customers with the most efficacious, accessible skin care products," said Connie Lo, co-founder of Three Ships Beauty. "With this funding, we are able to invest in even more sustainably- sourced and upcycled ingredients, team expansion, and greater clinical and scientific backing for our products that truly show the effectiveness of our natural clean beauty."
"It is a big milestone in our startup career to be backed by such impressive investors," said Laura Burget, co-founder of Three Ships Beauty. "To have this support means the world to us and we could not be more excited to continue to provide clean and efficacious skincare products to our community. Choosing sustainable practices in our company from ingredients to our final packaging can be expensive. Placing that cost in the company's hands to create this accessibility for our consumers is one of our number one priorities and has been since the start of Three Ships. This funding allows us to continue to create this affordability for our community that wasn't there for us growing up." 
Behind the Scenes of the Funding
Lo and Burget recently spoke to Global Cosmetic Industry about the investment funds and the drivers behind the scenes.
Q: How did you raise over $1M?
Burget & Lo: When we decided to raise our seed round, we set aside a chunk of time where we would be heads down fundraising. This meant clearing our calendars of anything other than important internal meetings, as well as our social activities.
We proactively reached out two months ahead of our fundraising window to our list of 100+ strategic angel and VC investors that we had fostered relationships with, letting them know we would be fundraising, and sending a pre-read deck. This list was curated from two years of introductions and calls we had had previously, and was narrowed down to the ideal investors we hoped to have on our cap table.
For efficiency, we divided and conquered tasks as co-founders, with Connie taking the intro calls with all investors, and Laura joining for the follow-up due diligence calls. We also utilized a detailed tracker which reflected the status of all potential investors, including our last touch point and next steps.
This tracker also noted which of the two co-founders would be the primary point of contact for each investor. Finally, we worked with an incredible agency, Renga, to design our deck, as well as a legal team to receive signatures and collect funds quickly.
Q: Why did you raise the funds?
Last year, we tested which marketing channels were most effective for us, including channels like live shopping, SMS, e-mail, affiliate, influencer and podcast advertising. We learned which channels drove the highest ROI, and raised investment to double down on those marketing strategies.
We also earmarked funds for product development, as we had three products launched this year and another six slotted for 2023. As a science-backed skin care brand, we dedicate significant resources and time to creating products that deliver results.
Along with this, we built out our leadership team to better equip Three Ships in this stage of growth. We hired a director of marketing two months ago to manage our online channel, and have plans to bring on a senior manager of North America sales in Q1 [2023] to assist with our wholesale channel.
The balance of the funds was allocated toward working capital.
Q: What does this financial investment mean for the future of Three Ships Beauty?
We have our sights set on being the most effective natural beauty brand in the world. Raising our seed round allowed us to grow at a faster rate with an experienced senior team and new launches that customers love.
Most importantly, having a cash buffer gives us the confidence to take calculated, strategic risks at a time when many brands are cutting back due to the recession and inflation.