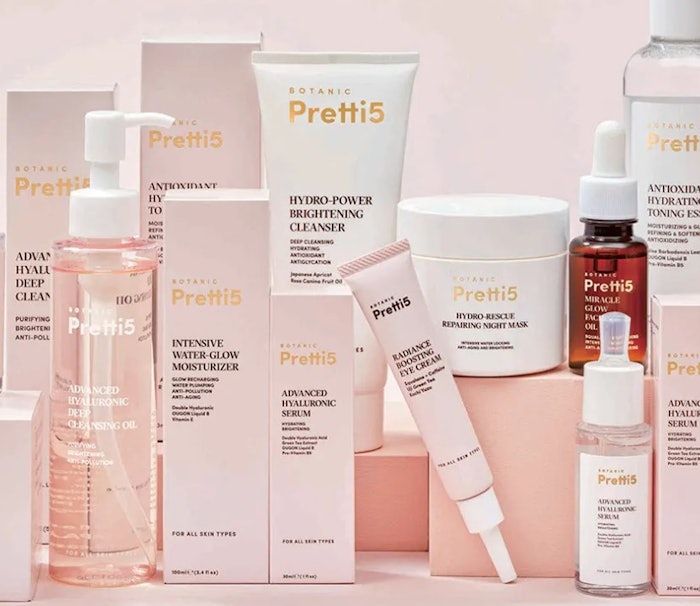 China-based Botanic Pretti5, a Traditional Chinese Medicine-infused clean beauty brand, has launched in the United States and is also available at Sephora Hong Kong and loyalty eShop of premium airline Cathay Pacific.
The product line includes a range of cleanser, facial oil, serums, moisturizer and night mask, each formulated with TCM-infused, clean and adaptogenic ingredients to address specific skin concerns such as aging, dullness and dehydration. 
They are cruelty-free, vegan, and free from harmful chemicals and synthetic fragrances. 
Botanic Pretti5's key TCM botanicals include snow mushroom and Japanese goldflower root extracts. 
Snow mushroom, a vegan alternative to hyaluronic acid, is a potent moisturizer that can hold up to a thousand times its weight in water, enhancing skin elasticity and reducing inflammation.
Goldflower root extract, also known as huang qin, is renowned for its anti-inflammatory properties and is used in Chinese medicine to prevent aging caused by pollution and free radicals, keeping the skin firm, smooth and youthful.
Dorothy Chau, founder and CEO of Botanic Pretti5, said, "We believe that beauty will evolve with our hybrid lifestyle exploring completely new territories of diversity and inclusiveness. We are cultivating sustainable product development by merging the latest technologies with ancient traditions. Our products are designed to bring the best of Eastern and Western skincare together and to help our customers feel confident, radiant and beautiful. We're thrilled to see that our message is resonating with people in Hong Kong and we can't wait to share it with even more customers in the United States."
Botanic Pretti5 founder Dorothy Chau added, "With Botanic Pretti5, we really wanted to bring the five elements of TCM—wood, fire, earth, metal and water—to life through our product in a way that's natural and relatable. Our goal is not to be another skin care product or brand, but to bring the proven success of TCM-based products to our consumers around the world."