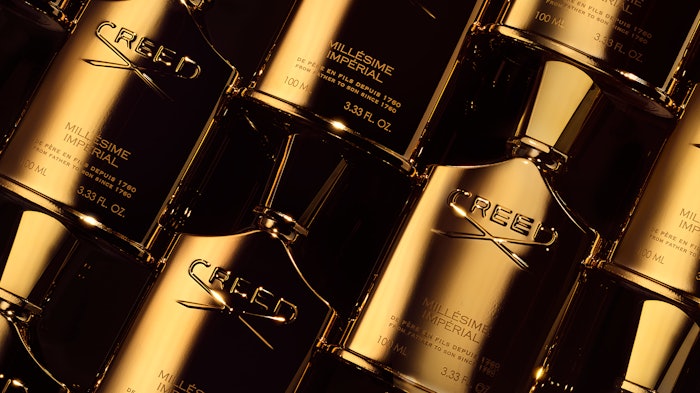 Kering Beauté is acquiring Creed from funds controlled by BlackRock Long Term Private Capital Europe and current chairman Javier Ferrán. The all-cash transaction is expected to close in the second half of 2023. 
In February 2023, Kering appointed Raffaella Cornaggia as CEO of Kering Beauté, charged with developing the beauty category for Bottega Veneta, Balenciaga, Alexander McQueen, Pomellato and Qeelin.
Kering will tap Creed's global distribution network to support the growth of its other brands. At the same time, it will expand the iconic brand's reach in China and in travel retail, while continuing to expand the feminine fragrance portfolio, body and home categories.
Creed was founded by 1760 by James Henry Creed as a tailoring house and later pivoted toward fragrance. Today, it operates 36 branded stores and distributes scents via about 1,400 doors globally. For the full year ended March 31, 2023, Creed generated revenue of more than €250 million.
"The acquisition of Creed represents Kering Beauté's first strategic initiative, and demonstrates our commitment to developing a strong position in the luxury beauty segment," said François-Henri Pinault, chairman and CEO of Kering. "I am thrilled that today our stories and values come together around this spirit of family entrepreneurship and excellence to accelerate our journey in beauty, and I am delighted that the brand is joining Kering's collection of luxury Houses."
"The House of Creed is recognized as one of the few leading global luxury fragrance brands, synonymous with exclusivity and creativity," said Jean-François Palus, group managing director of Kering. "We are confident that this landmark acquisition will facilitate and amplify our development in fragrance. This is a milestone in the development of Kering Beauté, as we believe more than ever in the strong potential of our brands in beauty."
Cornaggia added, "Creed has a unique positioning in the fragrance market. We see a very compelling rationale and mutual strategic benefits in terms of expertise, network, and geographical footprint. We look forward to working with CEO Sarah Rotheram and her passionate team to continue to drive Creed's success worldwide."
André Bourbonnais, global head of long term private capital at BlackRock, said, "We are pleased and honored to have partnered with the Creed family and Creed executive chairman and BlackRock LTPC operating partner, Javier Ferrán, who has been critically important in the sourcing of and value creation for Creed. Our partnership has helped us to further grow this world-class business through geographic and channel expansion, new product development and a focused marketing strategy. This transaction is highly emblematic of BlackRock LTPC's strategy of investing in high-quality companies and actively collaborating with management teams to create value."
Dag Skattum, head of European office of long term private capital at BlackRock, said, "It has been a privilege to build on the Creed family legacy and to have partnered with such a dedicated and talented management team, led by CEO Sarah Rotheram, to further strengthen Creed's iconic standing. We are confident that Kering is the right home for such a unique heritage brand, and that it will continue to thrive under their stewardship."