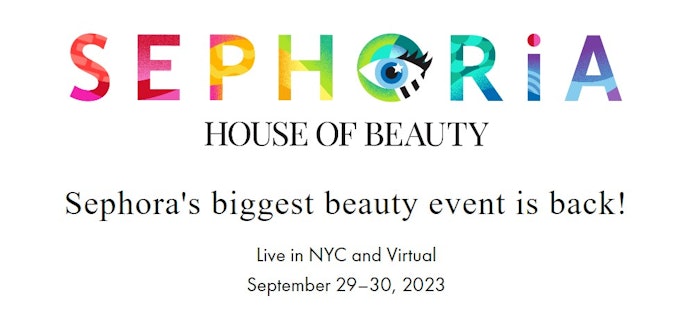 Sephora has announced the return of SEPHORiA: House of Beauty, which will be held in a hybrid format for the first time with a live ticketed event in New York City and a free global virtual experience in select markets.
The event will take place on Friday, September 29, 2023 and Saturday, September 30, 2023 at Skylight at Essex Crossing in Lower Manhattan. 
The virtual experience will include an immersive, customizable 3D gaming-like platform, which will open on September 29, 2023.
 Visitors to the virtual platform will be able to create their own avatars to experience new social touchpoints, chat live with Sephora Beauty Advisors, and play games that allow them to earn Beauty Insider points (U.S. and Canada clients only). Attendees can also redeem a unique free NFT, or P.O.A.P (Proof of Attendance Protocol), upon entering the space that can be added to Crypto wallets for free.
Across both experiences, attendees will have access to unique and exclusive content from more than 50 participating brands.
Registration and ticketing for SEPHORiA opens on July 18, 2023 for Sephora Rouge Members and for all other clients on July 20, 2023.
Jessica Stacey, SVP external communications, event and experiential marketing at Sephora, said, "We are beyond thrilled to introduce the latest iteration of SEPHORiA with our first-ever hybrid experience, including an in-person event in New York City. Falling within our 25th Anniversary year in the U.S., this event marks an exciting milestone and serves as both a celebration of our past and a nod to our future, as well as a symbol of the remarkable benefits of being a cherished member of Sephora's community. While we're grateful for the return to an in-person experience, we also recognize the importance of making these events inclusive and broadly accessible to our global beauty community and will do so with free virtual components that are equally enriching. We can't wait to debut our biggest event endeavor yet and deliver on an unforgettable beauty experience in partnership with many of the world's best brands."