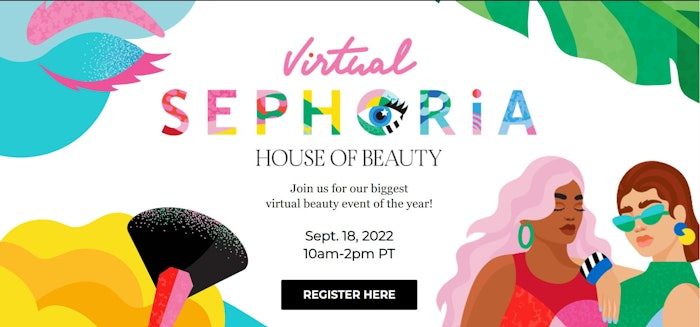 Retrieved from SEPHORiA
Sephora has announced the return of its beauty event, SEPHORiA: Virtual House of Beauty.
Related: Sephora Unveils New Brand Partnerships & Virtual SEPHORiA
SEPHORiA is a free, interactive beauty "house" with multiple rooms to explore, full of exclusive content from some of Sephora's most-loved brands, beauty icons and surprise guests. 
This year's event includes new programming that celebrates diversity, fosters inclusivity and highlights Sephora's product assortment.
"Following a successful virtual event last year, we are thrilled to bring SEPHORiA back again this year to even more visitors from around the globe," says Jessica Stacey, SVP external communications + experiential marketing at Sephora. "Not only will this year's event reach the US, Canada, France, Spain and Italy, but we also have enhanced experiences to ensure SEPHORiA is the most interactive, and inclusive virtual event for the Sephora community, with unparalleled access to exclusive content, founders, product sneak-peeks and engaging gamification. We look forward to welcoming clients back into the (virtual) world of SEPHORiA and know they will be surprised to see what we have planned."
This year's event features the following seven virtual rooms:
The Foyer: A greeting area and central hub for attendees that offers helpful resources, complete with a 3D map and events schedule, a concierge desk with Beauty Insider information and registration, a prize booth with details on point-earn opportunities and a reveal of the exclusive  Proof of Attendance Protocol (P.O.A.P) that can be claimed upon entry.
Home Theater: The main stage where attendees can learn about Sephora's hottest products and brands by exploring exclusive masterclasses and interacting with talent using the new live-chat feature. This space will offer shoppable touchpoints and the ability to participate in interactive games.
La Sala: Newly added for 2022, La Sala (the family room) will spotlight BIPOC and Latin-owned beauty brands and brand talent and their heritage, with exclusive content conducted in both Spanish and English with subtitles.
Kitchen: A new destination where attendees can get a first look at what's cooking for holiday, complete with gifting tips from Sephora's Beauty Directors and special holiday segments from the 

#SephoraSquad

.
The Spa: A cool and calm self-care space for attendees to reflect and treat themselves with wellness-focused activities like meditation, facial exercises, aura readings and more.
Sunroom: An area to explore and discover the newest innovations to come out of Sephora's most notable Clean and Clean + Planet-Positive brands, including product ingredients and sustainability practices. Attendees can participate in live polling to help create clean make-up looks with Sephora's Beauty Directors, test themselves on Sephora's efforts to have a positive global footprint and more.
Backyard: The party returns in the Backyard presented by the Sephora Credit Card Program, with more games, more surprises and more fun! This is the go-to place to celebrate all things beauty with games, XR photo experiences, special guests and more.
SEPHORiA will take place on Sunday, September 18. 2022 from 10AM – 2PM PDT/1 – 5PM EDT.