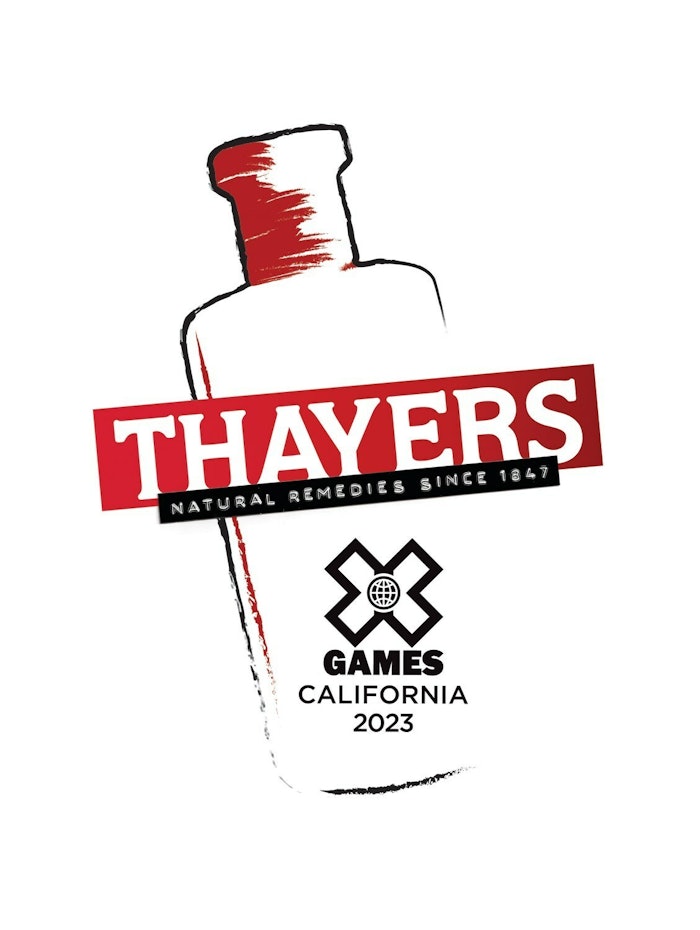 Thayers Natural Remedies was the official beauty and skin care sponsor for the X Games California, the first step in a strategy by the band to captivate the Gen Z audience in breakthrough ways. The X Games were held July 21-23, 2023 in Ventura, California.
The partnership aimed to get Gen Z to rethink and take notice of the brand for the first time by reaching them with education-seeking and humor-bonding messaging in unexpected places.
Attendees were able to engage with the brand at the consumer X Fest event where they tested their skateboarding skills at the Thayers modular skate park and learned skin tricks while refreshing and misting at the Thayers Xtreme Skincare Lounge.
Thayers also worked with Dustin Portela, D.O., a board-certified dermatologist and well-known social media skin care expert, to educate consumers and athletes on important skin tricks during the event.
During the weekend event, there was athlete-centric social content, athlete lounge presence and gifting for quick skin refreshes between the events. Secret Walls presented by Thayers saw graffiti artists captivate attendees with their personal expressions of Thayers art. 
Derrick Booker, senior vice president and head of Thayers Natural Remedies, said, "Our consumers are fierce and unapologetic. They live life to the extreme and so does their skin. Our partnership with the X Games marks a new chapter for Thayers. Nothing is more exciting than connecting, engaging and educating fans, athletes and spectators on how to unleash our skin's full potential for better-looking bare skin—no matter who you are, or how extreme."
Portela.said, "In the world of action sports, where athletes are frequently exposed to harsh environmental conditions—from intense sun and wind to extreme cold and moisture—a robust skin care routine is not just about aesthetics, it's a vital aspect of overall health and performance. Our skin is the body's first line of defense against the elements and keeping it healthy with high-quality products like Thayers can help boost your skin's hydration. Thayers can take care of your skin so you can perform your best when it matters most."
Ashley Robbins, vice president, partnership sales, X Games, said, "We are excited to welcome Thayers to the X Games family and could not have asked for a better first official beauty partner. As such an established and trusted brand, Thayers' wide array of products provides every X Games athlete and fan with skin care options to complement their active lifestyles."