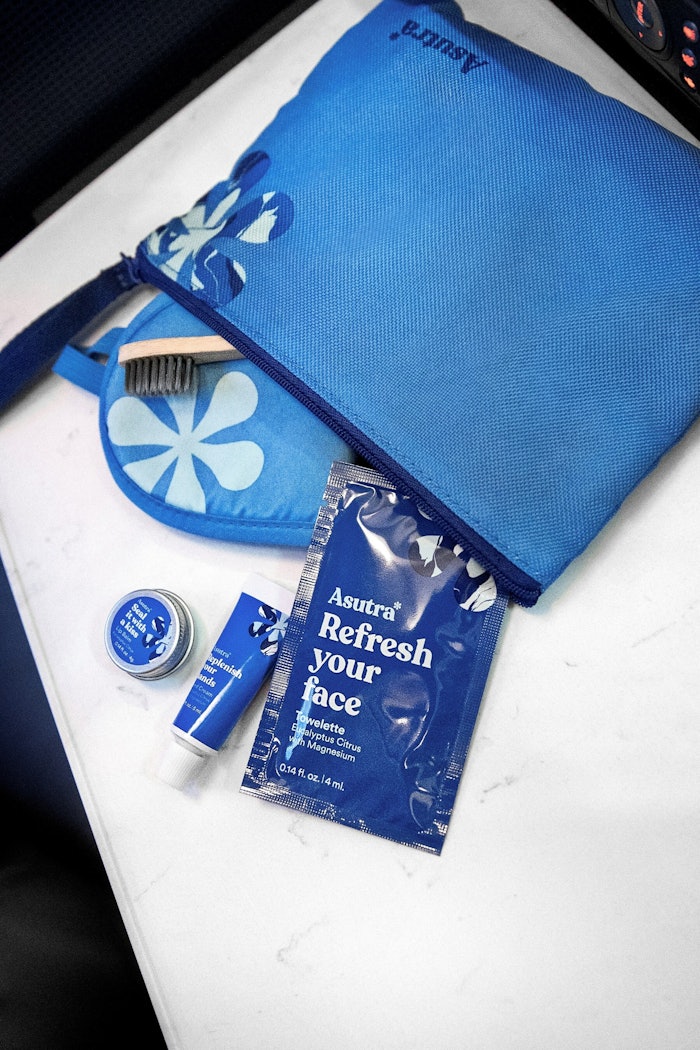 United Airlines is offering amenity kits that feature exclusive products from Venus Williams-backed wellness brand Asutra to travelers flying business on the airline's premium transcontinental domestic routes.
Each kit includes an Asutra cleansing face towelette, nourishing lip balm hand lotion, eye mask and ear plugs and a bamboo toothbrush and toothpaste. The products are held in a reusable, Asutra-branded pouch.
New amenity kits for United First passengers traveling between the continental U.S. and Hawaii will include skin care from Hawaiian brand Ua Body and debut later this month. Each kit includes a moisturizing lip balm and hand cream and a refreshing face mist, an eye mask plus a bamboo toothbrush, toothpaste and ear plugs.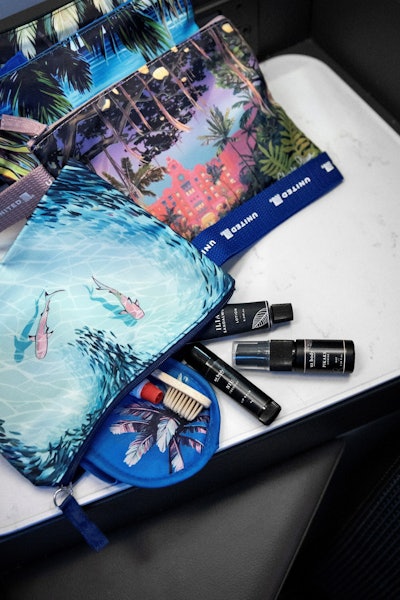 The reusable Hawaii amenity kit pouch features artwork from local artist Christie Shinn. The pouch comes in four different designs featuring the local landscape.
Peter Wolkowski, United director of onboard product design, said, "We're really proud of these amenity kits—fantastic new partners, exclusive products and high-end ingredients. Our customers are going to love them. These kits, customized for our transcontinental and Hawaii-bound travelers, are just the latest way we're working to make the travel experience even better at United." 
Stephanie Morimoto, Asutra owner and CEO, said, "As a women-owned, Chicago-based company, we are thrilled to partner with our hometown airline, United Airlines. Our mission at Asutra is to make self-care a possibility for everyone through accessible wellness products. From personal experience, I know that taking care of yourself intentionally while traveling can be challenging. This new amenity kit gives travelers an easy, enjoyable way to take care of themselves while on their journey and arrive refreshed."
Leala Humbert, founder/CEO of Ua Body, said, "We're honored to be working with such a powerful partner in United, and proud to continue showcasing our Hawaiian heritage to the world through our handcrafted products."