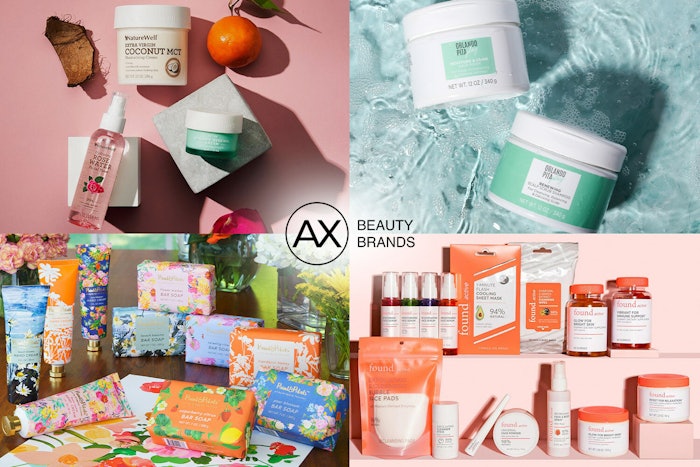 American Exchange Group, a specialist in accessories design, licensing and manufacturing, has acquired HatchCollective, home to brands such as NatureWell, Found Active, Orlando Pita Play, TXTUR and Paint & Petals. The move represents a significant boost to the beauty and personal care business of American Exchange Group.
HatchCollective has subsequently been named AX Beauty Brands; its brands will continue as before, distributing at retailers such as Dillard's, Macy's, Amazon, Target, CVS and Walmart.
AX Beauty Brands will also continue to sell private label brands sold at retailers like Trader Joe's and Sam's Club.
"I have always believed in a head-to-toe approach when building our brand portfolio, seeking out opportunities that genuinely enrich and enhance the lives of our consumers and HatchCollective along with their range of trusted and science-backed beauty and personal care products fits perfectly into that strategy," said Alen Mamrout, CEO of American Exchange Group. "Just like the recent addition of Aerosoles and White Mountain footwear brands to our portfolio, both of which are celebrated for their comfort and innovation, we've consistently aimed to provide our customers with trend right products that offer a value at an affordable price point. This acquisition is a tremendous opportunity for us to not only expand our footprint but also to deepen our commitment to delivering products that resonate with our customers' evolving needs. By integrating HatchCollective's exceptional offerings, we are poised to carve out an even more impactful presence in the beauty and personal care space, maximize market share and gain the trust of a broader audience."
"In today's consumer marketplace, there's an undeniable surge in demand for health and wellness products that enhance our everyday lives," said Steve Velasquez, chief strategy officer at American Exchange Group. "Beauty and personal care are one of the fastest growing categories and with this acquisition we are positioned to be the next dominant leader in the space. We are not only embracing a strategic opportunity for expanded growth but also aiming to introduce HatchCollective and their internationally recognized and amazing product lines to our well-established retailer portfolio."
"We are excited to embark on this journey with American Exchange Group, combining our resources and expertise to create something truly extraordinary in the beauty industry," said Hatch's president and chief commercial officer, Kristin Bibb. "This partnership will enhance our ability to innovate, expand into new markets, and deliver exceptional experiences to our valued customers. We look forward to a future filled with shared success and continued excellence in the beauty industry."