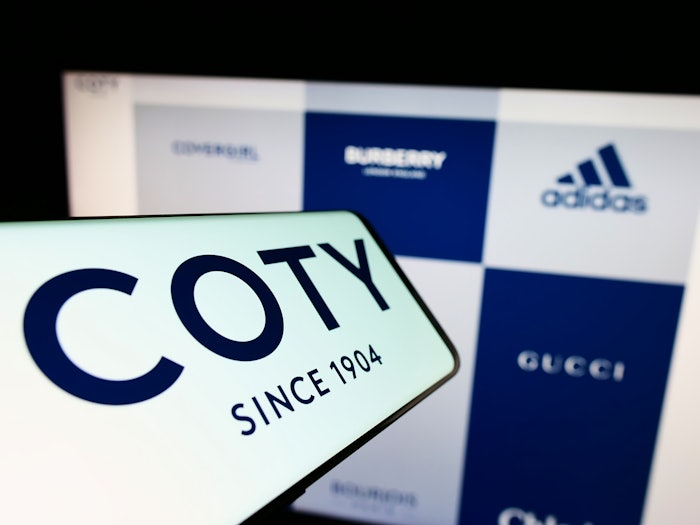 Coty is anticipating 6-8% like-for-like growth for fiscal 2024 following strong Q4 and full-year fiscal 2023 results.
The news follows Coty's Adidas license renewal, a new deal to relaunch Marc Jacobs Beauty and the company's Wella sale.
Per the company, fourth quarter fiscal 2023 reported net revenues totaled $1,351.6 million, a 16% year-over-year gain, driven by a 21% like-for-like increase in prestige beauty and an 10% increase in consumer beauty. Reported gross margin of 62.9% increased from 61.8% in the prior-year period, while adjusted gross margin of 62.8% increased from 62.1% last year. 
Fourth quarter operating income of $129.0 million easily beat the operating loss of $77.4 million in the prior year period.
Furthermore, reported net income of $29.6 million in the fourth quarter improved from a net loss of $286.0 million in the prior year. Adjusted net income of $5.2 million increased from adjusted net loss of $5.7 million in the prior year period.
Full-year 2023 net revenues totaled $5,554.1 million, an increase of 5% year-over-year, including a 13% gain in prestige beauty and an 11% rise in consumer beauty results. In the period, the company took a 200 basis point hit from its exit from the Russian market. Reported gross margin of 63.9% increased from 63.5% in fiscal 2022, while adjusted gross margin of 63.9% increased 20 bps from 63.7% in the prior year.
Full-year operating income of $543.7 million increased from $240.9 million in 2022 due to higher sales and gross profit, among other factors. Reported net income of $495.0 million easily bested 2022's net income of $55.5 million; 2023 adjusted net income of $457.9 million increased from $232.1 million in the prior year.
Sue Y. Nabi, Coty's CEO, said:
Today's FY23 results mark the third consecutive year that Coty has delivered strong financial, operational and strategic performance, and the twelfth consecutive quarter of results inline to ahead of expectations. We are incredibly proud of the focus and agility that we see across the whole Coty organization as we continue to amplify our strengths, adjust to evolving market conditions, and capture new opportunities, all of which has enabled us to deliver results which are again amongst the best in our competitive set.
In the midst of on-going macroeconomic uncertainty, beauty demand remains resilient across our key categories and geographies, with no signs of tradedown, while the 'fragrance index' we have been discussing for over a year shows no sign of slowing. In fact, the beauty category continues to be a standout in key markets like the U.S., as the only category amongst all CPG and general merchandise categories to grow volumes in the last six months, speaking to the beauty industry's ability to meet consumers' emotional needs.
Against this favorable backdrop, the white space opportunities in front of Coty are immense. In our core prestige fragrance business, we have historically been the leader in the male fragrance category, but have ample room to improve our position in the much bigger female fragrance category which is roughly double the size of male fragrances and where we are currently in the Top 3.
A key milestone in this strategic ambition is our newly launched Burberry Goddess female fragrance, which is now appearing across global distribution. We believe the combination of the unique and sophisticated scent of vanilla accords, the strong momentum of the Burberry fashion brand, the beautiful and refillable packaging, and the associated story of female empowerment, position Burberry Goddess to be a blockbuster launch this year, further advancing Coty's position in female fragrances. The early results for this launch are spectacular, with Burberry Goddess already a Top 3 fragrance at leading global airports, with sell-out significantly higher than our recent blockbuster fragrance launches.
At the same time, we are actively strengthening our positioning in the smaller but rapidly growing ultra-premium fragrance category. Whether it's through our Chloe Atelier des Fleurs collection whose sales have grown by 5x versus two years ago and are on track to accelerate further as we rapidly expand our global distribution, or through the upcoming launch of our internally developed Infiniment Coty Paris fragrance brand, we are seizing this white space opportunity.
Underpinning the strong foundations of our fragrance business is the extension of our license portfolio, with the average remaining duration of our Top 7 prestige brands now averaging 13 years. The renewal and extension this past year of multiple key licenses, including Hugo Boss, Marc Jacobs, Davidoff, and Jil Sander, reaffirms Coty's position as a go-to partner for global fashion houses. I am particularly excited about the expansion of our partnership with Marc Jacobs to include the creation of a new makeup line, as I believe the brand is perfectly positioned between couture and indie, and will become a great and differentiated addition to our Prestige Cosmetics portfolio.
In parallel, we have recently embarked on our third strategic pillar, accelerating our skincare portfolio, led by our prestige skincare brands. With Lancaster and philosophy leading this effort, through a combination of new launches, revamped in-store and online merchandising, and new brand communications, I am very encouraged to see that revenues for both brands increased by a double digit percentage in Q4. As we pursue our ambition to double our skincare revenues in the next few years, we will continue to strengthen our organizational capabilities, including step-changing our R&D investments in this area.
In Consumer Beauty, having repositioned our key brands, established meaningful and on-brand communications, and revamped the innovation pipeline for each, the next phase of our strategy is to fully capitalize on the Gen Z opportunity. We have successfully begun to harness the power of social media influencers and natural advocacy, with launches such as CoverGirl Clean Fresh Yummy Gloss and Rimmel Kind & Free going viral on TikTok. As we enter FY24, we will further embrace the full power and reach of social media to drive our brands and build stronger community engagement, fully keeping in step with the evolution of the market and with Gen Z habits. The strength of our Consumer Beauty portfolio was further reinforced by our recently announced strengthened and long-standing partnership with adidas, which is perfectly positioned to capitalize on the new well-being and athleisure trend in beauty.
Finally, on sustainability, in addition to receiving external validation for our climate targets from the Science Based Target Initiative, FY23 included a number of industry firsts for Coty; such as, integrating carbon-captured ethanol into a growing percentage of our fragrance portfolio, introducing gender neutral parental leave, and reaching gender pay equity as of October 2022. We aim to build on these achievements with further advances in FY24 and beyond.
Beyond our core portfolio, we are progressing on our broader financial strategy. The agreement to sell a portion of our retained Wella stake is a concrete step in our commitment to both fully divest our retained Wella stake and reach leverage towards 3x exiting CY23 and approximately 2x exiting CY25. Our continuous focus on identifying further productivity opportunities is now fueling over a $10 million increase in our FY24 savings target to over $100 million, which will support both organizational reinvestment and profit growth.
In sum, Coty is successfully executing on the strategy we laid out 3 years ago. We are delivering a best in class medium term growth algorithm, including a mid-20s % EPS CAGR, active deleveraging, and targeted capital returns, as we propel our growth story and strengthen our position as a beauty powerhouse.