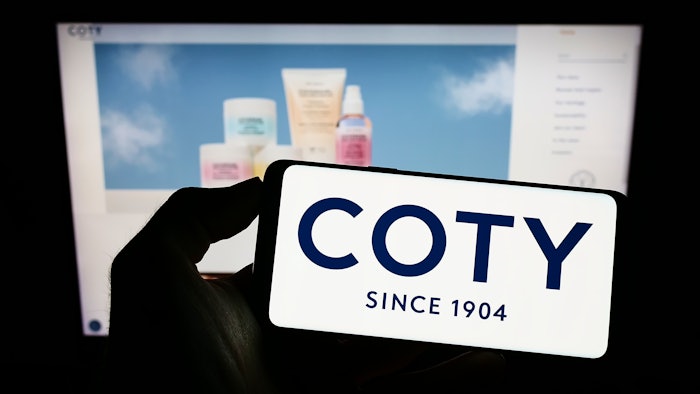 Coty has released its first quarter fiscal 2024 results, which showed net revenue was  $1,641.4 million, an 18% increase compared to the previous year. Based on these results, the company now expects full-year like-for-like revenue growth of 9-11%, compared to its previous guidance of 8-10%. For the first half the fiscal year, Coty now expects like-for-like revenue growth of 11-13%, an increase from its previous outlook of 10-12%. 
Meanwhile, Coty has noted that its "strong free cash flow trajectory in first half FY24, its successful Paris dual listing and given misalignment on final deal terms, Coty and its counterparties have decided to end the partial sale of its Wella stake." That said, Coty "continues to target the full divestiture of its Wella stake by end of CY25."
Reported Q1 2024 operating income was $197.5 million, a 15% increase compared to the previous year.
The reported net loss was $1.7 million, a decrease from net income of $125.3 million in the previous year.
Gross profit was $1,041.9 million, compared to $888.7 million in the previous year.
Prestige Segment
Net revenue was $1,064.7 million, compared to $863.4 million in the previous year. This segment accounted for 65% of Coty sales.
Operating income was $221.6 million, compared to $170.3 million in the previous year.
The prestige fragrance category continued to see robust growth across North America and Europe, with nearly all major markets generating double-digit percentage growth, led by the U.S. market, Canada, Germany and Spain.
While Coty's prestige makeup business was constrained by the gradual recovery in China, the company's Burberry makeup line delivered strong double-digit percentage growth, like-for-like.
Coty's leading prestige skin care brands, philosophy and Lancaster, grew double-digit percentage growth like-for-like in Q1, building momentum since relaunching in spring 2023.
Consumer Beauty
Net revenue was $576.7 million, compared to $526.6 million in the previous year. This segment accounted for 35% of Coty sales.
Reported operating income was $32.0 million.
Revenues grew in the mid-single-digit to high-double-digits percentage, like-for-like, across cosmetics, mass fragrances, and mass skin and body care.
The consumer beauty business saw particular momentum in e-commerce, with more than 25% sales growth, like-for-like, delivering share gains in the channel.
Of the results, Sue Nabi, Coty's CEO, said:
We are proud of our great Q1 results, with sales growth once again amongst the best in our peer set and ahead of the beauty market. Coty continues to deliver on our balanced growth agenda, with strong LFL growth across both divisions and all regions, with growth contribution from volumes and premiumized mix, complemented by targeted pricing, and from our key categories including fragrances, cosmetics, and skincare.
While the external environment remains complex and consumers are being considered in their spending, the beauty category remains advantaged, at the nexus of affordable luxury, self-care, and confidence boosting. We remain well positioned to benefit from this strong beauty performance, while capitalizing on the multiple white space opportunities in our portfolio, including female fragrances, ultra premium fragrances, skincare, China and Travel Retail. These opportunities and our strong Q1 delivery enable us to raise our FY24 guidance for the second time this fiscal year.
The exceptional performance of our recent fragrance launches, and in particular Burberry Goddess which has become the #1 female fragrance launch in key markets, reaffirms Coty's position as a leading fragrance expert with best in class end-to-end capabilities, from developing a winning scent which resonates with consumers across all regions to activating distinctive marketing campaigns, and launching disruptive in-store and online activations.
Even as we invest to fuel our near and medium term growth ambitions, we continue to deliver robust profit growth, cash generation, and deleveraging. Our strong and consistent execution on our strategy and financial framework paved the way for the next major Coty milestone, as we successfully listed our shares and issued equity on the Euronext Paris Exchange, in a substantially oversubscribed transaction. At the same time, we intend to minimize the dilution to less than 1% exiting FY24 by executing the first phase of our equity swap for 27 million shares by the end of Q3. We anticipate further share count reduction in the coming years, by executing the second phase of our equity swap for 23 million shares in FY25 as we continue to target reducing our diluted share count toward 800 million by FY26.
In short, on the eve of our 120th anniversary, Coty has returned to our Parisian roots, now providing both U.S. and European investors with the perfect opportunity to join our accelerating growth trajectory and success.