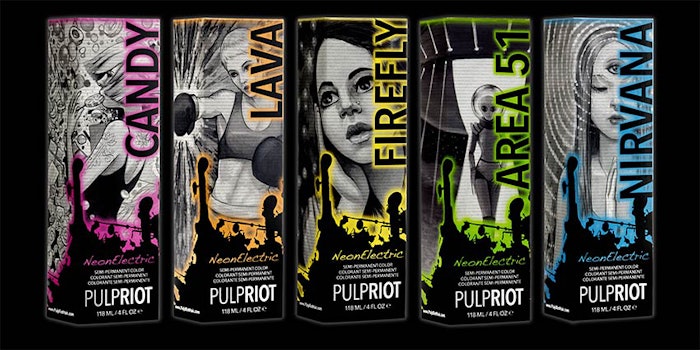 Pulp Riot was a Beauty Spotlight finalist in New York and is one of the brands that will be featured at the Beauty & Money Summit LA, taking place April 19 at the SLS Hotel. The event will connect industry executives from strategic buyers, financial buyers and independent beauty brands. Read our coverage of the NY edition here: Tomorrow's Mega Brands, Today's Radical Shifts.
David Thurston, founder and CEO of Pulp Riot, a professional hair color brand, has seen his company expand into 28 countries since launching about 18 months ago. He says it's all due to great products, strong distributor relationships and social media.
"Social media is our microphone," says Thurston, which amplifies Pulp Riot's marketing efforts. The low-cost platform allows the brand to compete with the largest players in the market by accelerating awareness in new markets.
The brand will introduce about 96 products in 2018, Thurston says.
Selecting Distributors
Thurston says that social media has actually created demand in markets before the brand becomes available, allowing nimble distributors to hit the ground running.
Pulp Riot does best when it works with distributors that truly understand social media, says Thurston. These aren't always the largest companies, which can actually be advantage. Thurston explains that larger companies may not have time to give Pulp Riot the attention it needs and, at times, may not have much, if any, digital strategy in place. (A few may not even have their own website.)
Some distributors have even mimicked Pulp Riot's social media to build the market. For instance, Russia's Beauty Group created its own Pulp Riot Instagram page, which quickly grew to more than 20,000 followers.
Beating the Big Brands
Thurston says that he moves fast and makes decisions quickly in order to avoid having Pulp Riot's successes duplicated. He's also avoided the mistake of trying to compete head to head with the big brands.
Social media has been a significant force in this respect, he says, because Pulp Riot is able to connect with the people who buy its products. Big companies have trouble scaling that type of relationship authentically, leaving room for the upstarts.
The Ideal Investor
Still, like all brands, Pulp Riot requires money to grow. Thurston says that he seeks out only hands-off investors who understand Pulp Riot's advantages and unique properties.
The Next Phase of Growth
Looking ahead, Pulp Riot will be creating new products to appeal to a much broader market than its current lineup. The brand will introduce about 96 products in 2018, Thurston says.
The company will also build out distribution in existing markets, investing significantly in the European market.
Still, Thurston says that Pulp Riot will "stay lean" as a company to support its success and flexibility.