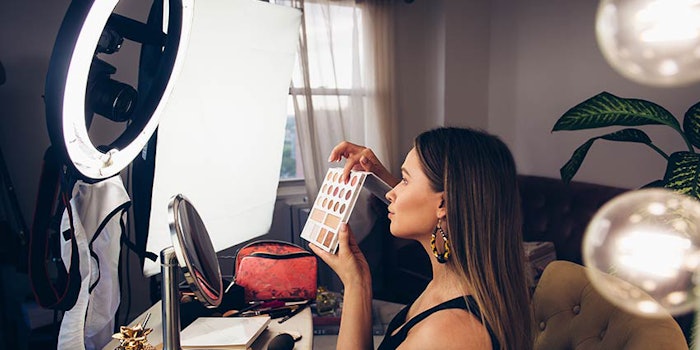 The Beauty & Money Summit took place September 28 in New York, featuring networking and meetings between brands and potential investors. The event also included presentations by brands and investors on the subject of the changing beauty landscape and life after acquisition. The Beauty & Money Summit will return next year: London, March 2018; Los Angeles, April 2018; New York, September 2018.
Beauty Lifestyle Branding: Tula's New Strategy
Once a month, the staff at probiotic skin care brand Tula makes customer calls to better understand their brand perception and path to purchase. Recently, one customer revealed that she discovered Tula when she received a sample from a fitness sample box.
She later watched a video from a health infleuncer regarding the brand, then went on YouTube to watch another product demo. Then, finally, the customer went and bought her first Tula product.
As this example shows, the consumer's journey is changing fast. And so it's critical for brands to test and iterate their marketing strategies across non-traditional channels and to engage consumers with stories that are about more than just the product.
Listen: Experience Matters in Beauty Investment
The Lifestyle Mindset
The beauty industry tends to operate from a beauty-centric mindset, said Julia Straus CEO of Tula. But today's upstart brands are exploring nontraditional paths to growth by collaborating with influencers who address beauty as part of a broader lifestyle.
Tula's customers tend to fall in the millennial sweet spot: ages 25 to 35. These consumers view looking good as part of a balanced lifestyle that includes healthy eating and fitness.
Consumers care about context, said Straus, so Tula's social media strategy has focused on images of products within lifestyle-oriented content—adjacent to images of healthy foods or yoga poses, for example. In some images, Tula products don't show up at all.
When a consumer hears a fitness influencer speak about beauty it's far more accessible and less intimidating than hearing a similar message from a beauty expert.
Straus explained that consumers first want to know what lifestyle a brand is representing. Only after this is established will they begin exploring and engaging with the brand.
Tula's brand messaging is therefore less about immediate product benefits and more about the incorporation of Tula into the consumer's lifestyle. This means talking less about erasing wrinkles and more about healthy choices in general across beauty, fitness and nutrition.
A Less Intimidating Message
To put its strategy into action, Tula has collaborated with health and fitness infleuncers, for which there is far less competition, compared to leading beauty bloggers. Straus explained that when a consumer hears a fitness influencer speak about beauty it's far more accessible and less intimidating than hearing a similar message from a beauty expert. This comfort level is critical as many of Tula's customers are buying prestige beauty for the first time.
Automating Engagement
While Tula continues to humanize its message, it's embracing technology to innovate. Tula has a small team, so it has leveraged lessons and tools from other industries to enhance the consumer experience without overwhelming the team. For instance, Tula has created chat bot platforms for customer service.
It has also used texting as a format for marketing and customer service, which has proven hugely successful—it also helps the brand sidestep consumers' crowded email in-boxes. Straus noted that Tule gets far higher levels of engagement from texting campaigns compared to email. 
Mass-prestige Cross-pollination
Prestige and mass brands are increasingly sold side-by-side, said Lori Haram, senior VP, new business development, The Estée Lauder Companies. This doesn't mean that definitions of mass and prestige are irrelevant, she continued, but they are more nuanced.
As a result, brands on both sides of the divide can borrow cues from one another, including on pricing. Haram's comments echoed the recent introduction of Bobbi Brown's rollout of lower-priced beauty products, including the Crushed Lip Color, a balmlike color product infused with vitamins E and C and beewswax, which retails for $29.
Listen: There's More Than One Beauty Playbook
Building Tomorrow's Mega Brands
Becoming a mega brand in any category is a one in a million opportunity, said Carla Ruiz, global head of business development, beauty and baby, Johnson & Johnson. But it's not always the goal in today's beauty and personal care landscape.
Ruiz noted that every category has a leader at the top and a group of niche and disruptive brands at the bottom that are eating up market share. It's the brands in the middle that are in danger. Using the 2016 purchase of OGX parent company Vogue International as an example, Ruiz outlined the key qualities in an acquisition target:
Profitability
A compatible culture
A strong innovation pipeline (OGX churns out about two to three lines per year, according to Ruiz)
Ruiz noted that OGX has relatively low brand awareness but a strong proposition built around botanicals. That's why Johnson & Johnson is poised to build OGX to mega brand status. Ruiz added that, unlike in previous eras, a brand doesn't need to have to be a mega brand or boast a rich heritage in order to succeed, and that brand lifecycles are shrinking to as little as five to 10 years.
Founders are often a "people person" with a specific gift for team building and morale.
Strategic buyers must ensure that brands they acquire can stand on their own without the founder, said Ruiz. However, that doesn't mean that founders can't continue to contribute to their brands. For instance, said Ruiz, founders are often a "people person" with a specific gift for team building and morale. In addition, they can serve as the creative energy of the brand, or act as a senior advisor. Ruiz noted that, often, when a founder retains the CEO role the brand is often operated independently.
How to Spot Beauty's Next Boom Brand
One metric can help predict future brand growth and declines long before sales figures are released: earned media value, or EMV. EMV is the free media devoted to a product or brand, typically generated by traditional journalistic outlets or online influencers. Christina Grammenos, general manager of Tribe Dynamics, explained how tracking the influencer conversation across social platforms can create reliable insights.
Listen: EMV -- Measuring Beauty Brand Momentum
In 2014-2015, Nyx significantly outperformed Revlon, CoverGirl and Rimmel in terms of total EMV. It's no surprise, then, that L'Oréal snapped up the brand in 2014 for an estimated $500 million. Grammenos noted that other top performers include Too Faced, which was acquired by The Estée Lauder Companies last year for about $1.45 billion, and Anastasia Beverly Hills, which is makeup's fastest-growing brand by market share.
Anastasia and Too Faced over-indexed for EMV relative to their market share, which served as a reliable indicator of future growth. Conversely, brands that under-indexed for EMV relative to their market share saw market share declines in subsequent quarters. The lesson: cultivating a presence in the social conversation drives sales because people follow the cues of influencers they trust.
In 2014-2015, Nyx significantly outperformed Revlon, CoverGirl and Rimmel in terms of total EMV.
Benefit, a brand that historically under-performed in EMV, has taken a page from its competitors' playbooks and improved both its EMV and its market share, said Grammenos. How? By building authentic relationships with influencers at scale by treating them with respect and earning—not buying—their way into the conversation.
Building these relationships isn't entirely unlike traditional PR, Grammenos explained. Brands can send handwritten notes and engage in gifting to build relationships. But, she added, brands must get comfortable with letting go: ultimately, the influencer will determine if, how and when they will discuss your brand.
Top influencers have a far broader circulation than traditional publishers, said Grammenos. But many brands succeed not by tackling the biggest voices in the blogosphere, like YouTube star Jacklyn Hill (4.4 million subscribers), but by infiltrating the feeds of small, up-and-coming voices.
For instance, Tatcha a fast-growing brand, has built mindshare by leveraging a network of small-scale content creators who have spread brand awareness across vast networks, gradually working up to the largest voices in beauty social media.
In a separate talk, Lori Haram, senior VP, new business development, The Estée Lauder Companies, explained that brands can also become influencers, particularly through their founders. Haram explained that Too Faced cosmetics' founders have leveraged their brand and personal Instagram accounts to create greater intimacy with consumers.
What Happens When a Brand Takes Private Equity
Working with private equity is like driving a car down the highway going 90 miles an hour while simultaneously changing the tires, joked Cover FX CEO, Sharon Collier. In June 2011, L Catterton announced a capital investment in Toronto-based Cover FX. Six years later, Jon Owsley of L Catterton outlined what made the brand attractive for investment:
Multi-ethnic color palette
Skin-friendly beauty
Credibility through the story of its founders
Great products
Owsley noted that Cover FX had all of these fantastic elements going for it, but that the brand simply did not know how to grow and break through to the next level. To get there, L Catterton brought in a new CEO, Collier, a veteran of Yves Saint Laurent and Gurwitch Products.
According to Owsley, Collier had strong industry relationships and understood the needs of a small business. In addition, she had the right skills to bring in and motivate talent. Though she's not the brand founder, she acts like one, Owsley noted.
Brand leaders need to understand their consumer, said Owsley, and where their brands fits—and doesn't fit—in the market. In addition, Owsley said good leaders remain "incredibly curious" and always ask "why." Finally, he said, self-awareness and a focus on culture is important since startups go through many ups and downs. Great leaders keep an organization moving through those hardships.
Good leaders remain "incredibly curious" and always ask "why."
Collier said she fell in love with the brand, which had a rich story and heritage. Cover FX was founded by Lee Graff, a makeup artist at the CosMedic Clinic at Toronto's Sunnybrook & Women's College Health Sciences Centre, and a chemical engineer, Jenny Frankel. The pair created formulations that provided sufficient coverage, tonal range and skin-friendly ingredients to address consumers with a range of skin conditions. It was this passion that inspired Collier to join the brand.
In the next nine months, Collier opened a Houston office, oversaw the tweaking of formulas and a repackaging of the Cover FX line. The brand's subsequent growth was driven by its loyal following of pro artists, though Collier admitted she wished she'd engaged influencers sooner. Cover FX also benefited from its credibility in color and skin care, particularly its universal color palette, great coverage and safe ingredients.
The brand launched innovations such as the Custom Cover Drops, which allow consumers to personalize their foundations and tinted moisturizers, as well as the Custom Infusion Drops, which can be used alone as an anti-aging serum or as a booster for skin care products. Collier noted that the customization angle was critical to the expansion, as well as a close retail partnership with Sephora.
Collier stressed that there is no one winning strategy in beauty today—there are many winning strategies. She encouraged brands to stick with their strategies, but be willing to be nimble.