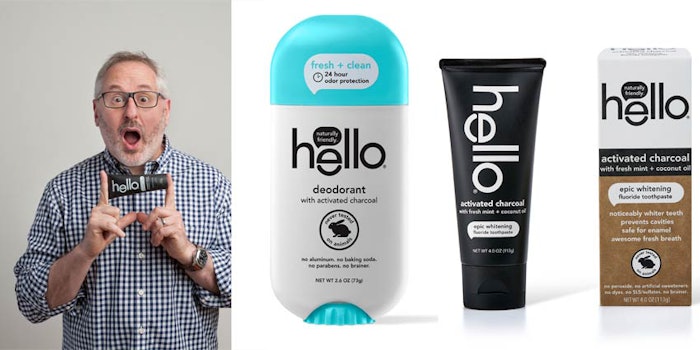 It should perhaps be expected that Craig Dubitsky, the founder of Hello Products, which declares itself to be "naturally friendly," would eat some of his brand's oral care product on-camera during our recent virtual interview. After all, a devotion to safety and a sense of humor are threaded throughout every element of the brand, even amid an acquisition, a pandemic and rapid growth.
The cruelty-free brand, which made its name in oral care and has since expanded to CBD, lip care, hand hygiene and deodorant, has a cheeky Spotify playlist that includes Adele, Lionel Ritchie, The Beatles and Bette Midler—most readers will probably be able to guess which songs made the list.  
Report: Beauty x Oral Care
The site also gives visitors a chance to Skype with Dubitsky, who clearly takes pleasure in connecting with the public.
Yet, despite all the fun and smiles, Hello Products has been through immense change that challenged its organization.  
Hello's Growing Pains
In January 2020, just as the pandemic began to appear in Western markets, Hello was acquired by Colgate-Palmolive. The purchase gave the legacy company an additional foothold in a sector that skewed younger and harnessed growth trends of "clean" and sustainable products.
"We have great respect for the Hello team and their impressive product line, and value the strong connection they have made with younger consumers," Noel Wallace, Colgate's president and CEO, commented at the time. "With its distinct on-trend positioning, Hello is a terrific complement to our Colgate and Tom's of Maine brands and we look forward to supporting its continued growth and success."
Dubitsky says that while Hello has continued its core mission, the brand has benefited from the scale and experience of Colgate, particularly as the brand has expanded categories and points of distribution.
In fact, Hello's retail strategy is part and parcel of its ethos: being available to anyone and everyone, wherever they shop. As a result, Hello introduced its CBD-infused products at Ulta Beauty and expanded its reach to comprise Albertsons, Dollar General, iHerb, Walmart, Whole Foods, Amazon, Wegmans, Target, Thrive Market, Kroger, CVS and others.
In October 2021, the brand is expanding select oral care to the United Kingdom at Superdrug and Amazon.
This ongoing expansion, paired with the pandemic-related spike in e-commerce business, pushed Hello's systems into overload. As Dubitsky tells it, the company outgrew several data and operations management tools, which necessitated excessive actions such as 24-hour cycles of data entry on slow systems. This was clearly unsustainable.
To support the growing complexity and scale of its operations, Hello adopted the services of Oracle's Netsuite to ensure operations ran smoothly. The move helped the brand to react quickly to the uncertainty of today's retail and supply chain environment and to make smarter decisions.
This required faster access and greater visibility into cash flow, financials, inventory, supply chain and enhanced employee communic¬ation. Without real-time data, Dubkitsky notes, it's difficult to control your business, particularly in uncertain times. Solid systems also keep teams focused and engaged—a plus in any period.
Expanding Hello's Promise
Hello "disrupted" the oral care space by offering safe, natural products and messaging that made oral health fun and non-punitive. In July 2020, the company brought that same attitude to deodorants, a category that has experienced the same "prestige" revamp seen in oral care. But Dubitsky is clear: Hello is designed for accessibility, not exclusivity.
The deodorants are housed in 100% previously recycled packaging and feature sustainably sourced ingredients like tea tree oil, activated charcoal and shea butter. They are also Leaping Bunny certified, vegan, dermatologist tested and gluten-free.
The expansion adds to the brand's growing reach, from children's oral care to CBD oral and lip care products to foaming handwashes (solid and liquid) and sanitizers. The CBD products, in particular, highlight Hello's customer-friendly philosophy: packaging includes camera-activated codes for lab reports detailing CBD safety, particularly the absence of heavy metals and THC.
Meanwhile, in October of 2020, Hello Products rolled out its Hello Friendly Dental Pass, which can allow an individual or a family in the United States to save 20-50% on most visits to participating dentists in the network.
Individuals can purchase a 30-day dental discount plan for as little as $20.00. The pass can also be used by people without insurance, or those with insurance who have already hit their annual maximum.
As the pass shows, Dubitsky and Hello Products have a larger mission beyond business growth and category and market expansion—better health and wellness, naturally.