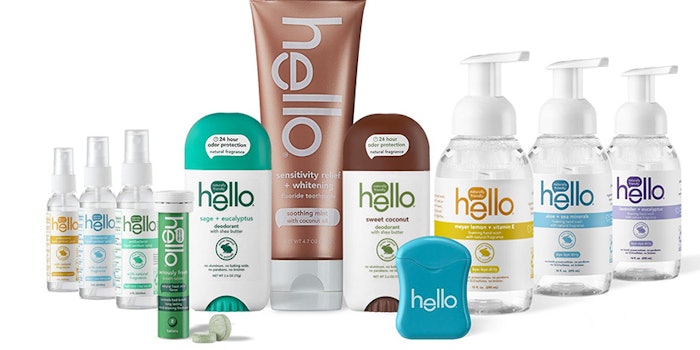 Hello Products has announced the launch of its new, sustainable and natural oral and personal care products.
Related: Hello Products Releases Friendly Dental Pass
Hello Products are vegan, cruelty-free, and free from synthetic fragrances, dyes, SLS/sulfates and parabens.
Oral Care Launches
The Reusable Toothbrush is made with 85% less plastic compared to its standard manual toothbrush and is equipped with a replaceable brush head with precision-tapered, floss-tip bristles. 

Seriously Fresh Breath Tablets control bad breath with naturally derived enzymes and plant extracts. The tablets contain no sugar, calories or artificial sweeteners.

Naturally Healthy Mouthwash Refill Pouch is formulated with aloe vera, coconut oil, mint and xylitol. The refill pouch has 80% less plastic compared to two of its 16 oz mouthwash bottles and caps. This mouthwash is said to promote healthy gums and prevent plaque and gingivitis. It contains no alcohol or artificial sweeteners. 

Sensitivity Relief + Whitening Toothpaste contains the highest level of active ingredient potassium nitrate allowed by the FDA as well as aloe vera, coconut oil and sodium fluoride. This toothpaste is said to relieve sensitivity pain while preventing cavities and protecting enamel. 

Peppermint Oil + Coconut Oil Infused Floss is textured to gently grab and lift debris between teeth and comes in a recyclable paper carton box. The floss itself is coated with vegan candelilla wax and contains no GMOs, PFAS or shreds. 

Kids Juicy Grape Fluoride Toothpaste is formulated with grape fluoride to prevent cavities and strengthen enamel. It contains sweeteners such as organic stevia and xylitol.  
New Personal Care Categories:
Foaming Hand Wash contains plant-based and biodegradable ingredients in a recyclable bottle. It is dermatologist tested, contains no harsh preservatives and is available in three scents: Meyer Lemon + Vitamin E, Aloe + Sea Minerals, Lavender + Eucalyptus.

Antibacterial Hand Sanitizer Spray is formulated with plant-derived alcohol (62% ethyl alcohol) as well as biodegradable and up-cycled ingredients. The spray bottle is recyclable and come in four scents: Meyer Lemon + Vitamin E, Aloe + Sea Minerals, Lavender + Eucalyptus, Fresh Mint + Tea Tree Oil.

The deodorants are formulated with shea butter and tea tree oil to to deodorize and soothe. It comes in 100% recycled packaging and contains no aluminum, baking soda or talc. It's dermatologist tested and available in Sage + Eucalyptus Deodorant with Shea Butter as well as Sweet Coconut Deodorant with Shea Butter.