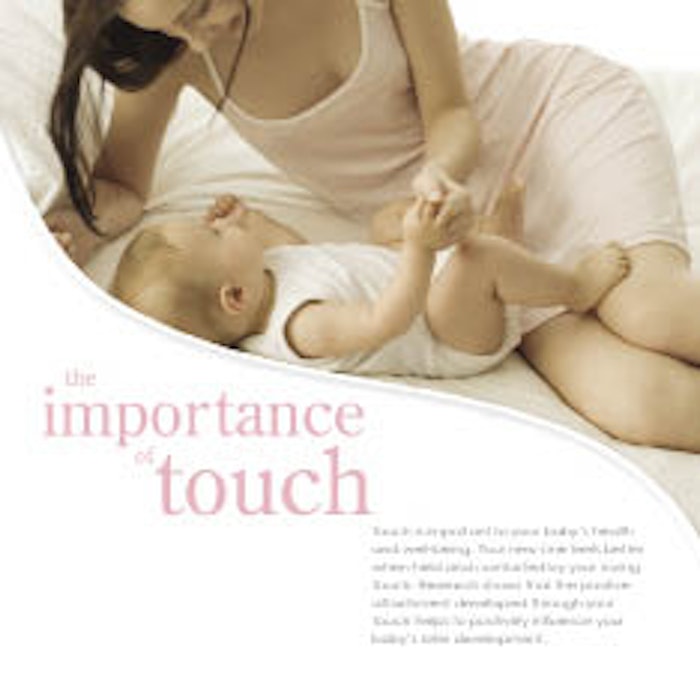 Have you read your baby lotion label lately? Chances are, most new moms have.
Baby care is among the categories expected to show the highest levels of growth in the years ahead, but not just any old lotion will do. A significant rise in demand for natural and organic baby care products persists, as well as a continuing trend toward prestige and premium baby care products. This is highlighted by the fact that baby body care is now featured in prestige retail outlets such as Bloomingdale's and Neiman Marcus, while The Body Shop and Sephora are also increasing their offerings.
To encourage success in a market filled with niche opportunities for smaller players and new ground for larger players, marketers must continue to stimulate sales and increase brand awareness and loyalty campaigns.
Feel-good Choices
Products specifically geared toward young skin need to be formulated with care—using safe, gentle ingredients and delivery systems. Baby's skin is extremely sensitive and vulnerable and, therefore, more prone to irritants and allergic skin problems. The depth of baby's thin scalp specifically means it may absorb more of the chemicals present in hair care products than adults. Consumers are increasingly aware that conventional shampoos often contain ingredients such as the surfactants sodium lauryl sulphate and sodium laureth sulphate, which have been linked to the development of allergies, including asthma. The presence of excessive levels of salt, used as a thickening agent in many products, has also been a concern for health-conscience consumers.
Negative media coverage of certain chemical ingredients such as phthalates and parabens, which have been linked to carcinogenic effects, has encouraged consumers to search the shelves for products that use alternatives as well.
The current market is more about helping parents feel good about their product choices. New parents, in particular, are willing to pay a bit more for skin care for their baby. Real or perceived greater long-term health benefits and fewer side effects touted by pure products is a big relief for moms. These products may be pricier at retail, but consumers are purchasing more than product in these expenditures. "Product trust is worth a lot," explained Motherlove founder Kathryn Higgins.
Beyond product categories, increasing access to information and greater possibilities for sharing views on product attributes is also influencing consumer buying habits. The information age is making consumers more demanding about the ingredients that are used in their products, fueling the popularity of natural and organic cosmetics.
"Today's mom is more informed than ever before with an arsenal of information at her disposal," said Lisa Carnevale, marketing manager for Derma at Beiersdorf, Inc. In addition, many women are having children at an older age—with more income and education. "They have a greater understanding of the importance of the products they use on their baby's skin and the short- and long-term implications of the quality of products they choose," added Higgins.
Natural and Luxury Alternatives
The ideal cleansers, moisturizers, powders and sunscreens are very mild to avoid irritation, allergic or sensitizing skin reactions, and organic or natural, paraben-free and eco-friendly products are gaining momentum. While mothers have an impulsive emotional pull toward "baby" scents, there is also a shift toward fragrance- and color-free products, as new moms expand the scope of ingredients they see as problematic for baby's skin. Second ranked Aveeno Baby's baby bath treatments and creams are noteworthy because they are fragrance- and surfactant-free. Developed specifically to gently cleanse, moisturize, soothe and relieve babies' sensitive skin—even dry skin from eczema—the clinically tested formulas are enriched with natural colloidal oatmeal and glycerin, a natural plant-derived humectant that can impart special moisturizing properties to help lock in moisture and soothe skin.
Sweet almond oil instead of mineral oil, cornstarch instead of talc and 100% natural preservatives instead of parabens are some of the other alternatives parents are looking for.
Manufacturers are heeding the consumer demand and highlighting natural ingredients in their marketing. Burt's Bees' Baby Bee Buttermilk Lotion features buttermilk instead of parabens. The product's print ad campaign largely revolves around an effort to encourage parents to read labels and make ingredient comparisons. In its efforts to nurture label reading and comparisons, Motherlove's packaging features the USDA Organic seal.
In the luxury segment, The Câlinesse skin care line, first launched on the domestic Swiss market in 2007, includes four baby skin care products, featuring pure donkey milk and organic plant extracts. According to the company, the milk is regenerative and soothing for skin because of high levels of protein, phospholipides and ceramides. The product range has eco-certification and currently is being marketed in organic shops, as well as boutiques for women and babies. The range starts at €28 for the baby lotion.
Reflecting recent trends, Evonik Goldschmidt recently introduced an emulsifier and texturizer especially designed for use in natural cosmetic applications, including baby care products. TEGO Emulprot is a PEG-free O/W emulsifier based on natural milk and sugar and produced by a biotechnological process. The German-based company claims that the emulsifier can be used with all common cosmetic oils, but works best with pure natural oils as they are said to complement the natural milk and sugar base of the emulsifier to reduce the greasy effect and provide soft and creamy textures.
Preservatives
In order to address consumer concerns about parabens, marketers and suppliers alike are looking at formulations and processes to find innovative solutions to the preservation challenge. The preservative used in Aveeno's Daily Baby Lotion, for example, is benzyl alcohol.
Beyond formulations, Laboratoire Cosmétique CL Tech applied UHT technology to the sterilization of cosmetic products, eliminating the need for the use of preservatives. CL Tech director Didier Lopez also claims the sterilization process does not affect the efficacy of formulations. The company is searching for international manufacturers, with access to global markets, to broaden the use of this technology. The French company's ECOCERT products are formulated under the principle that only what is essential should be used. This meant a detailed process to provide sensual properties that are appealing to consumers conducted in clean room, with formulations then packaged in airless containers with antimicrobial lids to ensure that no bacteria or fungi are present.
Value, Multifunctionality and Marketing Strategies
Companies must also be aware of the spending limitations of families in today's economic climate. At the same time, busy moms want a product with multiple functions—for example, a diaper rash cream that also treats dry skin, such as Beiersdorf's Aquaphor healing ointment, or two-in-washes that shampoo and cleanse, such as Gerber's Grins and Giggles.
No matter the claim, it needs to work in order to gain and keep loyalty from moms. "They want to quickly ease the discomfort of their baby," said Aquaphor's Carnevale, who notes the company's product is formulated to help heal dry, chapped skin and improve diaper rash within six hours. "If it works as well as the brand promises, then she will repurchase it again and again."
Meeting unmet needs is especially key for niche opportunities. "The Aquaphor ointment fills the needs of so many skin care needs of babies, and it's important not to confuse moms with several products—when we can provide the one that can do it all," said Carnevale. Aquaphor is reviewing new product packages and forms to provide more convenience to moms, including a formulation for an optimal wash for daily baby care.
Marketers target moms in a variety of ways including through parenting groups and Web sites, hospital sampling and sponsorship of various activities that involve moms. "Word of mouth is most effective among moms," said Carnevale. Aquaphor also targets moms through doctor recommendations and testimonials from other moms.
In an effort to appeal to today's parents, particularly the growing number of them conducting online research, market leader Johnson & Johnson launched a comprehensive marketing campaign focused around the theme and power of a mother's touch online, on television and in print. "Our goal is to show today's moms that they can continue to rely on Johnson's just as their mothers did," said Lori Dolginoff, director of communications, Johnson & Johnson Consumer Companies, Inc.
The company worked with Animation Collective, a flash animation studio that focuses on children's programming, to launch a series of online animated shorts to promote the iconic Johnson's Baby Lotion brand. Featuring the voice of Emmy award-winning actress and new mom Mariska Hargitay, the three "advertainments" ran on www.touchingbond.com in early 2007. "According to statistics, more than 32 million moms regularly go online, using the Internet as an essential tool for education, advice and entertainment which is why we realized tapping into this platform is critical," said Bridgette Heller, global president of Johnson's baby care.
The shorts were promoted through a series of video banner ads at www.babycenter.com (run by BabyCenter LLC, a member of the Johnson & Johnson family of companies), which, according to the company, reaches 80% of all new and expectant moms in the U.S. Additionally, banners on Discovery Health, TLC and Meredith publications' Web sites drove traffic to the videos.
Each one-to-two minute short focuses on the mother/child bonding experience and how that emotional tie is facilitated with a mother's loving touch while using Johnson's Baby Lotion. Each short showcases activities that help strengthen the bond between baby and mom, while incorporating a fun fantasy sequence in the mind of the baby.
In addition, Johnson's recently released a new print and television advertising campaign with the tagline "Make Your Touch More Touching." Lowe & Partners Worldwide in New York created the ads, which are running throughout 2008 on select television outlets such as Lifetime, TLC and Nickelodeon's Nick at Nite programing—and in Meredith Publications such as Parents and American Baby. Johnson & Johnson also sought to enhance its campaign through dedicated Spanish language advertising, which includes sponsoring Univision's Primeros Pasos baby segment on its leading morning show, and through a marketing and advertising campaign called "Thanks Mom" as part of its company-wide 2008 Olympic sponsorship.
In addition to its campaigns, the company also continues to launch baby-targeted products, and had three new products on the shelf as of mid-June.
Their Future
"The products we use on our children and how they are made and disposed of will create the world our children will live in," said Motherlove's Higgins. In many ways, baby products, too, may be further illuminating the path personal care products as a whole take. The products used by parents on their children may influence the product choices those children make as adult consumers, and the baby segment's drive for natural and gentle ingredients is a microcosm of a larger consumer drive. Therefore, companies such as Motherlove are always looking for the best sources and processes for their ingredients to reinforce real or perceived safety, now and later. Marketers and suppliers alike must be a step ahead to keep up with demand without compromising quality—then market it loud and clear so consumers can trust the commitment to understanding and advancing the products that meet these concerns.
SARA MASON is a freelance writer and editor in the Chicago area. She was formerly managing editor of GCI magazine.