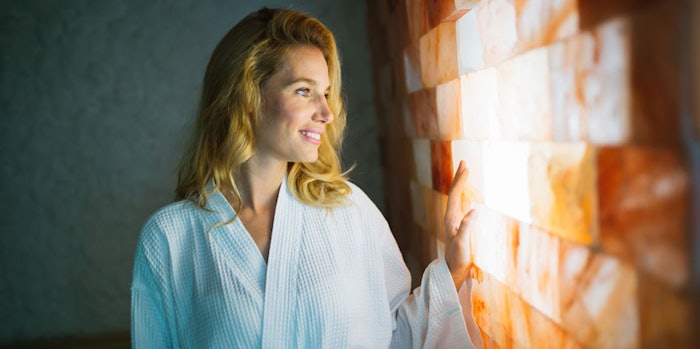 Organic and natural beauty have evolved from niche products and nice-to-have benefits to an industry norm. Holistica beauty—a category that encompasses the synergy among health, wellness and beauty—is following close behind.
The drive to live holistically, feel healthy and look beautiful is so strong that consumers are willing to change their behaviors in some radical—and not so radical—ways. From embracing organic and natural topical products to being mindful of consuming clean foods, consumers are pursuing a more comprehensive and integrated approach to living, and much of it starts with their beauty routine at home.
As holistic treatments gain more mainstream buzz, so too does consumer awareness. In January 2018, The Benchmarking Company surveyed 8,381 US women ages 18 and up about their awareness, knowledge of and behaviors regarding holistic living. Respondent answers were reported as a whole, and by age generationb.
How Consumers Define Holistic Beauty
When asked what the term "holistic beauty" means, answers revealed a wide range of thinking from natural and organic beauty (45% and 40%, respectively) to nutritional supplements to beauty products without harmful chemicals.
However, the largest percent of consumers equate holistic beauty with something that is good for overall health, such as embracing alternative therapies that support health and well-being (58%), or the interconnectivity of body, mind and beauty (56%).
Other answers point to a general sense of making healthy choices, loving oneself and remaining positive in mind; beauty without harmful chemicals; maintaining a positive body image; and loving oneself, flaws and all! Interestingly, it's Generation X that most believes that accepting flaws and maintaining self-love is a huge part of holistic beauty (26%), compared to millennials and boomers (23% and 19%, respectively).
Consumers Believe in Holistic Living
In general, consumers strongly agree that a holistic lifestyle is a positive influence on their lives. Eighty-five percent agree that when they feel healthy and strong, they feel more attractive. According to the survey, 79% say there is a connection between a happy mind, fit body and self-image, and agree with the sentiment that "when I feel good about my body and mind, I feel more beautiful on the inside and out."
According to the data, 84% of women agree that there is a definite connection between a healthy diet and the appearance of their skin, and 79% say that when they feel healthier and more attractive when they exercise regularly. Plus, 71% of women say they feel more attractive when they eat healthy, fresh food.
Most Consumers Aren't Holistic—Yet
But does awareness of and belief in holistic treatments translate into getting or trying the treatment? For most consumers, the answer is "not quite yet" (T-1). More than half of surveyed consumers have not tried lesser known holistic therapies such as deprivation chambers, cryotherapy and salt chambers.
Predictably, boomers are the slowest to adapt to all therapies across the board. However, for some of the more well-known therapies, such as acupuncture, Generation X and millennials have still not engaged, which could be attributed to age or competing economic priorities.
Holistic Awareness, By the Numbers
Awareness of activities and treatments most often associated with holistic living, such as yoga, Pilates, barre class and the like, is relatively high amongst all consumers, in particular yoga and meditation (see F-1). On the lower end of the awareness scale are lesser known procedures such as Ayurvedic medicine, Bach Flower Remedies, colonics and sensory deprivation chambers, some of which are known by only a handful of consumers.
How Consumers Are Adopting Holistic Lifestyles
So what is the consumer doing to support her overall health and wellbeing? For many, a daily vitamin/mineral is a must (89%), followed by activities you might not expect: replacing a meal with a smoothie (52%) and drinking detox teas (36%).
When asked to identify activities that most contribute to overall health and wellness, consumers pinpointed actions and behaviors that most of us already equate with wellness: a healthy eating plan takes the top spot (83%), followed by an exercise plan or regimen (73%), a skin care routine (60%), meditation (55%) and yoga (50%).
Holistic Wellness & Skin Care
Consumers see a definite connection between living a holistic lifestyle and healthier skin. Seventy-nine percent agreec that the extra effort made to keep her skin healthy today will allow her to look younger, longer, and 78% agree that if they took better care of their body through diet and exercise, their skin would improve.
Doing just a little something extra equates to a big difference in the consumer's mind: 66% agree that a bit of extra pampering really makes a difference in how her skin looks, and 65% say women today look younger for their age than women did 20 years ago.
According to the survey, 85% of consumers say they maintain a regular skin care routine. Eighty percent do so because using skin care regularly makes their skin feel better, 78% because it makes their skin look better; 58% because they don't want old looking skin and 55% because it keeps her skin looking young.
Not surprisingly, surveyed consumers find a holistic regimen is compelling to address a host of skin and health concerns, including:
Weight loss (52%)
Fine lines (50%)
Dark spots (49%)
Enlarged pores (48%)
Deep wrinkles/cellulite/skin dryness (46%)
Scars (45%)
Acne (42%)
Rough skin texture (39%)
To that end, when it comes to holistic skin care products, adoption and usage is growing. Forty-five percent of women have used essential oils, 32% have DIY'd their own skin care products, 29% have used herbal remedies and 12% have used naturopathic remedies.
Although few women have used naturopathic skin care products, 91% of those surveyed believe they are just as or more effective than traditional skin care products. Further, 90% feel this way about herbal skin remedies and essential oils, and 85% about homemade skin remedies. Clearly, these products are on the beauty consumer's radar of products they are interested in and trust.
Skin Care Naysayers
For the small percentage of consumers who are not interested in maintaining a routine skin care regimen, the top reason by far is cost, with 57% saying products are too expensive. Other reasons include:
Effort: 35% say it's too time consuming
Safety: 24% are worried about putting too many chemicals on the skin each day
Sensitivity: 13% say their skin is too sensitive to use skin care products each day
Outcomes: 11% say it doesn't make a difference in how my skin looks
Holistic Wellness & Beauty at the Spa
While women are increasingly embracing holistic therapies and products, they still love their day at the spa! Seventy-nine percent of women surveyed say they feel elated when they receive a gift certificate to the spa; 46% report having visited the spa for a special occasion/day of pampering; and just over a third go to the spa a few times a year.
Why does she enjoy going to the spa in the first place? For most women, the destressing and relaxation is the prime motivator (88%), while 74% say it just feels great, 52% go to keep their skin looking healthy, 38% go to keep their skin looking youthful and 24% go because spa treatments boost the results they get using their favorite skin care products.
How Much Are Consumers Willing to Change?
Consumers generally feel strongly about caring for their skin, they like how holistic living and wellness makes them feel, and clearly perceive its benefits. However, we wanted to know just how far consumers would be willing to change their behaviors—if the reward were to be healthy and look beautiful for life. The answers, detailed in T-2, might surprise you.
Footnotes:
a"holistic: relating to or concerned with wholes or with complete systems rather than with the analysis of, treatment of, or dissection into parts"; Merriam-Webster; first known used: 1926
bWith generation ranges closely matching those considered to be nationally representative.
c4-5 combined score on scale of agreement, with 1 being not agree and 5 being highly agree
Denise Herich is co-founder and managing partner at The Benchmarking Company (www.benchmarkingcompany.com), which provides marketing and strategy professionals in the beauty and personal care industries with need-to-know information about its customers and prospects through custom consumer research studies, focus groups, its annual PinkReport and consumer beauty product testing for marketing claims.