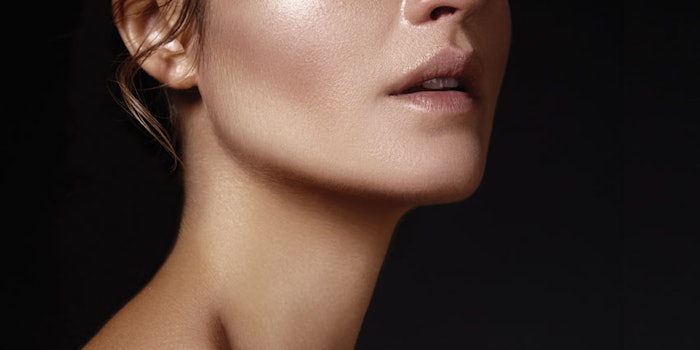 The global skin care market was valued at about $121.8 billion in 2017 and is projected to expand to $154.5 billion by 2021 (see T-1). In the United States, prestige skin care growth has begun to outpace that of all other categories, signaling a spike in consumer interest in the areas of naturally positioned brands, fun and unique formats, wellness-oriented products, gentle formulations and more.
Ingredient firms and brands have responded with a new wave of research, product innovation and unique marketing stories that will drive the next wave of growth for the category. Here, we look at some of the leading trends and trend-setters.
JooMo Is Out for Skin Care Justice
When it comes to healthy skin, biodiversity is everything—at least according to Kit Wallen-Russell, director of the Pavane Research Centre, the R&D arm behind JooMo's microbiome-friendly skin care technologya. And new research purports to show just how important product selection can be.
Wallen-Russell recently spoke to Global Cosmetic Industry as he prepared to publish his latest research, which features results from clinical trials conducted with the Medical University of Graz in Austria that sought to address a fundamental question: "Are modern cosmetics a cause of the skin allergy epidemic?"
The question arose from the rise in skin allergies in the modern era, a challenge that spiked in the last decade, according to Wallen-Russell. He partially attributes these complications to the products consumers apply to their bodies. (Other causes include highly processed modern diets and the rise of cleanliness culture, he adds.)
While Wallen-Russell wouldn't explicitly preview his study to Global Cosmetic Industry, he appears to have determined the effects of everyday cosmetics on skin health.
New Microbiome Study Revealed
The latest study involved 30 volunteers broken up into three groups: one used skin care products marketed as natural, another used conventional skin care products and the final group used JooMo's microbiome-friendly products. Wallen-Russell explained that the "natural" and conventional products used by the first two groups both contained some portion of synthetic materials.
The researchers took a skin biodiversity baseline at the start of the trial, then tested that same skin midway through the research and again at the conclusion. Skin health throughout was measured by the biodiversity of the skin microbiome. The more diverse a microbiome becomes, the stronger the skin barrier and the greater the overall skin health.
The results are teased in the photo below, which purports to show how JooMo increased skin biodiversity (and therefore skin health) in two weeks. Wallen-Russell, understandably pleased, is scaling up the research.
Microbiome-friendly Product Range
JooMo's range of products includes its flagship preservative-free JooMo 100% Natural Body Wash (retail: £23.50), which can be used as a cleanser, moisturizer and shave product all in one. The formulation is reportedly appropriate for addressing acne, spots, blackheads, rashes, soreness, cold sores, eczema, allergies and more on all skin types. The body wash prevents inflammation and irritation by providing the conditions under which beneficial skin bacteria can thrive in a diverse microbiome.
The brand also offers the 100% Natural Face Wash for Boys and 100% Natural Face Wash for Girls (retail £12.50). Wallen-Russell notes that the two formulations don't exist because skin is fundamentally different from one gender to the next, but rather because girls and boys tend to expose their skin to different types of stressors. As a result of more rigorous use of beauty and skin care, he said, girls tend to have more sensitive skin than their male counterparts.
Wallen-Russell says future products will include a shave gel, shampoo, anti-acne lotion and anti-aging lotion.
Food-based Ingredients
JooMo's innovation is built on a foundation of conventional ingredients that are likely to be familiar to consumers. Its ingredients work in a synergy greater than the sum of their parts, according to Wallen-Russell.
Key components include saponins from Indian soap nuts, which cleanse without drying the skin or altering its natural pH. These materials also act as anti-irritant, anti-oxidant, anti-inflammatory and anti-allergic agents, and offer antimicrobial, anti-viral, anti-fungal and anti-carcinogenic properties. Saponins also offer deodorant properties.
Raw thyme honey, on the other hand, softens, moisturizes, heals and calms sore skin while offering anti-bacterial, anti-fungal, antimicrobial and anti-inflammatory activity. The inclusion of astringent orange juice reduces oiliness and shrinks pores, helping to modify pH, stimulate the metabolism and eradicate acne.
Meanwhile, organic sea salt addresses acne, eczema and psoriasis, reduces inflammation, improves circulation and heals sore skin. It also restores balance to greasy or dry skin, gets rid of impurities, stimulates the skin's own activity, imparts minerals and trace elements to the skin, renews the complexion and offers healing properties. The inclusion of unrefined, raw cane sugar offers anti-bacterial activity and helps to maintain optimal skin flora.
JooMo's formulations are also free from sulfates, soaps, fragrances and other commonly maligned ingredients. The brand encourages users not to use other products in conjunction with its brand in order to generate the best results.
Defining Diversity
The latest research from JooMo posits that no single organism is solely responsible for skin health. Therefore, healthiness is linked to high biodiversity within the skin's ecosystem. But to measure biodiversity, Wallen-Russell and his partners used the Chao biodiversity index, which skews data sets toward so-called low-abundance—or, rare—species. The reasoning being that rare species will only be present in highly diversified systemsb.
This method stands in contrast to the widely used Shannon diversity index, which primarily assesses general species abundance and evenness.
Wallen-Russell's original 2017 publicationc argues, "For the first time we propose benchmark values of diversity against which we can measure skin to determine how healthy it is. This gives us the ability to be able to predict which people are more likely to be prone to skin ailments, and start to test whether cosmetic ingredients and products are a main cause of the skin allergy epidemic."
The Founding Story
The JooMo brand was born when Wallen-Russell's mother, Linda Russell, faced her own skin issues, which she was unable to resolve with conventional and natural ointments and washes, as well as steroid creams that exacerbated her condition.
Linda Russell's experience mimicked research out of the University of Florence that found that children from rural Burkina Faso, who consumed polysaccharide-rich, non-Westernized diets had vastly healthier gut microbiota, compared to their Western counterparts, as well as the so-called uncontacted Yanomami peoples of Brazil and Venezuela, which, according to US and Latin American researchers, harbor an unprecedentedly diverse microbiome and genetic function.
Like other players in the microbiome-friendly skin care market, JooMo posits that modern cosmetic products and excessive cleanliness have exacerbated skin problems in the modern era by disrupting the natural state of skin microbiota in the same way non-native species can wreak havoc in a regional ecosystem. Therefore, the brand argues, a new approach is required.
Not a Beauty Brand
JooMo is focused on revolutionizing the skin care industry, according to Wallen-Russell, primarily by being honest, improving health and giving the consumer "justice for their skin."
The brand doesn't shy away from its technical message. Wallen-Russell stresses that JooMo will expand into salons, including 200 doors in Australia, as well as clinics and hospitals. JooMo, he explicitly says, will not be a beauty brand, but rather a health solution.
Tula's Innovation Runway
Tula founder Dr. Roshini Raj, a board-certified gastroenterologist, has reportedly called the microbiome one of the most exciting things to happen in medicine and, according to Julia Straus, the brand's CEO, gives Tula an "endless runway for innovation."
This bodes well for consumers who are looking for a natural, healthy solution for their skin that's clinically proven, says Straus. These shoppers are educated on ingredients and how products should work and, for Tula's consumers in particular, are focused on solving fundamental skin health issues first, followed by cosmetic concerns like wrinkles and blemishes.
This holistic outlook is a boon for probiotics, which support well hydrated skin and skin barrier strength to keep out free radicals. To date, Tula has launched an array of probiotic skin care, including the Hydrating Day & Night Cream, Purifying Cleanser, Pro-Glycolic 10% pH Resurfacing Gel, Exfoliating Treatment Mask, Illuminating Serum, Kefir Replenishing Cleansing Oil, Multi-Spectrum Eye Renewal Serum and Dual-Phase Skin Reviving Treatment Pads
Food & Probiotics: A Natural Analogy
Probiotic beauty benefitted from the gut health movement, which highlighted the benefits of foods like yogurt. The beauty industry was therefore able to translate the science of probiotics in consumer-friendly terms, says Straus. This is similar to the pathway vitamin C followed when its use in skin care originally ramped up.
However, she says, communicating that science-based story can be fraught. Straus explains that Tula originally experimented with various strategies and found that scientific discussions of the microbiome and images of bacteria were ineffective with beauty consumers. Instead, Straus says, images that linked probiotic skin care to food created a more natural analogy for consumers "at the top of the funnel."
Beauty: Inside & Out
Tula has conducted clinical tests on its products for inflammation, exfoliation and more, and has partnered with a nutrition manufacturer to leverage a probiotic resource ideal for Tula's Overnight Skin Rescue Treatment that comprises a natural probiotic strain, Bacillus coagulans, which reduces the appearance of pore size and improves the look of fine lines and wrinkles, according to the brand. The formulation also includes the probiotic strains Bifida ferment lysate and Lactobacillus casei and acidophilus, as well as vitamin C, AHA, and watermelon and other fruit extracts.
In contrast to JooMo, Tula is actively looking for ingredient synergies with its probiotic formulations. The brand has found that combining probiotics with materials such as glycolic acid or retinol can make the latter ingredients more palatable and effective for consumers.
Tula has also taken a lead in the beauty-from-within movement, launching its Daily Probiotic & Skin Health Complex supplements. The product reportedly aids digestive and skin health with a mix of ceramides for skin moisture retention, vitamin C for skin tone and texture, Lactobacillus rhamnosus GG for digestive health, Lactobacillus plantarum for anti-aging benefits, and Bifidobacterium infantis for improved metabolism to prevent after-meal bloating.
Straus notes that supplements are no longer an afterthought for brands because they are easy for consumers to incorporate into their everyday wellness routines, signaling a new way to integrate beauty into people's regimens.
What's Next for Tula?
Straus explains that the product development cycle is guided by what customers are looking for, adding that more than 50% of consumers are dealing with overactive—oily and/or acne prone—skin. Therefore, there remain new opportunities ahead in the areas of scalp health and acne treatments. Body care is another area of focus.
Research into the microbiome is still emerging, says Straus. As the category develops, she adds, testing will develop to add more nuance, including biome-specific solutions. For now, however, Tula is focused on the well-established clinical tests for ingredient and product efficacy.
Feel-Good Skin Care
Neurocosmetics can soothe the skin by regulating inflammatory responses and prolonging cell life, producing a feel-good effect in formulations. For instance, Defensil-Soft from Rahn AG is derived from Albatrellus ovinus mushroom extract and reportedly acts as a neuro-balm for normal and hyperalgesic skin by blocking the TRPV1 receptor and thereby elevating the pain threshold of the skin. The result: irritated, burning, tingling skin is calmed within minutes.
Givaudan Active Beauty's marine neuro-soother, Mariliance, is derived from Rhodosorus marinus red microalgae. The material reduces pain sensations by inhibiting the TPRV1 pain receptor, which is triggered by the overexpression of nerve growth factor (NGF) resulting from inflammation, and by inhibiting IL-1, which plays a key role in triggering the inflammatory response. According to the company, a test on 46 volunteers has shown that Mariliance reduces skin sensitivity to some degree within 14 days and generates as much as an 89% reduction in 28 days. The material can be applied to neuro-cosmetic creams, soothing products, and day and night care.
Silab's Neurofense neuro-soothing active ingredient is derived from the roots of red sage and can reduce the reaction to climatological, environmental and pollutant stressors in Caucasian and Asian sensitive skin. The material reportedly neutralizes neuronal hyper-reactivity by inhibiting TRPV1, restores the quality of the cutaneous barrier and reduces skin inflammation. The result: Attenuated skin redness and regained comfort and protection. The ingredient available in aqueous solution (recommended amount: 0.5-2.0%), and compliant with international cosmetic regulations (Europe, United States, Japan, China).
Indena's Bosexil is derived from frankincense (Boswellia serrata) and has reportedly been shown to counteract photoaging and offer soothing effects on the skin.
Happybelle-PE from Mibelle Biochemistry, meanwhile, contains a phyto-endorphin complex based on monk's pepper which, according to the company, has mood enhancing activity. The ingredient stimulates cell activity, increases hydration and skin firmness and decreases the appearance of wrinkles, while leaving the skin
feeling smooth.
Clean Beauty's "Healthy Halo"
"Consumers today see many ads, pitches, and brands—all of which are working to earn their trust," says Jeff Smith, director of marketing of Blue Diamond Almonds' Global Ingredients Division. "Within the food category consumers are taking more time to read product labels and learn about the ingredients used, all while wanting more natural, pure ingredients. These behaviors seem to be carrying over to the personal care product segment."
Smith is right. According to data presented by Nielsen's Jordan Rost at a February CEW event (Page 24), clean beauty concepts are rising as consumers actively seek out products that they perceive as simpler and purer—and thus safer for their skin. Consumer sentiment varies somewhat by segment, but a significant push against synthetic ingredients is present across categories surveyed by Nielsen. Notably, 15% of skin care buyers reported wanting to buy products without artificial ingredients, compared to 10% of hair care buyers.
"Almonds' 'healthy halo' effect with consumers is stronger than ever and carries over to this market," says Smith. "At Blue Diamond, we are seeing more examples of the use of almonds in personal care products with almonds being featured on packaging, in television ads and on manufacturers' product websites."
That's why Blue Diamond recently introduced its non-GMO 100% pure sweet almond oil (INCI: Prunus Amygdalus Dulcis (Sweet Almond) Oil) for the formulation of cosmetics, personal care products, hair care, skin care and massage oils.
"With an ingredient like sweet almond oil, there is an immediate recognition and confidence established," says Sam Greenberg, an R&D and development consultant for the division. "There is no rearrangement of molecules or catalyst involved in the production of Blue Diamond 100% Pure Sweet Almond Oil."
Greenberg adds that the company is grower-owned, creating an instant marketing story. In addition, the almond oil is extracted by physical means, leaving synthetic chemistry out of the equation. For a growing portion of consumers, that's important.
In formulations, sweet almond oil improves "skin feel and flowability," says Greenberg, "making it an ideal ingredient in the emollient phase of a formulation as well as by itself as a massage or body oil."
This is due in part to almond oil's ratio of fatty acids, which offer benefits in skin feel and product durability.
"For example, this gives the oil nice skin feel when being spread out in a massage application, and will not become too greasy when included in products like a beard oil," Greenberg explains.
He adds that consumers are increasingly aware of the benefits of using neat oils on their skin and that more research is examining the ingredient's benefits to the skin in more depth.
Enhancing Performance & Experience
Today's skin care market increasingly demands effective, relevant and safe products, even as the pace of product development has been accelerated by the rise of e-commerce, indie brands and consumers' insatiable desire for newness. The result is a closer relationship between suppliers and their clients, says Jon Fedders, global strategic marketer, skin care and baby care, Dow Consumer Solutions.
This starts with ingredients that offer consumer-relevant performance and experiences. For instance, the company's DowSil 3901 Liquid Satin Blend (INCI: Dimethicone (and) Dimethicone/Vinyl Dimethicone Crosspolymer), a mixture of a high molecular weight polymer in dimethicone, offers a smooth, satin-like feel and unexpected textures in skin care. According to the company, the blend is designed to heighten and add fun to the skin care experience by boosting lubricity and smoothness of products beyond the prestige space.
In skin care applications, DowSil 3901 Liquid Satin Blend can be used at levels of 2–10% to impart novel rheology (stringiness), the aforementioned satin-like feel and perceived moisturization.
Another recent innovation is DowSil FA 4004 ID Silicone Acrylate (INCI: Isododecane (and) Acrylates/Polytrimethylsiloxymethacrylate Copolymer, a blend of about 40% acrylates/polytrimethylsiloxy-methacrylate copolymer in isododecane. According to Dow, after evaporation of the isododecane, the high molecular weight silicone acrylate copolymer forms a film on skin.
In formulations, the blend reportedly dries quickly, offers color cosmetics a comfortable, wearable feel and allows for long-lasting wear. The result is all-day coverage with a single application. DowSil FA 4004 ID Silicone Acrylate also has high sebum resistance and water repellency, and imparts a smooth feel with minimal tackiness, according to the company.
Dow will also be introducing an SPF-boosting technology, Soltex Ino, which is reportedly designed for inorganic UV absorbers. The material will first be unveiled at in-cosmetics Global in Amsterdam.
To leverage its formulation and chemistry expertise, as well as to help put its ingredients in action, Dow's LabSense open collaboration program offers an opportunity for customers to partner with the supplier in order to accelerate their product development projects. Dow pairs its technical knowledge with ingredients and market insights to generate product concepts.
For example, in addition to a Moisturizing Sheet Mask formulation, the company's teams have created a Skin Smoothing Sheet Mask demo formula for a silky sheet mask that offers a smooth, slippery and non-tacky after-feel. The formulation comprises Dow Corning brand 2501 Cosmetic Wax, EL-7040 Hydro Elastomer Blend and HMW 2220 Non-Ionic Emulsion.
A Smooth Sleep Pack formulation creates a sleeping mask that offers a light and powdery feel and perception of skin softness. The formulation comprises Dow Corning brand 2501 Cosmetic Wax, EL-7040 Hydro Elastomer Blend and HMW 2220 Non-Ionic Emulsion, as well as Xiameter brand PMX-0345 Cyclosiloxane Blend and PMX-200 Silicone Fluid 2CS.
A Water-in-Oil Emulsion CC Cream demo formula offers a comfortable wear and long-lasting qualities, according to the company. The formulation comprises DowSil ES-5600 Silicone Glycerol Emulsifier and FA 4003 DM Silicone Acrylate, as well as Dow Corning brand FZ-3196.
Finally, the company's Bubble Pop O/W BB Gel Mousse formulation with sunscreen offers SPF 20 defense and a mattifying effect on skin. The formulation comprises Dow Corning brand 556 Fluid, PF-9510 Elastomer Suspension and SW-8005 C30 Resin Wax.
Footnotes:
aJooMo and Tula (Page 44) will take part in the 2018 Skin Microbiome Congress: Translating microbiome research into clinically & commercially viable cosmetics & therapeutics, revolutionizing dermatology, which will be held May 30–31 in Boston; for more information, visit skinmicrobiomecongress.com.
bFor an analogy, consider the likelihood of finding a rare tree frog in a low-biodiversity environment, versus a high-biodiversity environment. Inevitably, the tree frog's mere presence will signal a greater degree of biodiversity compared to an environment in which the same animal is not found.
cChristopher Wallen-Russell and Sam Wallen-Russell, Meta Analysis of Skin Microbiome: New Link between Skin Microbiota Diversity and Skin Health with Proposal to Use This as a Future Mechanism to Determine Whether Cosmetic Products Damage the Skin. Cosmetics, 4(2), 14, 2017; doi:10.3390/cosmetic¬s4020014