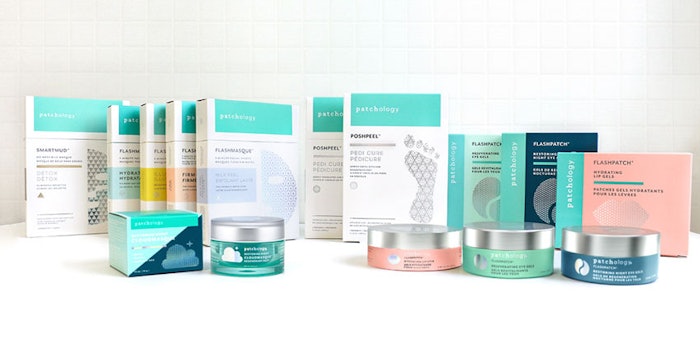 Patchology president and CEO, Chris Hobson, began his career as a brand manager but was always an entrepreneur at heart.
He completed his Master of Business Administration at Harvard and was part of several startups before landing at Procter & Gamble. Patchology represented an opportunity for him to combine his consumer packaging business savvy and passion for startup projects in one place.
Delivering Great Skin Care
The original idea for the Patchology brand came about after the company spent half a decade creating numerous patches for the medical field. Along the way, Hobson and the team came to realize that while there are many amazing ingredients in the beauty industry, their efficacy depends on the ability to successfully deliver them to the skin. Hobson set to work with a team of industry leaders to create truly effective delivery of great skin care ingredients. Patchology was born.
Retail Boom
The idea was a game changer. The company launched in the spring of 2014 at 15 Neiman Marcus department stores. It wasn't long before all Neiman Marcus and Nordstrom locations carried the brand. Patchology is now represented in roughly 1,000 stores in the United States and 1,200 internationally, not including additional spas, boutiques and online retailers.
Continuous Innovation
The Patchology team is constantly working to expand its expertise in ingredient delivery to create products that do more, work faster and deliver better results. As the company has grown, it has developed new ways to generate customer insights, which Hobson openly admits he is obsessed with. From having representatives in-store to surveys and social media, there is a never-ending feedback loop that helps connect unmet consumer needs with what's possible using the latest technology.
A Path Toward Wellness
Based on that feedback, Hobson knows that the eye area is his customers' number one concern. He says that while the brand is always expanding its product line, Patchology is lucky that its customers always provide more ideas than it could possibly develop. The brand hopes to eventually offer patches for every conceivable skin care concern, pushing beyond into wellness.
"Rockstar Team"
While some highlights of Patchology include its unique brand and customer-focused culture, Hobson values the people as the number one factor of company success. He is quick to credit his "rockstar team," including everyone from vice presidents of sales, marketing and operations all the way to Tucker, the office dog. The company has created a culture that combines accountability and freedom while encouraging employees to always be committed to its mission.
More information about Patchology can be found on online at www.patchology.com, Facebook, Twitter, Instagram and Pinterest.

Pamela Busiek is the president and CEO of The Independent Cosmetic Manufacturers and Distributors (ICMAD), a non-profit trade association supporting creative, innovative companies, from startups to established multinational businesses of all sizes. ICMAD's goal is to help its members succeed in the rapidly changing, highly competitive global cosmetics and personal care industry. Since 1974, ICMAD has provided essential guidance and support through business tools, publications, education, networking opportunities, and key advocacy support. Stay on top of the latest industry regulations, news and events with ICMAD online at www.icmad.org, Facebook, Twitter, Instagram and LinkedIn.