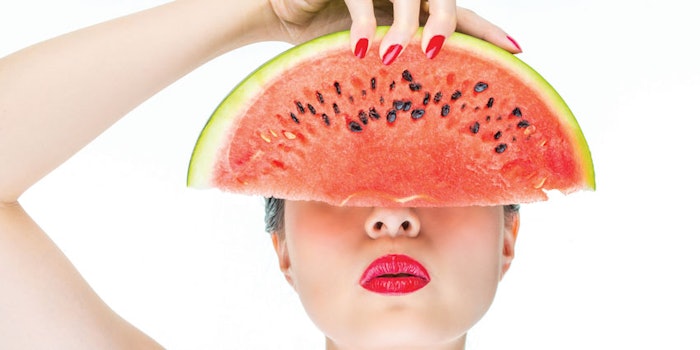 The rise of wellness over the last decade has led to unprecedented consumer scrutiny of the ingredients and products they put on and inside their bodies. While the application of food-based ingredients is nothing new, the trend has hit a new high with the advent of clean and sustainable beauty. As a result, brands are eager to infuse their skin remedies with everything from acai to zucchini.
Foodie Skin Care, by the Numbers
The market is hungry for food-inspired beauty. For example, a May 2018 analysis by Mintel's David Tyrella noted that gluten-free claims in foods accounted for 14% of the market in 2017, inevitably signaling a rise in similar claims in beauty. He added that there has "been a 7% … increase in facial skin care featuring gluten-free claims between 2012 and 2016, with the rise in popularity peaking in body care, where claims grew from 3% in 2012 to 12% in 2016."
Consumer interest is already on the rise. For instance, a Mintel survey from January 2018b reported that 41% of skin care users are interested in products comprising apple cider vinegar, while 38% of female skin care consumers are reportedly curious about probiotic products.
These trends are already playing out, with food-inspired products now on the market, including dpHUE's Apple Cider Vinegar Scalp Scrub, Feeling Beautiful's 4-in-1 Apple Cider Vinegar Foaming Clay Mask and Ulta Beauty's Kaolin Clay Detoxifying Body Cleanser, which also comprises apple cider vinegar, apricot, and peach and apple extracts.
Meanwhile, Mintel reports that, in the United States, Lactobacillus in skin care products grew 98% between 2013 and 2017.
Alison Gaither, beauty and personal care analyst at Mintel, added, "What started as a fun trend driven by experimental and adventurous young consumers has evolved into a movement toward healthy beauty, natural ingredients and environmental awareness … A focus on sustainability is the next movement in natural beauty, with brands using oils and plant waters in lieu of actual water to preserve resources."
Why food ingredients? Why now? Check out the November 2018 digital edition to find out. 
Footnotes:
aDavid Tyrrell, The 3 Skin Care Claims Your Customers Want to Hear; www.mintel.com/blog
bOn-the-Go Formats Make a Splash with Female Skincare Users; www.mintel.com/blog
Lisa Doyle was formerly the associate editor of Global Cosmetic Industry and is a freelance writer in the Chicago area. Her work has also appeared in Skin Inc., Salon Today, Modern Salon, Master Barber and Writer's Digest.