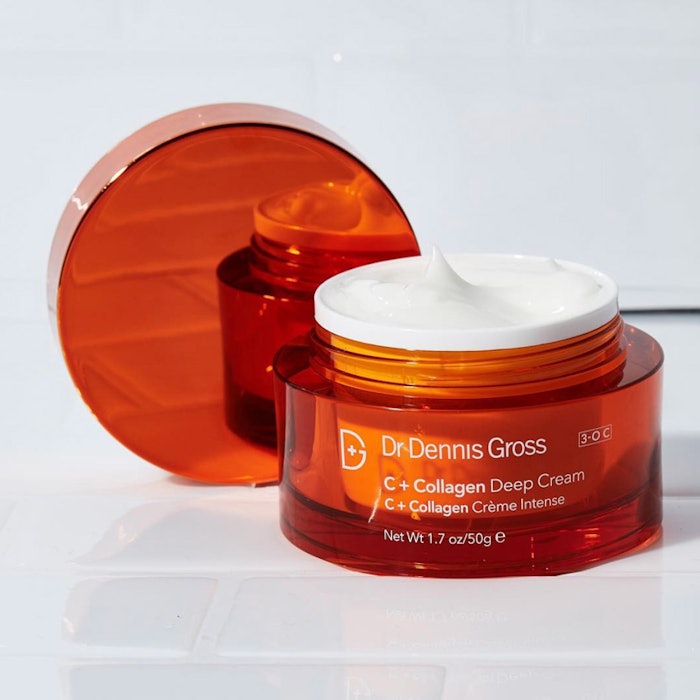 Since launching Dr. Dennis Gross Skincare in 2000, the company's motto—"From research to real life"— hasn't changed. Neither has its commitment to creating innovative products in the skin care industry.
Rooted in Dermatological Science
The company's roots were formed in the Gross home. Carrie Gross, CEO and Co-Founder of Dr. Dennis Gross Skincare, often found herself at traditional beauty counters on a fruitless search for efficacious products.
"When my husband, Dennis, and I were dating, we would sit together and read the ingredient lists of the products I brought home from drugstores or other beauty counters," says Gross. "These products always turned out to be a disappointment, and Dennis knew why. He took the time to educate me on skin care—what ingredients to look for, what to avoid—and I began to understand what the marketplace was lacking. That's when we began discussing ideas Dennis had for new products."
Little did they know at the time, these conversations were the beginnings of the formation of Dr. Dennis Gross Skincare, which would provide consumers with products rooted in dermatological science that contained gentle yet effective ingredients—something Carrie Gross knew was desired (and needed) by many consumers like herself
Both quickly discovered their ambition to start a skin care brand together but realized they needed innovative products in order to succeed. And innovative is exactly how one could describe the Alpha Beta Peel, which her husband created in the late 1990s.
She explained, "When Dennis formulated the Alpha Beta Peel in his New York City office, I immediately knew it would be the perfect product for us to bring to market."
She was right. Dennis Gross, M.D., was instrumental in formulating this treatment, and it quickly became a favorite with both his patients—and his wife. There's a reason this initial product, as well as subsequent products the company created, have experienced such success: Dr. Gross has the experience and education to create skin care solutions that are unparalleled in the marketplace.
"With his background in dermatology, Dennis understands the role lifestyle plays in healthy skin," she said. "For example, if you experience a breakout, it might be related to stress, genetics or even pollution. Because of his knowledge, our products are packed with science-based, hand-selected ingredients. We never use a base or filler, and all of our products are completely unique from one another."
Looking Toward the Future
Over the last several years, Dr. Dennis Gross Skincare has evolved into a well-rounded product line—and the best is yet to come. In the fall of 2018, an exciting new lip product will be launched, and in 2019, the company will be introducing a new, groundbreaking treatment containing vitamin C.
Personally, Carrie Gross is most excited about the launch of Facewear Pro.
"Facewear Pro is a full-face LED treatment," she explained. "The watts of the lights are the same as the lights Dennis uses on his patients. He believes light is a breakthrough topical anti-aging agent and we're excited to go global with this device."
The Independent Cosmetic Manufacturers and Distributors (ICMAD), a non-profit trade association supporting creative, innovative companies, from startups to established multinational businesses of all sizes. ICMAD's goal is to help its members succeed in the rapidly changing, highly competitive global cosmetics and personal care industry. Since 1974, ICMAD has provided essential guidance and support through business tools, publications, education, networking opportunities, and key advocacy support. Stay on top of the latest industry regulations, news and events with ICMAD online at www.icmad.org, Facebook, Twitter, Instagram and LinkedIn.