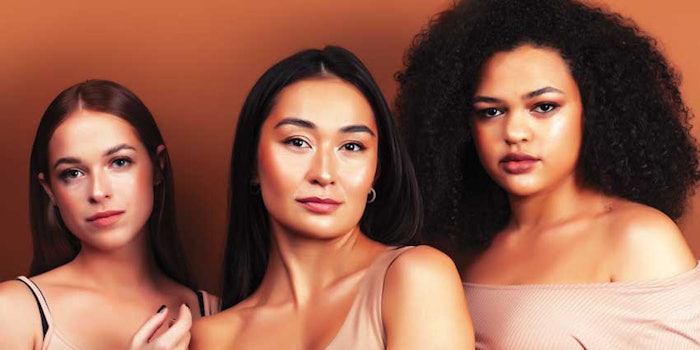 Personalization addresses three critical consumer skin care concerns: clutter, cost, efficacy and sustainability.
"Consumers want to feel as though their unique beauty and grooming routines are met with products that align with their unique needs," says Yamina Tsalamlal, associate analyst, GlobalData (www.globaldata.com). "This is why personalization is so important in skin care."
Keeping It Simple
This sentiment reflects a reaction against the clutter and confusion so prevalent within this crowded segment. Only a few years back—amidst K-beauty hype—consumers were being encouraged to expand their skin care portfolios by using multiple products, each targeting different aspects of their routine.
A sharp about-turn brought about by a desire to cut back on environmentally and financially wasteful purchases has led to the rise of the multipurpose product that plays neatly into the personalization trend.
"When consumers buy one product instead of four, it feels like it is made for them and will satisfy all their specific needs," explains Tsalamlal.
In a year-end 2019 briefing, Lia Neophytou, a consumer analyst at GlobalData, noted, "Unilever's Skinsei leverages technology to produce highly personalized offerings. It directly caters to consumers wanting to de-clutter their beauty routines and find one product that can meet an abundance of highly personalized needs."
She added, "A minimalistic approach to beauty, skin care and hair care will emerge as a way for consumers to identify only the most essential products for their individual needs and avoid the use of excess products. In fact, 81% of global consumers consider living a less complicated lifestyle important in creating a feeling of wellbeing or wellness, according to GlobalData's 2019 Q3 global consumer survey. Subsequently, beauty brands will focus on developing highly personalized solutions boasting multiple benefits, with efficacy and even sustainability perceptions heightened as a result."
This plays into the rising popularity of "skip care," K-beauty's minimalist answer to 10-step (or more) beauty, which focuses on essential skin care concerns and products.
Still, Tsalamlal is quick to point out that this trend exists symbiotically with the multistep skin care. "Many still believe that using several products each with specific functions may produce more effective results in comparison with one multiuse product."
A Skin Care "Fingerprint"
Tsalamlal says that the science behind the skin microbiome further aligns with the personalization trend because it is exactly that—bacteria that are unique to you, like a fingerprint. Microbiomes are said to be enhanced through the consumption and application of probiotics; therefore, according to GlobalData's Q3 2019 global survey, 59% of respondents said they find probiotics very or somewhat appealing in beauty and grooming products.
Marie Drago, founder of microbiome-friendly skin care brand Gallinée, first became interested in the microbiome when she was diagnosed with a rare auto-immune disease: "I discovered that these new inflammatory diseases might be linked to the damage we inflict on our own bacteria. Research was progressing well in the gut, but very little was published on the skin."
She continues, "So I decided to base my pharmacy thesis on the subject and look how to protect and support the skin microbiome."
Crucially, Drago was able to patent her thesis and use it to create Gallinée's formulations. In 2018, Gallinée attracted the attention of Unilever Ventures, which became a minority investor. Although quite separate from Unilever Group, whenever the Gallinée team meets with Unilever scientists at congresses, there is a lot of microbiome gossip being shared.
"Everyone is enthusiastic about collaboration and making the science progress," says Drago. "This is such as great opportunity for everyone to understand our skin better and to make better products."
For the full article, check out Global Cosmetic Industry's February digital magazine.