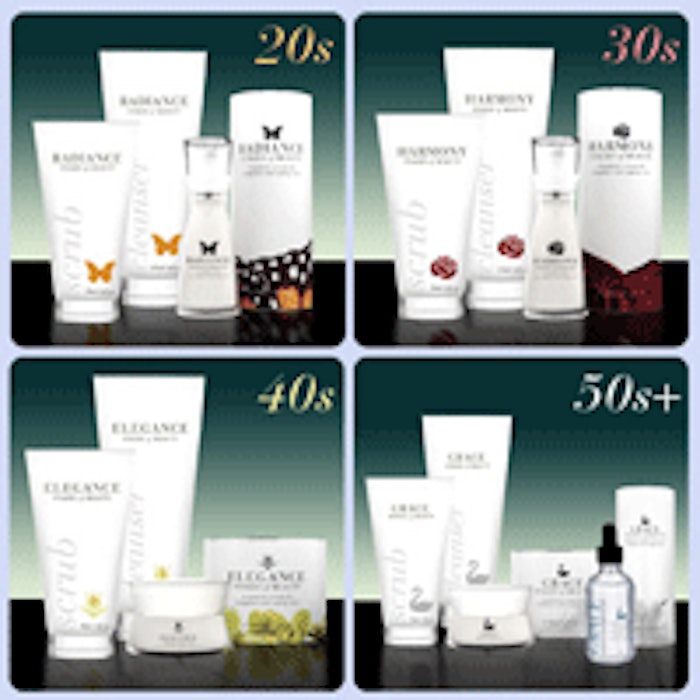 Have you ever realized that many skin care companies still market the exact same products to 50-year-old women as they do to 20-year-old women? For example, my mother and I still use the same brand of moisturizer despite our age difference.. Doesn't this strike you as odd?
One brand, however, recently made the keen observation of how age is not always taken into account when developing or prescribing a skin care line. Thus, this brand made age the No. 1 variable when developing its products, deciding to build the company around the premise of age-specific skin care. And this concept leads me to name Stages of Beauty as a Breakout Brand of the Month.
Stages of Beauty is a new company with a full line of skin care products specifically formulated accourding to age needs. Stages of Beauty's mission is to fulfill all the diverse and changing needs of a woman's skin throughout her life. Founder Jasmina Aganovic is an MIT-trained chemical and biological engineer who found herself increasingly frustrated with the skin care products she tried. It was then she began researching the needs of skin throughout the aging process.
"Other skin care brands treat mothers, daughters and grandmothers like we are all the same," observed Aganovic. "However, today we know that age is the most important determinant of skin's needs." Stages of Beauty uses this focus to target ingredients specifically chosen to meet the challenges of the skin at a certain age.
Stages of Beauty has helped introduce women across the U.S. to treatment creams, cleansers and scrubs prepared to meet their skin's needs in their 20s, 30s, 40s, 50s and beyond. Its products are divided into four targeted lines based on these age categories.
Radiance is targeted for the use of women in their 20s. It contains antioxidants to repair and protect skin against future damage and premature wrinkles.
Harmony is targeted for the use of women in their 30s. It uses ingredients that address the needs of quicker skin regeneration, as well as evening out skin tone and increasing collagen and elastin production.
Women in their 40s are the target of the Elegance line. Facing thinning skin, the skin care needs for women in their 40s demand ingredients to improve elasticity, tone and firmness. Elegance targets these concerns, as well as signs of photoaging and sun sensitivity.
Women in their 50s and beyond can use the Grace products. Grace's ingredients are hydrating and firming, battling the effects of the body's changing hormones. These products will help combat the decline in surface immunity and the degrading moisture barrier.
Because I am in my 20s and enjoying a hectic lifestyle of sun worshiping and working in New York City, I found Stages of Beauty Radiance moisturizer particularly beneficial. As to the other age demographics, I conscripted women of the different decade age ranges working in my office to also test the products accordingly, each sampling their own age-appropriate Stages of Beauty products, and each commented on feeling fully moisturized all day.
The Stages of Beauty brand is currently offering free sample creams at www.mystagesofbeauty.com. It also offers a no-hassle, 30-day money back guarantee. Reach the company online or by calling 877-869-3162.
Breakout Brand is contributed by HBA beauty blogger Mary J. Palmieri. Contact her with information about your brand at mary.palmieri@ubm.com.