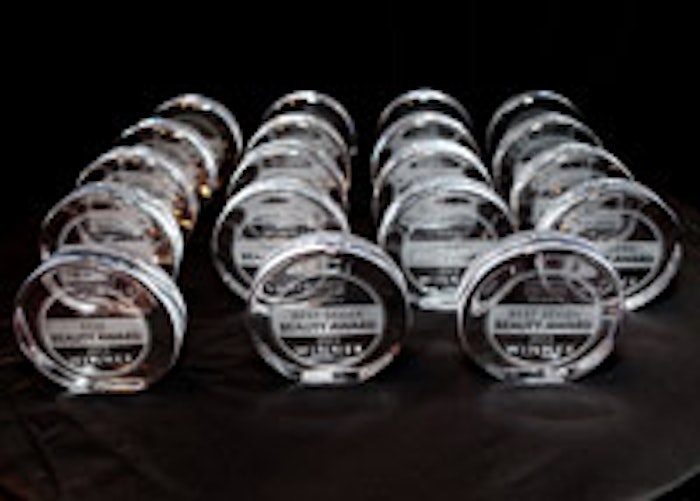 Carlotta Jacobson, president of Cosmetic Executive Women (CEW), welcomed beauty industry professionals to the 18th Annual CEW Beauty Insiders' Choice Awards, held May 18, 2012, at New York's Waldorf-Astoria. The event, which recognizes innovative beauty product breakthroughs of 2012, announced award-winning products in 29 categories, including cosmetics, hair care, skin care, Indie Beauty, Eco Beauty, and a newly added nail care category.
Jacobson, who asked, "What consumer wouldn't be interested in products selected by experts?" noted that 625 entries competed in the 26 categories, and represented 300 brands, from which 146 finalists were chosen. In addition, said Jacobson, in total, the CEW Beauty Awards received more than 400 million impressions in news and print media and beyond for this year's event. The CEW Beauty Awards is a unique program, in that winners are determined exclusively by beauty industry professionals with results culled from more than 4,600 CEW members of the organization.
The product categories include Bath & Body Mass and Prestige, Acne Treatment, Anti-Aging Mass and Prestige, Cleaners & Scrubs, Eye Treatment Mass and Prestige, Moisturizers Mass and Prestige, Hair Care Product, Hair Coloring Product, Hair Styling Product, Eye Product Mass and Prestige, Face Product Mass and Prestige, Lip Product Mass and Prestige, Nail Product, Men's Grooming, Men's Scent, Women's Scent Mass and Prestige, Sun Care Product, Indie Beauty, Eco Beauty, and Best Seller Mass and Departments Stores.
Jacobson said, "When it comes to buying beauty products, women are looking for proven performance and claims they can trust. The CEW Beauty Awards seal helps consumers cut through the clutter so they can make an informed decision about the best products in the marketplace." A video showing the journey of how a mascara is made, launched and distributed provided perspective on the work involved in creating a single product, from inception to completion, and its ultimate potential nomination for a CEW Beauty Award.
Jacobson welcomed online activity via Twitter and Facebook and encouraged guests to tweet throughout the luncheon using the hash tag #CEWEvents to maintain an ongoing dialogue throughout the presentations, a fitting entrée to the theme of the day's event, which focused on the blogging media, who comprised the award presenter list this year. Jill Scalamandre, CEW chair and CMO of Chrysallis, acknowledged the event sponsors, including Allure, Givaudan, CVS/pharmacy, Crest 3D White, Veet, QVC, Kotex, Beauty Inc., Arcade Marketing, HauteLook, HBA Global Expo, RPG, MaCher, Albéa, Rpr Marketing Communications, Restylane, Script to Screen, Beauty Bar, KraftWorks, Consultancy Media, Suite K, Raw Media Network, Proof Seven and WWD, and acknowledged the work of The NPD Group, who defined the categories, and Ernst & Young, for vote tabulation.
Linda Wells, editor of Allure, which celebrated the 10th year of the magazine's partnership with CEW in supporting the Beauty Awards event, cited Vidal Sassoon in her opening remarks, quoting, "If you don't look good, we don't look good," and that, she said, "is really the mission of everyone in this room." With that, the stage was set for the awards, once again hosted by Sex and The City star Mario Cantone, who opened the awards by announcing the Indie Beauty category winner, which went to SuperGoop!
The CEW Best Seller Award, which recognizes the product categories with the most growth in sales and the best-selling product in that category for both mass and department stories, went to Sally Hansen Salon Effects Real Nail Polish Strips for mass and Lancôme Visionnaire (LR2412) Advanced Skin Corrector for department stores. Also, this is the first year for the CEW nail product category, which was based on the strength of this category in the marketplace, with Sally Hansen Salon Effects taking top honors. See the full list of winners here.
CEW supports the winning products by highlighting them through national retail partnerships with CVS/pharmacy, QVC, Beauty Bar and HauteLook. Throughout the year, the 2012 Beauty Award Winners will display the Winners' seal and will be showcased with custom promotions in store, online and on TV. There will also be a gift box available of finalist and winning products co-branded with Beauty Bar, which will allow consumers to sample some of the newest and most innovative products of the year and experience the results of the annual event.