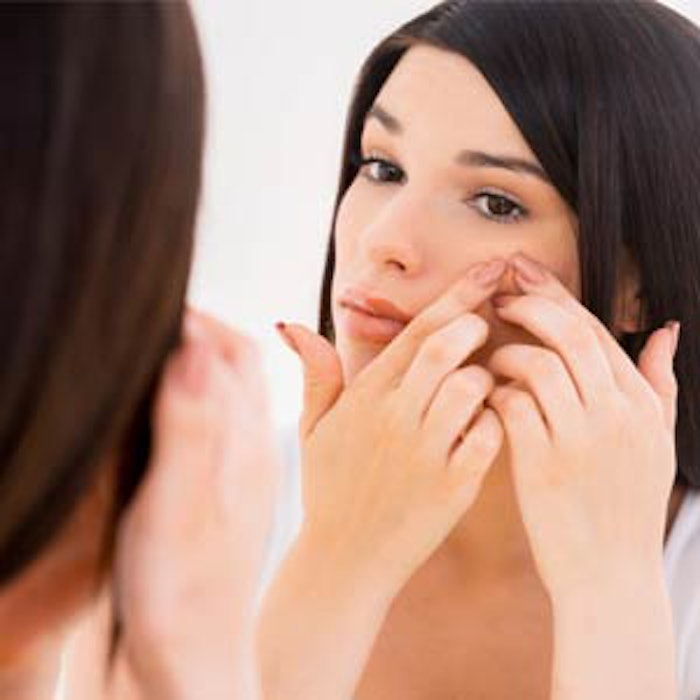 Not subscribed? Sign up here for your free Global Cosmetic Industry subscription.
Consumers want a personalized experience and expect that brands will offer products that meet their unique needs—and meet them quickly.
Acne is an important category of the skin care market with growth potential to be gained by meeting evolving and expanding consumer demands.
The key considerations for consumers when purchasing/using acne products are: emotional impact, efficacy, lifestyle and sensory.
While consumers buy cleansing conditioners to minimize hair damage, they may find that existing products do not service varying hair types and textures.
Conducting studies that get to the heart of consumer needs allows ingredient suppliers the opportunity to identify opportunities at the earliest level of innovation—specialty ingredients. 
Today, we live in a digital and social world where consumer expectations are at an all-time high when it comes to the products and services they buy. They want a personalized experience and expect that brands will offer products that meet their unique needs—and meet them quickly.
Traditionally, brands have used consumer research to yield a bevy of detailed information about what consumers think and the drivers behind their purchasing behavior. Ranging from surveys to in-person focus groups, these studies yield valuable insight regarding preferences, habits, routines, and ultimately what consumers need and want from products.
But, after brands have identified these needs through consumer research, how can they quickly develop and bring products to market? Croda has conducted consumer research over the last two years in two specific market segments that have represented areas of potential growth and differentiation: acne care and cleansing conditioners.
These studies illustrate how this consumer research was applied practically to help develop new approaches and ideas, which could then quickly be used by product developers to fulfill unmet and relevant consumer needs in the marketplace.
Fulfilling Emotional and Practical Acne Needs
In 2014, Croda set out to learn more about consumer use of products in the acne market by conducting a series of focus groups with acne sufferers spanning age ranges and gender. The company decided to conduct this research with U.S. consumers, as acne is reported to be the number one skin disorder in the United States, affecting at least 40–50 million people across age ranges, with a growing number of adult women having acne in their 30s, 40s and 50s (source: Euromonitor).
In fact, the United States represents the largest market for acne products globally, accounting for more than 37% of overall value (source: American Academy of Dermatology) With this large market potential, acne is an important category of the skin care market with growth potential to be gained by meeting evolving and expanding consumer demands.
The Croda consumer focus group study for acne uncovered key insights in the areas of use habits and desired benefits that illuminate the reasons why consumers purchase and use these products:
Emotional impact: The emotional component of having acne is important to consider, as a visible blemish creates a high level of stress and self-conscious behavior, immediately reducing self-confidence in our selfie-ready culture.
Efficacy: A must-have for acne products, as they are being used to address a specific condition where failure of the product to work will be readily apparent to the user. Inability of the product to deliver the anticipated results will result in lack of repurchase, and there is a general feeling among many acne sufferers that products lose their efficacy over time.
Lifestyle: Equally important is lifestyle consideration, as products must be accessible, easy to use and not time-consuming in order to fit into an everyday routine for teens and adults alike.
Sensory: The in-use experience drives purchasing behavior due to perception among some study participants of the negative consequences of using these products on the skin.
To gain insights from consumers on their acne formulation preferences, Croda's development labs created concept formulations for trial and review. After the study conclusion, the prototype regimen was named Clear & Smooth to highlight the desired benefits identified by conversations with participants during the study.
The company utilized high-purity delivery systems, as well as novel active technologies, to complement and reinforce the OTC actives to ensure efficacy and deliver the emotional well-being associated with clearer skin.
To compliment users' busy lifestyles, and to gain full compliance with a daily regimen, special consideration was given to both the ease of use and the sensory aspects of each formulation, as well as offering additional benefits, such as skin hydration.
Consumers who participated in trial usage of Croda's concept formulations specifically stated their appreciation for the uniquely marshmallow-like texture of the cleanser, an appealing sensory aspect, and the easy spreading of the hydrator. Overall, these consumers enjoyed using the products and noted softer, clearer skin after just two weeks.
Cleansing Conditioners
Not long ago, cleansing conditioners were a new, enigmatic and rapidly-growing product format led by premium specialty brands. Subsequently, mass market hair care companies have launched cleansing conditioners under well-known brand names.
As cleansing conditioners and co-washes began to gain momentum, many hair care manufacturers were seeking to understand this new technology. Croda believed that its efforts should be directed toward gaining targeted and specific insight into why consumers were using these products, why they were loyal to them and what unmet marketplace needs still existed.
In 2013, while the cleansing conditioner market was still a specialty niche, Croda sought to better understand the opportunities for this product format by conducting a consumer focus group study in New York City with groups of women representing a mix of hair types and lengths as well as with stylists. The data gathered revealed key learnings about unmet consumer needs including:
Drivers for purchase: Many drivers for consumers to buy these products were identified, including the desire to minimize damage to their hair, a perceived result of frequent washing.
Use of product format: Consumers were using these products in a variety of ways, offering a better understanding of how this new product subcategory would likely impact the market in the future.
Shortcomings: Products on the market did not appeal to all consumers, as there are varying hair types and textures.
Armed with learnings in these areas, Croda's hair care team developed a series of cleansing conditioner formulations to address the areas of unmet needs. One of the most exciting examples was the creation of a cleansing conditioner specifically suited to fine hair, which tends to become weighed down and limp when treated with a traditional cleansing conditioner formula.
The information learned during the focus group study revealed that women with fine hair were interested in using a cleansing conditioner if the formula was modified in such a way as to not compromise the volume or feel of their hair after use.
The formula developed in Croda's lab includes a lighter conditioning base along with specialized ingredients designed to increase volume and healthy hair movement, perfect for fine-haired consumers who want to experience the many benefits of cleansing conditioners without unwanted side effects.
Applying Consumer Insights
In conducting studies that get to the heart of consumer needs, Croda has been able to identify opportunities at the earliest level of innovation—the specialty ingredients.
This technique represents a mostly untapped and powerful tool where innovative ingredient suppliers can use insights to help shape the development of future technology, or leverage additional use and benefits from existing ingredients, to quickly offer solutions to product developers so they can fulfill unmet consumer needs in the marketplace.
Jennifer Donahue is the Marketing Manager Skin Care, Croda Personal Care North America, and Denise Costrini is Marketing Manager Hair Care, Croda Personal Care North America.