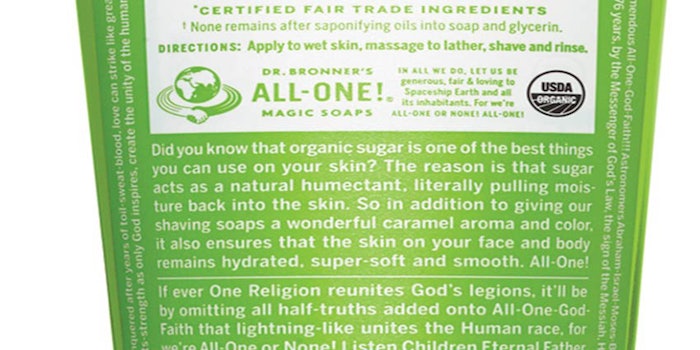 Beauty and personal care brands no longer can rely on "natural" or "organic" as their main differentiator when connecting with consumers.
According to Kline & Co., natural personal care products accounted for 25% of the overall beauty market in 2015. It is projected that sales in the natural market segment will increase at a compound annual growth rate of almost 10% through 2019.
As the number of natural and organic brands in the market increases, competition is increasing as well. Although being natural is a great door-opener, there should be more to a brand's story to create meaningful connections with consumers.
Part of differentiating your brand in the vast organic and natural market is telling your unique story.
Define Your Message and Deliver It
Savvy consumers choose products that align with their personal values. "Natural" and "organic" are terms that can mean different things to different people. Some might see environmental benefits, some might infer personal benefits, while others might relate to social benefits. There is a strong link between a brand story and a consumer's personal connection to a brand.
Smart brands know how to link their stories to consumers' needs and desires. This makes it imperative for brands to control their messages, rather than letting others define them. For natural brands still struggling to find their voice, or deciding on which stories are most compelling, now is the time to start connecting on a personal level with your audience.
The best place to tell these stories is on your packaging, using language and visuals that are true to your brand. In this way, you can stand out from the competitors and resonate with your audience.
Highlight Ingredient Provenance
If you've read my recent articles on brand architecture and regimens, you already know that leveraging key ingredients can be a great way for brands to tout what is often their best asset. Focusing on ingredient imagery for packaging and marketing is a great way to convey "natural" visually.
Smaller stories become more memorable when bundled together into larger themes, which ultimately become a brand's key pillars.
Brands seeking to build deeper consumer connections should also explain why an ingredient was selected for the formulation, and where it originated. Ideally this would connect the ingredient to a specific farm, region or—at a minimum—country of origin. Consumers buying natural products love a good back story, and knowing an ingredient's provenance strengthens a brand's credibility.
Product Performance Anxiety
Consumers are primarily concerned with product performance. However, a consumer seeking products made from natural ingredients does not expect them to necessarily be more effective than a conventional alternative.
They also seek benefits that do not put the Earth, animals or people in peril. Natural brands can be good and good for you. It's your job to convey your performance and ethics story in a way that is authentic and unique.
Be Clear About Natural vs. Organic
From the consumer perspective, the difference between natural and organic might not always be apparent. Typically, this distinction lies in the ingredients and the chain of custody between the source and the product manufacturer.
An educated customer knows what to expect, especially if they are purchasing from a retailer with similar values, such as Whole Foods, or a natural goods store, such as Pharmaca. However, brands would be wise to make the social, environmental and personal benefits of organics as clear as possible to consumers.
Get Endorsed
Brands can boast claims all they want; however, few things are as powerful as a third-party endorsement. Many retailers look for endorsed products as part of their qualifying process for inclusion in their store. In fact, some retailers expect certifications will eventually become standard procedure within the natural segment.
According to a 2014 Kantar Worldpanel presentation reported by Global Cosmetic Industry, 65% of consumers are concerned about social and environmental issues.
We encourage all brands to seek the highest-level third-party endorsements they can achieve, and tout it directly on their packaging. While there are no regulations for the word "natural," many brands are pursuing certification for organic and other sustainable practices. Remember, certifications can be great, but they serve mostly as assurances. Rarely are they a brand's complete story.
Here are a few of the certifications a brand can apply for:
USDA Certified 100% Organic: For products containing only organically produced ingredients
USDA Certified Organic: For products containing at least 95% organically produced ingredients
NSF Organic Certification: For products containing more than 70% organic ingredients
Fair Trade Certified: For products grown by farmers who adhere to strict economic, social, and environmental criteria
Natural Products Association Certification: For products formulated using only ingredients found in nature, with minimal processing as specified by the organization
Cradle to Cradle: For products which have been reviewed across five categories—material health, material reutilization, renewable energy and carbon management, water stewardship, and social fairness
PETA's Cruelty-free: For products whose ingredients, formulations or finished products have not been tested on animals
Certified Vegan: For products which contain no animal ingredients or by-products and are not tested on animals, per Vegan Action
Make an Emotional Connection
For a consumer deciding between one natural product and another, it can often feel as if each product is trumpeting, "Choose me, I am the fairest one of all!" Rather than engage in a holier-than-thou contest with your competitors, you should appeal to consumers in more emotional ways.
According to a 2014 Kantar Worldpanel presentation reported by Global Cosmetic Industry, 65% of consumers are concerned about social and environmental issues. Of this group, 20% said they would purchase more sustainable products if doing so connected them to a community of peers with shared values. These emotive connections will help turn a consumer into a brand champion.
Wear Your Heart on Your Packaging
Remember that the most compelling brand stories usually have a person or people behind the brand (if not in the name itself). I have observed that brands have an easier time connecting with consumers if they are able to convey something about the people behind the brand. Simply put, people believe in people, rather than corporations.
Why did you decide to go organic or natural in the first place? Part of differentiating your brand in the vast organic and natural market is telling your unique story. There are many ways this can be done:
Highlighting health benefits of ingredients or lack of ingredients
Exposing the advantages of farming with natural pesticides and fertilizers
Touting the increased nutrients found in organic products
Featuring sustainable farming practices
Revealing the origin of ingredients
Protecting animals and animal habitats
Packaging in recycled and recyclable materials
Maintaining an employee-owned business
Donating to charitable causes
Convey your values and beliefs directly on your packaging as a way to connect with consumers. The best example of this is the enthusiastic—and lengthy— prose on Dr. Bronner's packaging. It reads like a sermon, touting all sorts of beliefs. This may or may not appeal to you, but there is no denying the passion that comes through.
If your stories do not make it to the packaging front, that's okay. There is usually room on the back and sides. You might consider printing a simple card that is inserted into boxes. While that adds cost, remember that you cannot assume people will go to your website to read your story.
The Right Story for the Right Audience
We reviewed many of the ways brands can take things they're already doing and turn them into rich stories. The key is telling the right stories to the right audience—at the right time. Smaller stories become more memorable when bundled together into larger themes, which ultimately become a brand's key pillars.
These pillars represent the foundation of your brand story. Using this approach, brands can differentiate themselves from other natural and organic products and establish deeper connections with consumers.
Sheri L. Koetting (sheri@mslk.com) is the co-founder and chief strategist of MSLK, a marketing and design agency based in New York. MSLK specializes in helping beauty brands find their voice in today's crowded marketplace through 360° brand positioning—from overall brand strategy to brand identity, packaging, retail experience, websites and social media campaigns.