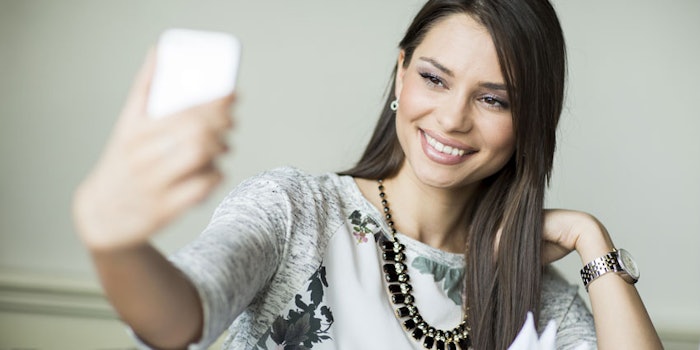 Let's face it, augmented reality (AR) beauty is revolutionizing the cosmetics industry and the way beauty-loving consumers shop for products. From the way brands are marketing new makeup lines to assisting makeup artists dolling up their clients, AR beauty is slowly creeping into every aspect of the industry. 
Perfect365, a virtual beauty app, partnered with Poshly to conduct a study and found that 78% of millennial customers would be more inclined to purchase a makeup product if they could see what it looks like on their face prior to buying it. Similarly, a recent Intage study, commissioned by Perfect Corp., found that users of its YouCam Makeup app are 1.6 times more likely to purchase cosmetic products compared to females who do not use the app and are 2.7 times to spend more money on beauty products than females who do not use the app. 
The numbers don't lie, consumers want--and make good use of--the opportunity to test out products virtually before making the decision to purchase a new tube of ruby red lipstick or a shimmering, bronze-hued eyeshadow palette. But does it stop with just cosmetics? Many companies specializing in AR say 'no way' and are moving into hair and skin analysis proving the AR beauty no longer just another lipstick app. 
ModiFace Launches Skin Assessment Platform 
The company, which previously partnered with Estée Lauder, has debuted a web-based assessment platform specifically for skin care brands. According to the company, the new technology provides analysis of a user's images to recommend and guide them through a virtual skin consultation, after which the appropriate skin products are suggested. 
The user first uploads a photo which is then analyzed based on the evaluation of skin texture, dryness and discoloration. The analysis helps determine the personalized suggestions to keep and improve the users' skin health. 
 "There is really no limit to where augmented reality can take us."
Parham Aarabi, Ph.D., founder and CEO of Modiface, stated, "We realized that instead of scoring the user's skin based on different dimensions, it would be far more useful to provide specific personalized advice that is both motivational and instructional. In other words, instead of criticizing the user's skin or measuring their 'skin age', we tell users what is great about their current skin and how to maintain and enhance their skin health."
YouCam Makeup Introduces AR Skin Diagnostic Tool
Keeping the emphasis on skin care, YouCam Makeup, too, has released an AR skin diagnostic tool that provides users with real-time skin analysis directly from the app. 
Users' skin is analyzed for wrinkles, spots, skin texture and dark circles. An uploaded selfie can allow the "Skin Diary" portion of the app to check the efficacy of their skin care regimen over time. A skin health report contains skin age and skin scores that are compared to the same demographic of users.  
"Brands using AR have to keep the customer's attention to keep up the momentum."
Alice Chang, CEO of Perfect Corp., explained, "Skincare is the foundation of every healthy beauty regimen, and facial care is especially relevant for our selfie-loving community. YouCam Makeup's new skin diagnostic tool helps users better understand their overall skin health and track skin condition over time in order to make more empowered beauty decisions."
In addition, YouCam Makeup's AR live streaming is changing the way beauty professionals are training. The company has announced that it will be into the professional training curriculum at Hollywood Institute of Beauty Careers in Florida. 
Chang said, "We hope that by providing access to AR live streaming in YouCam, the young professionals will grow their skills, become savvier in the digital world, and be better prepared to achieve their career dreams."
Perfet365's Live Augmented Reality Mirror Partners with Hot Tools 
Pefect365 is utilizing the power of AR for hair care. App users can try out six different Hot Tools designed hairstyles on an uploaded selfie, watch guided tutorials to recreate the look at home and shop the products used within the app. 
Global Cosmetic Industry caught up with Vickie Wei, marketing director for Perfect365, Inc., to discuss the future of AR beauty, the challenges brands may face and what she finds exciting about the technology that's changing the industry. 
5 Things to Know About the Future of AR Beauty
Global Cosmetic Industry (GCI): Augmented reality beauty has come a long way in a relatively short amount of time. In your opinion where can it go from here? We've seen it move from makeup into hair and skin analysis. What's next?
Vickie Wei (VW): There is really no limit to where augmented reality can take us. One of the strongest areas of growth is the use of augmented reality in the retail sector. Not only can brands increase their online customer experience by allowing customers to try on makeup, hair color and hair styles, as evident from our recent Hot tools partnership announcement, they can also drive millennial customers into the store with AR. For example, customers can try on a greater number of lipsticks or eyeshadow without ever having to apply it to the face. With Perfect365 PRO, counter artists can also create looks for customers with specific brand products to draw them into the store for new arrivals and sales.
GCI: How can brands continue to stand out and build marketing campaigns around AR beauty? Does it have potential to aid in product development?
VW: Using AR for marketing really has no downside. With AR, instead of just reading about a new beauty product they can actually experience how the product will look on them. One of the biggest problems with makeup and hair products is the result is different depending on who tries them on. AR can be used in product development to sample colors and try them on a wide variety of faces and skin tones prior to launching them to the public.
GCI: AR beauty has been shown to significantly improve sales. How can brands using AR beauty to attract customers keep up the momentum?
VW: Brands using AR have to keep the customer's attention to keep up the momentum. Customers want to see the newest products and try them on often before they even hit the stores. The experience of online to offline, as well as the education has to be seamless. For millennials trying on makeup on their phone using AR, purchasing it online or in the store and recreating the look using YouTube tutorials from their favorite influencer are all aspects of the complete buying experience. And, it's an experience that is very different from previous generations.
GCI: What challenges do companies utilizing AR beauty face? Will those challenges go away has the technology and strategies improve?
VW: With Perfect365 and Perfect365 PRO we've been able to continuously perfect our AR technology to replicate colors and exact placement on the face, and we've seen tremendous improvements in these areas. There are still some limitations with technology in very specific applications of makeup and hairstyles, but these challenges are lessening by the day.
GCI: What's your favorite aspect of AR beauty and how it is changing the industry?
VW: Our favorite aspect of AR beauty is the power it gives the customer to experiment and take control of their own beauty. No matter what extent they use makeup, AR gives them the ability to step outside of their own comfort zone and try something new. It's a true expression of creativity without the commitment. It's surprising how many different makeup products and brands I've tried as a result of trying them on with Perfect365. Colors I never thought would look good on me, I've ended up buying and loving!