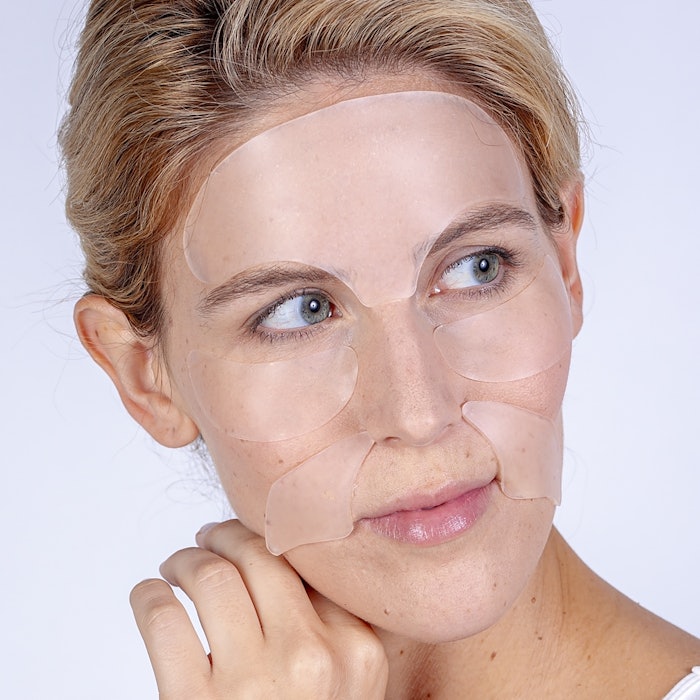 In more than 30 years in the wellness industry, there are many things that I have learned that I wish I had known earlier. For example, the importance of sleep, water and avoiding sunburns, but the one you may not have heard about is face taping or wrinkle removal patches.
If I had one tip that I would give people today about how to look younger longer, it would be to use face tape or beauty patches. Everyone I know who uses them looks better, whether they are supermodels or actresses or women who are always searching for what works.
Keeping Wrinkles at Bay 
One example is my dear friend Mary Lou Marsh, artist, designer and owner of the Spiritex apparel brand. She has been taping her face for years and her skin still looks so youthful. 
"I decided to tape around my eyes to keep crow's feet from setting in," Marsh said. "I found a good tape that worked after I moisturized, and I put it on my face before bedtime. So I got my seven to eight hours of beauty sleep, and, when I woke up, the skin around my eyes was smooth and renewed. It's sort of like putting retainers in, except for your face." 
She added, "As time went on and gravity continued to take its toll, I crisscrossed it between my eyebrows to prevent furrows from developing. I'm going to be 70 this November, and, at this point, I'm constantly reinventing the use of tape. And I will say people are always commenting on how my skin looks young for my age."  
Wrinkle Removing Products Trending
You might have noticed wrinkle removal patches and silicone patches as the beauty trend flooding TikTok's feed and gaining even more popularity. 
In May 2022 Spate reported that there are 21,900 average U.S. monthly searches for eyelid tape, a growth of 49.8% since last year, with The Face Shop as the only market leader. Related searches include hooded eyes, droopy (eyelids), anti-aging and sagging. Eyebrow lift searches have also increased by 9.3% since last year.
In July 2022 Spate noted that there are 10,700 searches on average every month in the United States for face lift tape, a growth of 31.8% since last year. Related searches include best, Korean, Amazon, Sephora, Ulta, Walmart, CVS, how to, how, neck and review.
Similar trends which mimic the effects of a traditional face lift are also becoming increasingly popular, per Spate. For example, searches for the less invasive ponytail face lift have grown 65% in the last year.
Although wrinkle removal patches and similar products are mainstream, they are not new to the beauty sector or entertainment industry. The reinvention and innovation of these products, however, are grabbing the attention of the everyday shopper. Beauty patches continue to evolve, but what are their origins, and how do they work? 
The History of Face Taping 
Face taping is exactly what it sounds like. It's sticky tape that people place on areas of their faces to constrict muscles and limit their motion, preventing them from frowning or making other line-inducing expressions. It can also be used for immediate lifting and smoothing of the skin.   
Face taping has been around for a long time, but gained popularity during Hollywood's Golden Age, when starlets would use tape, hidden under their wigs, to pull up the facial skin and reduce wrinkles. 
Originally called "Wrinkle Eradicators," face taping products first hit the market in 1889 after inventor Margaret Kroesen created them for her concert pianist daughter's frown lines. When face taping evolved to wrinkle removal patches, which are more effective as a long-term solution, Kroesen changed the name of her company to Frownies.  
Kroesen applied the basic principles of fitness to the face. Many women use these products to achieve smooth facial skin without the use of cosmetic surgery, harmful chemicals or injections. Frownies has been called "a Hollywood beauty secret," an "all-natural Botox alternative" and "yoga for the face." Their facial pads are made from natural, skin-friendly materials that work to smooth the wrinkles on the forehead, the corners of your eyes and around the mouth.   
This family dynasty has been around for more than a century. The latest generation to take the reins is Kathy Wright, daughter-in-law to Margaret Wright, granddaughter of Kroesen (who she is named after). 
Silicone's Journey from Scars to Wrinkles
Silicone patches have a rather different history. Silicone gel sheeting was first used in 1981 at an Australian children's hospital for the treatment of scarring from burns.  
They have since been used widely in wound repair and have been clinically proven to be one of the most effective at-home scar treatments available for various scar types. These include hypertrophic, keloid, acne and burn scars, as well as surgical scars, such as those from a cesarean delivery. 
Silicone pads have made their way to the skin care industry, using the same medical technology to treat wrinkles as effectively as scars. There are two main benefits of using these medical-grade face patches: anti-aging and skin tightening.   
A very established brand that specializes in silicone patches is SilcSkin. Camille Calvet, a makeup artist who worked for seven years on "Star Trek," created the SilcSkin patches after she was prescribed silicone pads to fade a scar. Not only did it work, but it reduced her wrinkles as well. And so, the lightbulb went off. Her original product concept has been copied ever since. 
SilcSkin manufactures medical-grade silicone patches as a noninvasive method of reducing the appearance of wrinkles, fine lines, scars and burns. The hypoallergenic and latex-free self-adhesive pads are applied topically to the affected areas of the skin, preferably while the subject is sleeping. While results can occur overnight, optimum results are obtained through prolonged use—five to seven hours of daily wear for approximately two weeks.   
The science behind the silicone pads is fascinating. When SilcSkin is applied to the skin, the pads release electrostatic energy that reduces wrinkles by flattening the irregular collagen structure and increasing blood flow, which improves skin tone and plumps wrinkles. Pressure from the SilcSkin pads atomically pumps collagen to the areas that need smoothing. Silicone draws the skin's natural moisture to the surface, which hydrates the skin. 
The silicone used by SilcSkin in the manufacture of their pads has been refined using a platinum curing process. This process removes the residue that's typically left behind after silicone has been processed, resulting in 100% pure silicone.
SilcSkin pads are a proven alternative to injections, laser treatments and surgery. They can be applied almost anywhere on the body, including the stomach, thighs, hips, eyes, chest, face, brows, hands and the buttocks. 
More than 3,000 spas, estheticians, skin care companies, dermatologists and specialists use SilcSkin with amazing results for their customers.   
Now that you know the history and functions of face taping and beauty patches, I encourage you to try these products and include them in your beauty regimen. These tools and techniques make a significant difference and can help you achieve that youthful look you're searching for.  
Nancy Trent is a writer and speaker, a lifelong wellness activist, a globe-trotting trend watcher, and the founder and president of Trent & Company, a wellness public relations firm. Trent & Company, which launched many health and beauty brands, grew out of Trent's  personal and passionate commitment to helping people live longer and healthier lives. A former journalist for New York magazine, Trent has written seven books on healthy lifestyles, serves on the editorial boards of several magazines, and travels around the world speaking at conferences and trade shows on trends in the marketplace. She is a recognized expert in public relations with more than 30 years of experience creating and managing highly successful campaigns.http://www.trentandcompany.com; nancy@trentandcompany.com