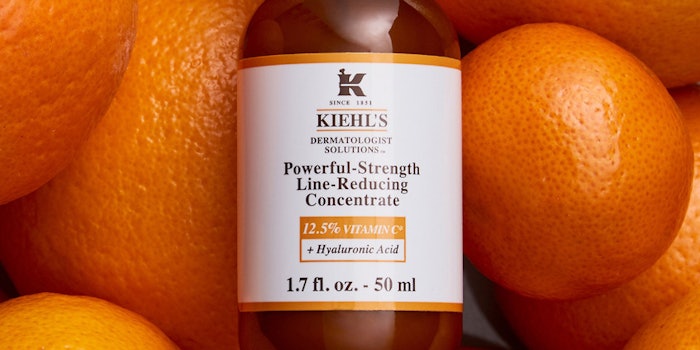 Kiehl's has announced its "largest formula renovation in 166 years." The product in question? The Powerful-Strength Line-Reducing Concentrate.
According to Kiehl's, the vitamin C-infused formula underwent 89 trials before finding the next-generation version. 
The Details
The new formula has a heightened concentration of 12.5% vitamin C (10.5% pure vitamin C [L-ascorbic acid] and 2% vitamin Cg [ascorbyl glucoside])
The new formula is now made with hyaluronic acid 
The new formula reportedly has a fast-absorbing, non-oily texture and a citrus scent
Geoff Genesky, Ph.D., scientific director at Kiehl's, said, "Our renovated formula, now with hyaluronic acid and a greater amount of vitamin C, provides faster, better results. While vitamin C is difficult to stabilize within a formula, the team worked meticulously to stabilize even more vitamin C and deliver our most efficacious Powerful-Strength Line-Reducing Concentrate formula to date."
The new formula retails for $62–$104.