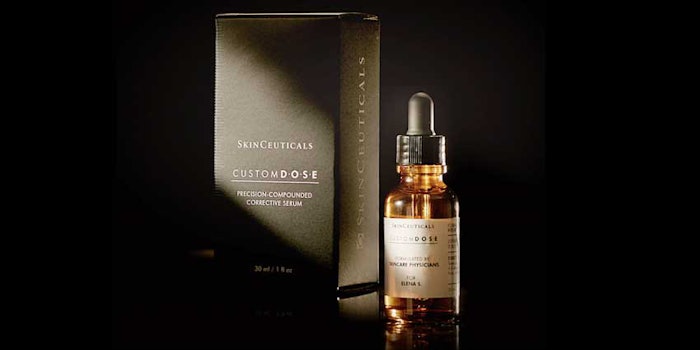 L'Oréal's Technology Incubator, in partnership with L'Oréal-owned SkinCeuticals, has launched a personalized skin care service called Custom D.O.S.E.
According to L'Oréal, "D.O.S.E is a state-of-the-art service engineered to scan and evaluate consumers' unique skin needs and combine active ingredients into a tailor-made, corrective serum."
Update: Guive Balooch, global vice president of L'Oréal's Technology Incubator, explained, " D.O.S.E acts like a mini skincare laboratory, combining lab grade formulation and factory grade manufacturing into a machine that sits on the counter. As we pursue our mission of beauty for all, we are inspired by the challenge of using technology and design to create innovative beauty experiences custom made for each consumer." 
How it Works 
The process begins with a one-on-one physician consultation to determine what active ingredients will most benefit the patient; 
Using a tablet, the physician is able to enter

the data from the consultation into the D.O.S.E machine that mixes and dispenses the customized serum; 

The machine then combines active ingredients to address numerous skin aging issues, including 

wrinkles, fine lines and discoloration; 

Each bottle receives a

 custom label, including an expiration date and a barcode for easy reordering.
L'Oreal scientists reportedly spent 12 months determining what formulations would be most efficacious based on consumer needs and ensured the technology could dispense the formula accurately.
Christina Fair, general manager of SkinCeuticals, explained, "Our customers are consistently concerned with skin aging and discoloration, among various skin conditions that require a personalized approach to address them. The D.O.S.E technology empowers skincare professionals to co-create personalized formulas that address patients' unique skincare needs on the spot, in minutes. We've created a better ecosystem for them to offer enhanced experiences for their patients using technology to address specific skin concerns."
Custom D.O.S.E will be available in select U.S. physician offices nationwide starting Summer 2018.