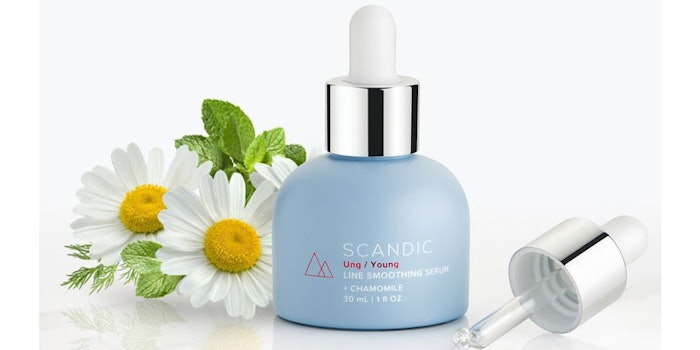 Swedish-based Scandic Beauty specializes in skin care products that comprise ancient Swedish botanicals, the latest actives and skin care technology. 
The Ren/Pure Pre-Serum, retailing for $45, is meant to reinvigorate and hydrate by sealing the skin's barrier thus holding in precious moisture. Key ingredients include deuterium oxide for hydration, hyaluronic acid plumping and moisture, honey for anti-aging, plantain leaf extracts for increased collagen productions, chamomile and starflower for reducing redness and exfoliation. 
The Ung/Young Line Smoothing Serum (pictured) retails for $85 and was created to mimic the firming, skin tightening effects of snake venom. Containing four peptides, this serum is meant to reduce wrinkles and sooth skin with the help of chamomile, lavender and orange peel oils. 

Skön/Beautiful Rejuvenating Moisturizer, retailing for $75, was reportedly crafted for the sole purpose of "rejuvenating and beautifying your skin." The moisturizer's key ingredients include peptides, amino acids, fruit, berry, and herbal extracts, blue lotus, starflower, botanicalstem cells and avocado oil, and treat the skin in four focused ways: DNA/cellular support, Brightening, Anti-wrinkle cellular strengthening and filling, and Antioxidant/anti-aging protection and nutrition.