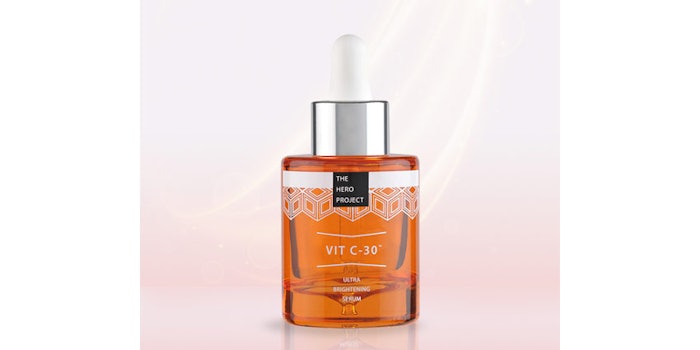 The Hero Project's Vit C-30 Ultra Brightening Serum is an anti-aging treatment ideal for skin that is fatigued, sun damaged or in need of a boost. The serum helps restore brightness, clarity and flexibility to the skin, and features "smart packaging" by Virospack.
The glass dropper bottle features an easy-to-use classic dropper to accurately dispense three to four drops to the face, neck and décolleté to tighten and brighten the skin.
The molded 30 mL glass bottle is one of two models supplied by Virospack. The thick glass bottom provides weight to the packaging while the precise glass dropper allows for a restitution of under 99.3% of the product, allowing consumers to use every last drop of product.  
Vit C-30 retails for $50 at www.theheroproject.co.uk.