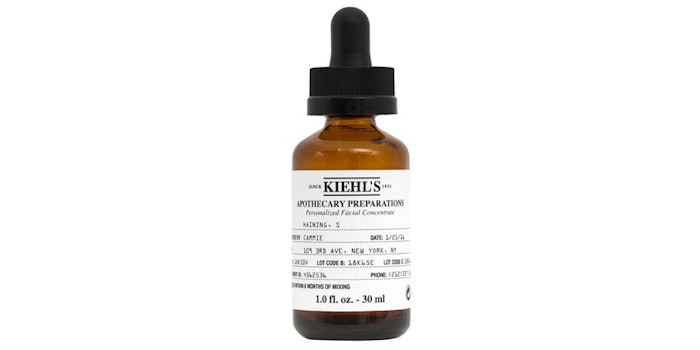 Kiehl's has launched Apothecary Preparations ($95) featuring potent concentrates to address unique skin concerns.
The line of personalized skin care includes Skin Strengthening Concentrate, which helps to fortify, hydrate and protect the skin barrier, as well as Targeted Complexes formulated to address specific skin concerns, including:
Wrinkle Reducing Complex with Retinol Concentrate and Pro-Retinol
Texture Refining Complex with Vitamin F & LHA
Visible Redness Neutralizing Complex with Sunflower Seed Extract & Vitamin E
Pore Minimizing Complex with Samphira Extract & Salicylic Acid
Brightening Complex with Vitamin C & Scotch Pine Extract
Available at all Kiehl's retail locations, the process begins with a consultation and diagnosis using Skin Atlas to assess and rank the severity of skin concerns. These results determine the two essential targeted complexes that will accompany Kiehl's Strengthening Concentrate. 
Each personalized box includes the client's name, details of his or her personal formula and directions for use. The concentrates are formulated to be applied after cleansing and before moisturizing.