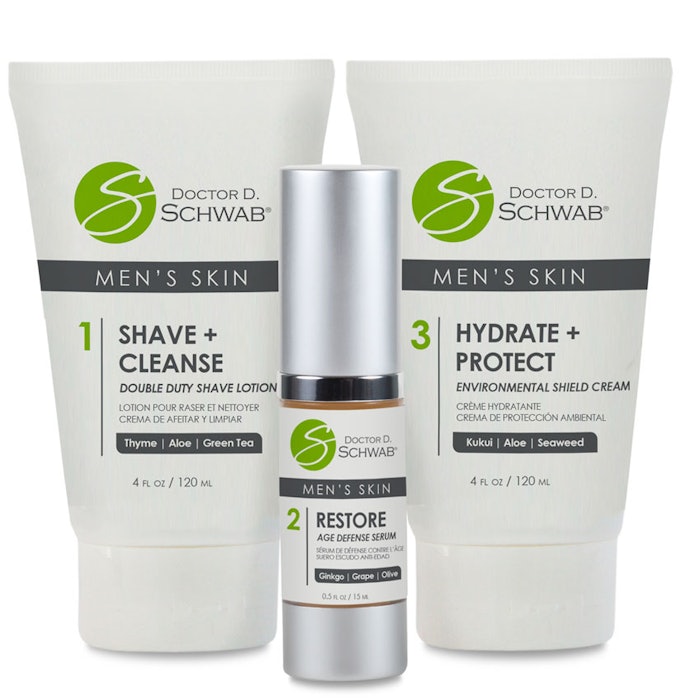 What it is: Doctor D. Schwab Men's Skin Care Set
Claims: This three-step skin care line is specifically formulated for men. The easy-to-use men's skin care set effectively targets their specific skin care concerns, delivering both the results and simplicity.
The collection contains double duty shave lotion, which helps to keep skin blemish-free with natural ingredients, while its slick surface creates a smooth-glide and protective cushion between the blade and skin; age defense serum, which restores moisture and immediately freshens up tired-looking skin; and environmental shield cream, which both hydrates and protects men's skin throughout the day.
Ingredient Highlights:
Double Duty Shave Lotion: contains natural ingredients, like thyme, coconut, rosemary and ginkgo biloba. Alcohol-free formula.
Age Defense Serum: alphasomes liposomal technology; allows powerful antioxidants, peptides and grape stem cell extract to fight and reverse the appearance of wrinkles, fine lines, sagging and dullness.
Environmental Shield Cream: kukui oil, squalane, royal jelly and aloe to help to balance the skin, soothe irritation and provide 24-hour moisture.