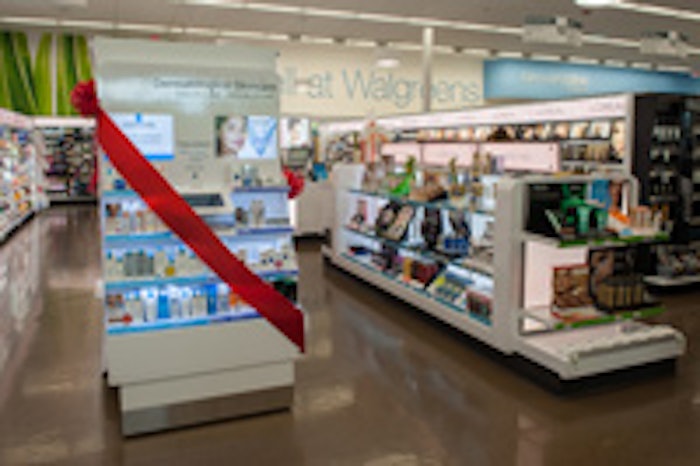 L'Oréal skin care brands La Roche-Posay and Vichy Laboratoires announced their expansion into select Walgreens locations, hosting a ribbon-cutting ceremony at the Walgreens at 15 N. Buffalo Grove Road, Buffalo Grove, Illinois, to celebrate and launch the brands' corresponding upscale, interactive merchandising concept. The merchandising concept helps the skin care brands offer Walgreens' shoppers a unique, best-in-class shopping experience that includes instant expert advice featuring the brands' medical heritage and expertise to this widely accessible retailer.
Walgreens plans to feature the new merchandising kiosk concept at select Look Boutiques and other top beauty locations across the country. Utilizing modern technology, the kiosk engages shoppers with an electronic tablet experience that offers information and advice about skin care and skin care products. This interactive tablet experience will help customers by focusing on their concerns and needs, as well as guide their selection of everything from cleanser to sunscreen. The Dermatological Skincare experience also provides an educational component where users can tap into the brands' skin care secrets or get dermatologist advice. In addition, customers can scan a product's UPC code to instantly see the features, benefits and ingredient details. Vichy Laboratoires will also offer French beauty secrets while La Roche-Posay will deliver board-certified dermatologist advice. Walgreens beauty advisors, available at each of the drugstore chain's locations, are specially trained to help customers who may have questions about skin care products or would like to sample products.
"Industry studies show that one out of two women in the U.S. are using the wrong skin care product for their skin's needs," said Henric Sark, president, active cosmetics division at L'Oréal. "One of the prime objectives of this collaboration with Walgreens is to improve the level of results and satisfaction by helping customers to make the right choice. To do this, we have worked together to provide advice and in-depth information, either through the trained beauty advisor or the interactive tablet, and also by offering products that can deliver the results, that are backed by science, proven effective and safe. This educational approach and the new merchandising concept show that La Roche-Posay and Vichy Laboratoires are on the cutting edge of technology not just in skin care, but also in reinventing the skin care shopping experience."
"We know to buy skin care is not that easy, because skin is complex and you a have a large offer [of skin care products]," Sark continues. "So what we really want to try to do is to improve her shopping experience. We want to her to be able to have a better choice when she buys her skin care, and we want to reduce that 54% of American women that are not happy with the skin care [products] that they bought because they realize that what they bought wasn't really designed for their skin's issues. So this is really about finding the right [product]."
"We are always looking for ways to help our customers get, stay and live well, and these L'Oréal brands are great examples of how we can provide new dermatological skin care brands in an exciting and innovative way," said Joe Magnacca, Walgreens president of daily living and product solutions. "These brands are leaders in this area, and when you fuse that with our products and beauty advisors, we are thrilled to help our customers feel good about their health and the selection and knowledge we can bring."
Originating in France and once available only in European pharmacies, Vichy and La Roche-Posay are leading dermatological skin care brands. Developed in collaboration with dermatologists and based on scientific breakthroughs, both brands offer innovative products that are formulated for sensitive skin and rigorously tested in clinical studies to ensure effective results.