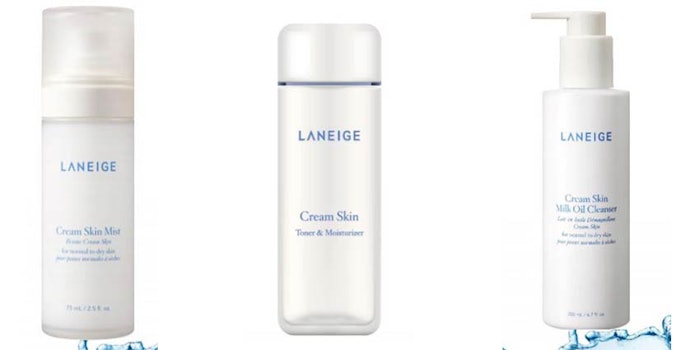 Laneige's Cream Skin range has expanded and now includes the Cream Skin, Cream Skin Milk Oil Cleanser and Cream Skin Mist. All three are powered by the brand's white tea ingredient technology.
In depth: Defense & Care for the New Normal
Cream Skin ($33) reportedly "preps and softens like a toner and hydrates like a cream," according to the brand, offering a lightweight texture that delivers deep and long-lasting hydration.
The product comprises Laneige's Cream Blending Technology, featuring a soft cream layer and an emollient, as well as amino acid-rich white leaf tea water to reinforce the skin's barrier.
The pH 5.5 Cream Skin Milk Oil Cleanser delivers the benefits of an oil and cleanser in one, according to Laneige. The formulation contains white tea leaf extract.
Finally, the Cream Skin Mist delivers hydration on-the-go and features white leaf tea water to strengthen the skin barrier. The mist offers "12-hour hydration," according to the company, due to its aerosol-free, super-fine mister pump, which allows for application over makeup.
The range retails at some Sephora locations, Sephora.com, Laneige.com and Aritaum.
Trend report: Safe is the New Clean
Unique Natural from Jeju Island
"The Cream Skin formula is based on white tea leaf water that helps strengthen the skin's moisture barrier," says Michelle Shieh, scientific communications manager at Amorepacific's New York R&I center. "The Jeju Island-grown tea, from which the white tea leaf water is extracted, is harvested only once per year in the spring. This spring first-harvest has the highest amino acid content compared to other harvest seasons and is increased even further by putting the green tea leaves through an induced chlorosis process by growing them under controlled shady conditions."
She continues, "This unique cultivating technique creates physical and chemical changes in the tea leaves by controlling the photosynthesis process, preventing tea leaves from becoming green while increasing the amino acid content. Through a drop by drop cold brew extraction process, the extraction efficiency of amino acids is maximized by 150% compared to traditional extraction methods by heat. Amino acids have great hydrating properties and moisture barrier strengthening efficacy due to its ability to hold onto large amounts of water."
Innovative Pump
"Laneige Cream Skin Mist features innovative pump mechanism designed to optimize the distribution of the formula," says Shieh. "It generates super fine, morning fog-like mist, without an aerosol. It is designed to evenly distribute fine and uniform droplets in concentric circles focusing on the center of the face, with the amount of droplets gradually decreasing towards the edge of the face."