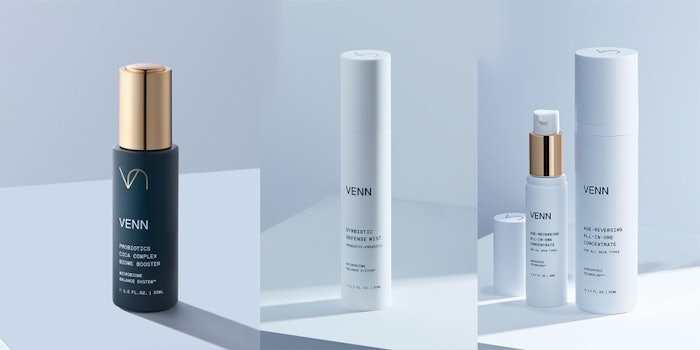 Venn has announced that three of its skin care products have achieved a microbiome-friendly certification according to the MyMicrobiome Standard 18.10.
Related: Dr. Elsa Jungman Launches At-Home Microbiome Test
The MyMicrobiome Standard 18.10 is one of six standards, each standard testing for application on different body areas.

Venn products that are certified as microbiome-friendly include: Age-Reversing All-In-One Concentrate, Synbiotic Defense Mist and Probiotics Cica Complex Biome Booster, the latter of which will launch in July 2021. 
Venn CEO and co-founder, Brian Oh, said, "Studies have shown that there is a strong correlation between age and microbiome profile and that a well-balanced skin microbiome can help achieve healthier and younger-looking skin. We're excited to partner with MyMicrobiome to further demonstrate that our products are designed to be microbiome friendly."