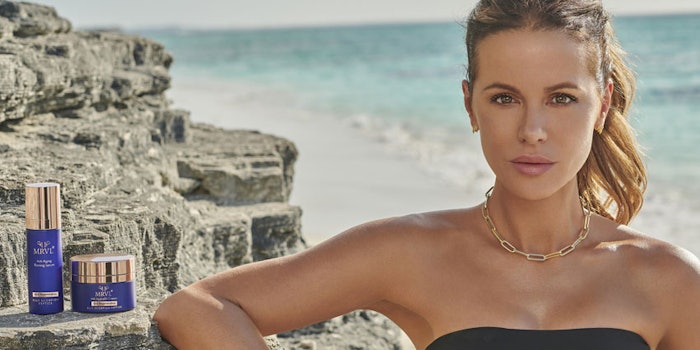 UPDATE (November 17, 2021): MRVL Skin Solutions, a luxury anti-aging skin care line, has officially launched. Products in the range include the Anti-Aging Firming Serum ($195), Arnica Recovery Cream ($175), HA Hydrafill Cream ($175), Retinol Repair Night Cream ($185) and Super Rich Eye Cream ($180).   
Previously, the brand announced that Kate Beckinsale would be its face.
Previously: Jake Gyllenhaal the Face of Prada's New Men's Fragrance
MRVL Skin Solutions features the brand's Blue Scorpion Peptide, which has reportedly been clinically proven to help stimulate natural collagen production, fight free radicals, help regenerate symptoms of damaged skin, and smooth the appearance of fine lines and wrinkles.
UPDATE (October 1, 2021): "After years of research, MRVL Skin Solutions has discovered The Blue Scorpion Peptide, a combination of amino acids, proteins, enzymes and antioxidants," founder and CEO Rick Langley told Global Cosmetic Industry. "This breakthrough proprietary peptide is being introduced for the first time ever in luxury skin care. Our products are formulated with powerful active ingredients that deliver transformative anti-aging results."
The brand has committed to donating 5% of every purchase to support Today's Promises, a non-profit charity that aids impoverished children in the Caribbean. 
According to Langley, "MRVL Skin Solutions is soon to launch in 2021 directly on MRVLskin.com, direct response (infomercial), home shopping and specialty retailer channels."
Beckinsale said: "I'm so very proud and excited to be working with MRVL Skin. Effective skin care is what all women want at any age."
Langley added: "We are thrilled to announce our partnership with Kate Beckinsale. She is the embodiment of timeless beauty, and has a wonderful sense of humor, intelligence and kindness making her the perfect ambassador for MRVL Skin Solutions."