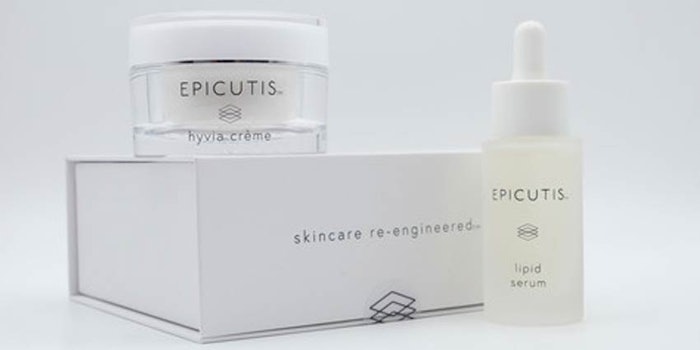 Signum Biosciences has announced the launch of Epicutis, a medical-grade luxury skin care line developed by Jeffry Stock, Ph.D., professor of molecular biology at Princeton University, and Japanese scientist and formulator Masanori Taumura.
Related: bareMinerals Launches Mail-in Give Back, Get Back Recycling Program
Epicutis offers science-based skin care that treats skin health with small-batch formulations and complete transparency. Its products, available only through clinician's offices, are formulated exclusively with non-toxic, patented active ingredients with highly concentrated therapeutic ingredients that are sourced with transparency from in-house manufacturers.
Epicutis is making its debut with two products, Lipid Serum and HYVIA Crème.
The Lipid Serum features Epicutis' patented ingredient, TSC, which is said to be a clinically proven efficacy to improve skin health while re-texturizing the surface of the skin for a smoother feel.
Per the brand's site, TSC is "a small molecule that reduces inflammation, blocks UVA/UVB induced damage, possesses antioxidant properties, protects collagen and balances the skin's microbiome."
The HYVIA Crème features HYVIA, a patented chia seed oil extract. HYVIA is a moisturizer that is said to improve hydration on the cellular level while strengthening the skin's barrier. This formulation includes several other safe, non-toxic, active ingredients that act synergistically with the lipid serum.
Jeffry Stock's son, Maxwell Stock, who serves as CEO and founder of Signum Biosciences, says, "The skin care industry in the United States is not subject to the same regulatory controls as in western Europe or Japan. Consumers are rarely aware of what is behind the products they use to nourish and protect their skin. Our team of scientists has always been focused on transparency and we are excited to bring this same guarantee to the professional medical world with our best-in-class form