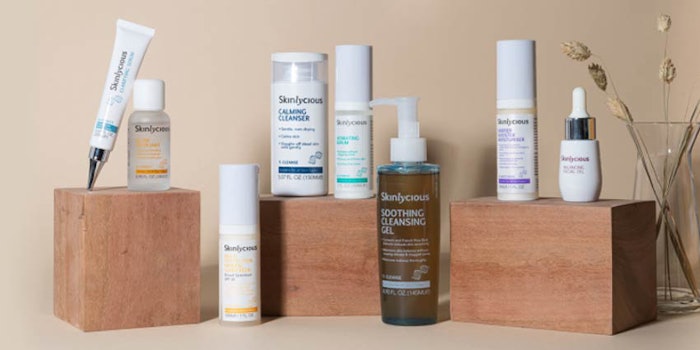 Skinlycious skin care is now available in the United States after the brand was selected to be in Sephora Accelerate 2020. The brand offers acne and anti-aging treatments designed for different age groups and skin types.
Related: Kosterina Launches Beauty Brand
Skinlycious formulations are designed to be fast in reducing acne but gentle and nourishing to the skin, which leads to balanced skin, preventing acne recurrence.
Unique to the brand is its starter kits, curated to help first-time customers find which products work for them. The kits have instructions on how to carry out mini skin experiments.
For teens, Skinlycious offers the Clear Skin Essentials Starter Kit, which includes a Calming Cleanser, Glow Exfoliant, Hydrating Serum and Clarifying Serum. The user is asked to conduct a mini-experiment on their face with its half-face test.
Skinlycious offers anti-aging treatments in addition to acne products in the Clear Skin Complete Starter Kit, designed for adults in their 20s, 30s and above. It includes acne treatment, a mineral sunscreen broad spectrum SPF 30, makeup remover and moisturizer.
 For pregnant women, Skinlycious offers a safe, vitamins-based Clarifying Serum (vitamin C and B3) for acne breakouts. Skinlycious also offers a non-nano, sheer, non-sticky and non-greasy Multi-Protection Mineral Sunscreen that is free of chemical screens with broad spectrum SPF 30 protection.
All Skinlycious products are available at skinlycious.com/us.
Jasmine Kang, founder of Skinlycious, says, "As an acne sufferer turned acne fighter myself, I was just trying to find a solution for myself. But over the years, I had the privilege to get feedback, work with and test my formulations with fellow acne fighters, gaining knowledge on different types of acne and acne skin types in the process realizing that there is no one-size-fits-all approach to acne treatment. The complementary range of Skinlycious products and solutions, allows users to find the right combinations so that each user can begin their journey to clearer and healthier skin."