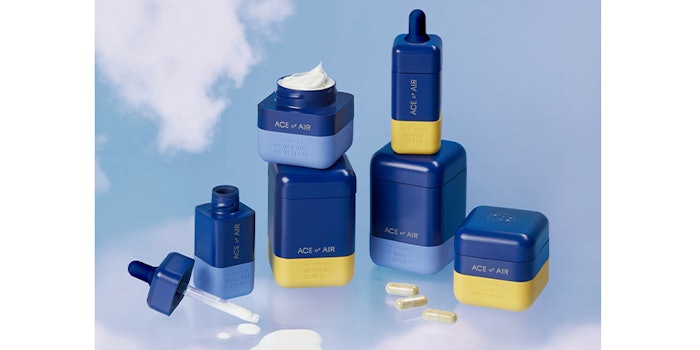 Ace of Air, a new skin care and supplements brand, is designed to be entirely circular and fully zero-waste. Its buy the product and borrow the package model takes responsibility for the full life of its packaging.
Previously: Found Active x Kate Upton Skin Care, Supplement Line
Ace of Air's mission is to create products and packaging that help both our planet and our people thrive. The brand's materials and resources are maintained in the ecosystem for as long as possible and the generation of waste is minimized. 
Customers select the products they want to receive in their Boomerang Box. Once received, they swap the new products with the used empty ones and send back the Boomerang Box from any UPS store. 
The brand boasts vegan and cruelty-free formulas. Ace of Air is a Certified B Corporation and its products are Leaping Bunny Certified. There are no parabens, silicones, sulfates, formaldehyde, mineral oil, petroleum, phthalates, allergens such as gluten, wheat or artificial binders, and fillers.
Products in the collection include:
Sunrise Serum: A nutrient rush for radiant skin

Halo Moisturizer: A daily surge for dewy skin

Aurora Capsule: An insight boost for brighter skin

Space Age Serum: A rev-up for rejuvenated skin

Bounce Back Moisturizer: A hydrating life for springy skin

Time Capsule: An inside fix for firmer skin

Vegan Omega Biomix: The ultimate all-inclusive omega

Happy Gut Pre-Pro-Postbiotic: An anti-bloating digestive trifecta
Ace of Air is now taking pre-orders for its eight skin care and supplement products and will begin shipping orders in four to six weeks.
Stephanie Stahl, CEO and co-founder of Ace of Air, said: "In the fall of 2017, we began creating the business of our dreams—an uplifting, inclusive brand for women and men designed to have a positive impact on people and our planet with powerfully nourishing skincare and supplement products. We did this, not because we thought the world needs another beauty and wellness brand. It doesn't. We did this because our planet needs a beauty and wellness brand that fundamentally changes what and how we consume."
"Our products are expertly formulated at the intersection of herbalist wisdom and modern science, focusing on products that work from the inside out, and are deeply holistic on every level," said Petra Nemcova, chief inspiration officer and co-founder of Ace of Air. "We work with a brilliant group of experts including dermatologists, herbalists, naturopaths, nutritionists, natural pharmacists, and environmentalists to formulate products that uplift our bodies, as well as people and planet, through the entire value chain."