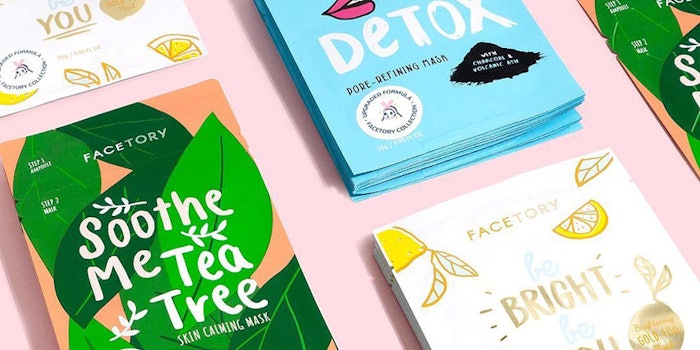 FaceTory, a Korean beauty-inspired skin care brand, has announced its expansion to 150 Whole Foods Market stores across the United States.
Related: Happy Dance CBD Line Available at ULTA Beauty
Starting March 2021, FaceTory's Soothe Me Tea Tree 2-Step Sheet Mask, Be Bright Be You Gold Foil Sheet Mask, and Let's Talk Detox Charcoal Sheet Masks will be available at the national grocer.
All three masks available in Whole Foods Market have an upgraded formulation. The masks are free of artificial fragrance and harsh chemicals, such as sulfates and parabens, and have added beneficial key ingredients.
Michele Datu, e-commerce specialist at FaceTory, said, "We're extremely honored and excited that our products will be sold in Whole Foods Market stores! It's one of the most popular places for customers to access leading products in the clean beauty category with plant-based and organic options."
Amy Jargo, global beauty buyer at Whole Foods Market, said, "We are so excited to launch facial skin care masks from FaceTory in select stores as we've seen a growing trend in our customers seeking beyond clean versions of their favorite face masks. FaceTory masks meet our high standards and are such a fun skincare treat for an easy self-care moment!"