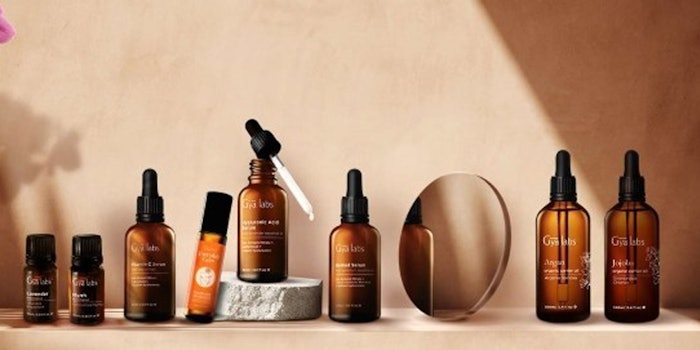 Gya Labs
Numerous brands have announced new product launches and rebrandings, including Skin Trust Club, SkinKick, Cleanlogic, Linnea (formally Linnea Lights), Sky Organics, Gya Labs and Sk*P.
Related: Launch Roundup: Winky Lux & Sugar Cosmetics
Skin Trust Club
The Skin Trust Club has launched its at-home skin microbiome testing kit. 
The kit includes a skin swab test in which the results are available via an app. The app includes skin health results, suggestions and tips. The app will also recommend cruelty-free products that will work with the user's unique skin type and which can be beneficial to the skin's microbiome.
SkinKick
SkinKick has announced the launch of its first Ulta Beauty exclusive, Acne KickPRO Duo, a two-step homeopathic treatment for acute acne.
Acne KickPRO Duo, the skin care brand's third acne system, is designed to clear, renew and protect the skin for an overall pH-balanced complexion. 
The clean and natural skin care brand added to its Ulta assortment and began rolling out the dermatologist-approved Acne KickPRO Duo in February at Ulta Beauty online and in-stores nationwide.
SkinKick is also a part of Conscious Beauty at Ulta Beauty. 
Matty Schirle, founder of SkinKick, said, "We are thrilled to announce our first ever exclusive product with Ulta Beauty. We have found the perfect home for the SkinKick brand with Ulta—allowing us to stay true to our mission, delivering the most effective, clean and natural skin care products to empower people of all ages and skin types to feel good in their skin and love their clear and confident self."
Cleanlogic
Cleanlogic has relaunched with new branding and product offerings to provide an enhanced, all-encompassing consumer experience.
Cleanlogic, which saw 180% growth in 2020, was built upon delivering sustainable, inclusive and socially responsible product experiences to consumers, such as featuring Braille across all packaging. 
The relaunch incorporates a new logo, trend-forward fabric colors, all-new sensitive skin products, enhanced facial exfoliation products, and product upgrades such as charcoal-infused and certified organic cotton material.
It will also distinctly define its product collections: Bath and Body, Sport, Detoxify, and Sustainable, each identified by its own unique color. 
Isaac Shapiro, president and co-CEO of Cleanlogic, said, "Our mission is to be really good people who make a really good product that gets you really clean. We believe feeling nice and clean is a basic human right and we want our products to reflect this Nice and Clean position."
Linnea Lights
Linnea Lights, a home fragrance brand comprising hand-poured soy candles, has relaunched as Linnea. 

Linnea launches its new website, linneaandco.com, on April 1, with the introduction of four new collections: Classic, Seasonal, Spring and Herbal.
The website will have shopping features such as the ability to "build their own mood," shop by scent, collection, or specific products. Exclusive access to limited edition products and specially curated gift boxes is also a new addition. 
CEO Laura Cler said, "While relaunching from Linnea's Lights to Linnea, we were committed to creating objects of beauty that stir the spirit and inspire the soul. We wanted to build an experiential website for our customers that translated Linnea as a way of living rather than just another candle in your space. We invite you to shop by mood, by scent, plus more. Shop your favorites or discover something new with our scent blending recommendations.  We welcome you to Linnea where the difference is illuminating."
Sky Organics
Sky Organics has launched into hair care with its Curl Care Collection.
The collection is a USDA-certified biobased textured hair care system. All products are made with natural ingredients such as castor oil, apple cider vinegar, mango butter, shea butter, amla oil, avocado oil and coconut oil.
The collection is available at Walmart and includes: Wash Day Shampoo, Detangling Conditioner, Treatment Mask and Bouncy Curl Cream.

Gya Labs
Gya Labs has introduced a new skin care and body care collection of naturally sourced face serums, a face oil and carrier oils, available on the brand's website. 
The collection includes five face serums and a face oil to suit a variety of skin types as well as a range of seven pure carrier oils, ideal for use on their own or to be blended with essential oils.
Felicia Lee, PR manager for Gya Labs, said, "Self-care is an important practice during times like these. We believe that daily skin care routines have the potential to turn into rewarding self-care rituals that uplift the quality of life. It also allows you to step back for some much-needed reflection and relaxation."
Sk*P (Simply beKind to ourPlanet)
Sk*P has launched its brand with the debut of four clean hair and body care products. 
The launch includes its Face + Body Cleanser, Face + Body Moisturizer, Hydrating Shampoo and Hydrating Conditioner. 
The key ingredient in all Sk*p products is G-Honey Biome, a bio-fermented honey extract made from the brand's own bee farms in upstate New York.
Sk*p products are made of clean, ethically sourced ingredients and are free of parabens, synthetic fragrance, synthetic preservatives, dyes, silicones, sulfates, PEGS and heavy metals.
Packaged in its proprietary BeautyCarton, sk*p offers 100%recyclable paper-based containers that can hold up in the shower.