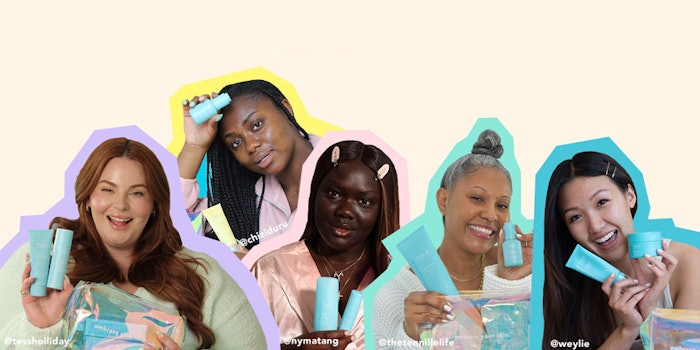 The latest round of beauty launches includes Tula Skincare's limited-edition influencer kits, Em Cosmetics' lip liners, Ballsy's expanded line of products and more.
Related: Launch Roundup: Mario Badescu, MDee Beauty, Lee Stafford
Tula Skincare
Tula Skincare has launched a collaborative partnership with a group of five female influencers as well as five limited edition #EmbraceYourSkin kits.
The influencers apart of its initiative include Tess Holliday, Tennille Murphy, Nyma Tang, Chizi Duru and Weylie Hoang. Through this, Tula hopes to spark change in the beauty industry as the company builds upon its #EmbraceYourSkin Pillar. 
The limited-edition kits includes:
Unleash Your Glow, Tess Holliday's Exfoliating Skincare Kit

Products included: So Smooth Resurfacing & Brightening Fruit Enzyme Mask and So Poreless Deep Exfoliating Blackhead Scrub

Find Your Balance, Weylie Hoang's Clarifying Skincare Kit

Products included: Balancing Act Purifying & ph Balancing Biodegradable Toner Pads and Breakout Star Oil-Free Acne Moisturizer

You Dew You, Nyma Tang's Hydrating Skincare Kit

Products included: Dew Your Thing Gel Cream and Glow & Get It Cooling & Brightening Eye Balm

Ageless State of Mind, Tennille Murphy's Ageless Skincare Kit

Products included: Cult Classic Purifying Face Cleanser and Wrinkle Treatment Drops

Bright Inside & Out, Chizi Duru's Brightening Skincare Kit

Products include: Brightening Treatment Drops Triple Vitamin C Serum and Protect + Glow Daily Sunscreen SPF 30 Gel
Savannah Sachs, CEO of Tula Skincare, said, "We're excited to be partnering with this diverse group of women who embody confidence, which is something Tula believes is essential for redefining the concept of beauty in today's world. We're proud to shine a spotlight on the work and impact that these women have had in the industry, specifically for ageless and natural beauty, size representation and skin tone diversity."
Bounce Curls
Bounce Curl has announced it is a member of the Think Dirty app.
The app allows users to learn about potential hazards of product ingredients, indicating those with known carcinogens (cancer causing agents), hormone disrupters and allergens.
The app rates products on a scale of 1-10 and Bounce Curl's products have earned a 0-3 rating, indicating a product is both green and clean. 

The brand formulates its products without silicones, parabens, sulfates, PEG's, DEA/MEA, propylene glycol, butylene glycol, formaldehydes and phthalates.
Em Cosmetics
Em Cosmetics has launched thge Soft Blur Velvet Lip Liner.
The liner is formulated with sacha inchi oil, squalane, shea nut oil, vitamin E and bisabolol. It is available in six shades and is cruelty-free.
Ballsy
Ballsy, a men's grooming line for below-the-waist, has added to its line of products. 
The company has expanded past its flagship product, Ballwash, to include Sack Spray, Nut Rub Solid Cologne, and products for the hair and body such as Goodhead Shampoo and Liquid Courage Body Wash.
The brand also has bundles, lathering shower tools and reusable travel bottles, among other accessories.